Watch: Flowing Wells silences the doubters, upsets CDO at home
Flowing Wells was out to prove a point Friday night. 
Caballeros took care of business in season opener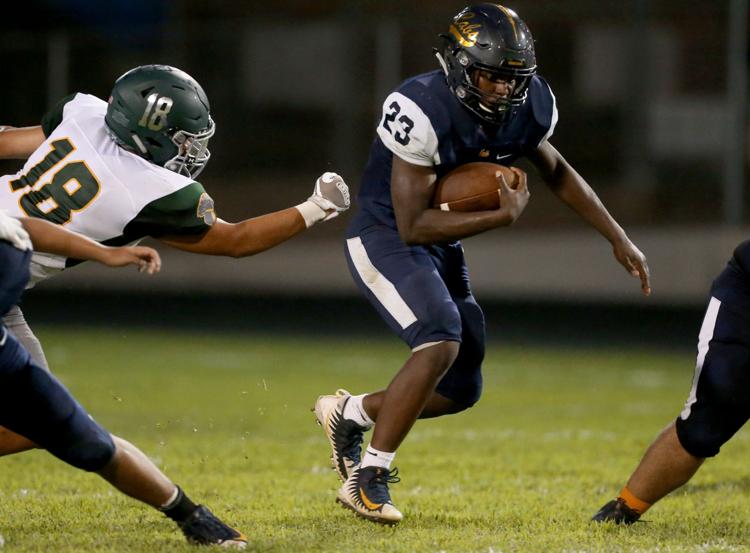 Canyon del Oro was projected to win 38-20 in Friday night's season opener. The Flowing Wells Caballeros had other plans. 
The Cabs relished their underdog moment this week and in a back-and-forth battle with CDO, Flowing Wells came out on top 38-37 to start the season 1-0. 
The Dorados first three touchdowns were followed up by a failed two-point conversion, but hung on to a one-point lead after Flowing Wells hit a 38-yard field goal to end the first half. 
In the fourth quarter, Flowing Wells went ahead 38-31 after running back Raashad Henderson rushed in for a touchdown. The following drive, CDO sophomore running back Stevie Rocker scored to give the Dorados a chance to tie the game, but point-after woes continued for them and they missed the extra point.
CDO had another chance, but Flowing Wells stuffed the Dorados on fourth down near midfield and ran out the clock to win in upset fashion. Jurado finished the game 7-of-8 passing for 141 yards and a touchdown, and running back Blake Bishop finished with 13 carries for 137 yards. 
Rocker finished with 173 yards on 19 carries and three touchdowns for CDO. 
Quarterback Zachary Jurado, Henderson and head coach Mark Brunenkant spoke to HS Tucson after the Caballeros' win, here's what they had to say.  
Raashad Henderson
Flowing Wells RB Rashaad Henderson after beating CDO 38-37 in the season opener: "We were supposed to lose 38-20? 🤫" pic.twitter.com/grHTGTnElh

— High School Sports (@HSTucson) August 18, 2018
Zachary Jurado
Flowing Wells QB Zachary Jurado after beating CDO 38-37: "We saw the projections and it didn't phase us. ... It's been a long time since Flowing Wells beat CDO, but we knew this team could do it." #CDOvsFW #azhsfb pic.twitter.com/oJd6GqiEC1

— High School Sports (@HSTucson) August 18, 2018