With the temperature nearing triple digits, seventh-ranked Mountain View made sure to turn up the heat on No. 3 Ironwood Ridge on Saturday at Amphitheater High School.
But despite the Mountain Lions' best efforts to cause havoc on the basepath, the Nighthawks kept their cool and won 7-3 in a second-round elimination game in the Class 5A state playoffs.
Led by pitcher Shelby Thompson, third-seeded Ironwood Ridge was considered one of the favorites heading into the state tournament. However, a shocking 8-2 loss to No. 6 Empire on Thursday at home sent them to the consolation bracket. Saturday's bounce-back win was a step in the right direction.
In order to reach the semifinals, the Nighthawks (23-6) will have to win a quarterfinals game at 6:30 p.m. Thursday at Rose Mofford Sports Complex in Phoenix, against the loser of the Surprise Willow Canyon and Scottsdale Horizon game on Tuesday.
Scrappy Mountain View (19-11) was already familiar with Thompson and the Nighthawks' lineup. After Ironwood Ridge took a 2-0 lead in the first, the Mountain Lions answered with two runs from back-to-back infield singles in the top of the fourth. The Nighthawks weren't rattled.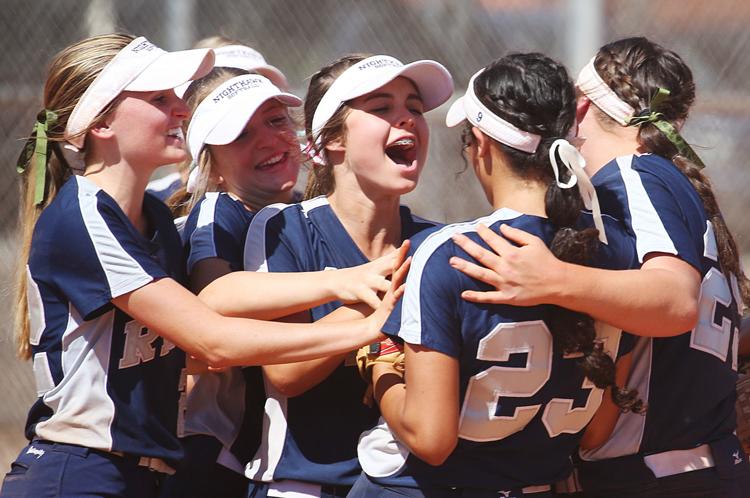 Ironwood Ridge responded with a four-run surge in the bottom half as senior Jaiden Reid delivered the big hit, a two-run single to center. She finished 3 for 4 with two singles and a double.
"We don't know what happens if we don't score there," Reid said. "My senior season was on the line today, and I was going to do whatever it took to keep it going."
It was enough run support for Thompson, who allowed three earned runs on six singles and five walks with four strikeouts in a complete game. Ironwood Ridge's defense was aggressive behind her, as Thompson committed the team's only error of the game. Right fielder Kiera Painter ended Mountain View's season by throwing out Tayler Garner at first on what seemed like a sure single.
"I know I have great fielders behind me so it's just not overthinking every pitch," Thompson said. "I know they're going to make great plays behind me."
It took a total team effort for the Nighthawks to scratch seven runs off Mountain View starter Hailie Mann.
Seven Ironwood Ridge players recorded a hit and all nine starters reached base at least once.
"They have played really well all year long, and we knew what we were getting into," Ironwood Ridge coach David Martinez said. "We were hoping our pressure on them would crack them before theirs would crack us."