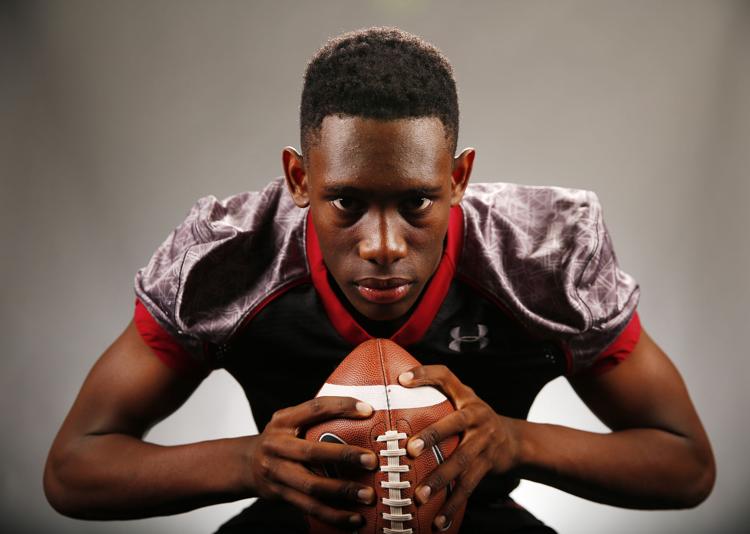 If you experienced déjà vu during the Arizona Wildcats' game against Houston last week, you weren't alone.
Imagine what Cha-Ron Harris was feeling.
Her son, freshman Jalen Harris, wore a new number against the Cougars – the same No. 49 that his father, Sean, donned as a Wildcat.
Cha-Ron, who played basketball for Arizona in the mid-1990s, reacted giddily to the news. Sean, a star linebacker for the Desert Swarm-era Wildcats, framed it as a challenge for his oldest son.
"He was happy for me," Jalen Harris said. "But he was like, 'You'll never be as good as me.' That always makes me want to be better than him. He said, 'The best guy already wore that number.'"
Jalen Harris laughed as he told that story. He explained earlier this summer that Sean always has pushed him and younger brother Jason, a big-time two-sport prospect at Gilbert Higley High, to be the best versions of themselves.
"He always told us we had to compete," Jalen Harris said. "We learned to have a good work ethic through him. Sometimes we wouldn't want to work out; he'd make us work out. Now I'm happy he taught me that. Now I can do it myself. I know I gotta push through it and get better."
Although he isn't as big and strong as he needs to — the 6-foot-4-inch Harris reported to Arizona at 205 pounds and was up to 215 on the eve of the season — the freshman from Mesa Desert Ridge has worked his way into the rotation. He has come off the bench at the "Stud" position and has four tackles in two games.
Harris started out wearing No. 52. But when special-teams coordinator Brian Knorr wanted to give him a look on the wing of the field-goal team, Harris needed to have an eligible receiver's number.
"At first, I wasn't really thinking about it," Harris said. "It was just, whatever number I get. Then Coach Knorr asked me, 'What number was your dad?' I told him 49. He's like, 'Do you want that number?' I said, 'Of course, why wouldn't I?'"
Cornerback Lee Pitts had been wearing 49 and agreed to surrender it.
Now the real work begins for Harris — not only living up to his father's name, but his number.
Jalen acknowledges that Sean was a "great player" at Arizona, an All-American and a third-round draft pick. Jalen is striving to be "greater." It starts with heeding his father's advice, which Jalen summarized as follows:
"I'm competing against not just my teammates but everybody in the whole country. I gotta make sure I do the extra work. That's what separates you from everybody else."