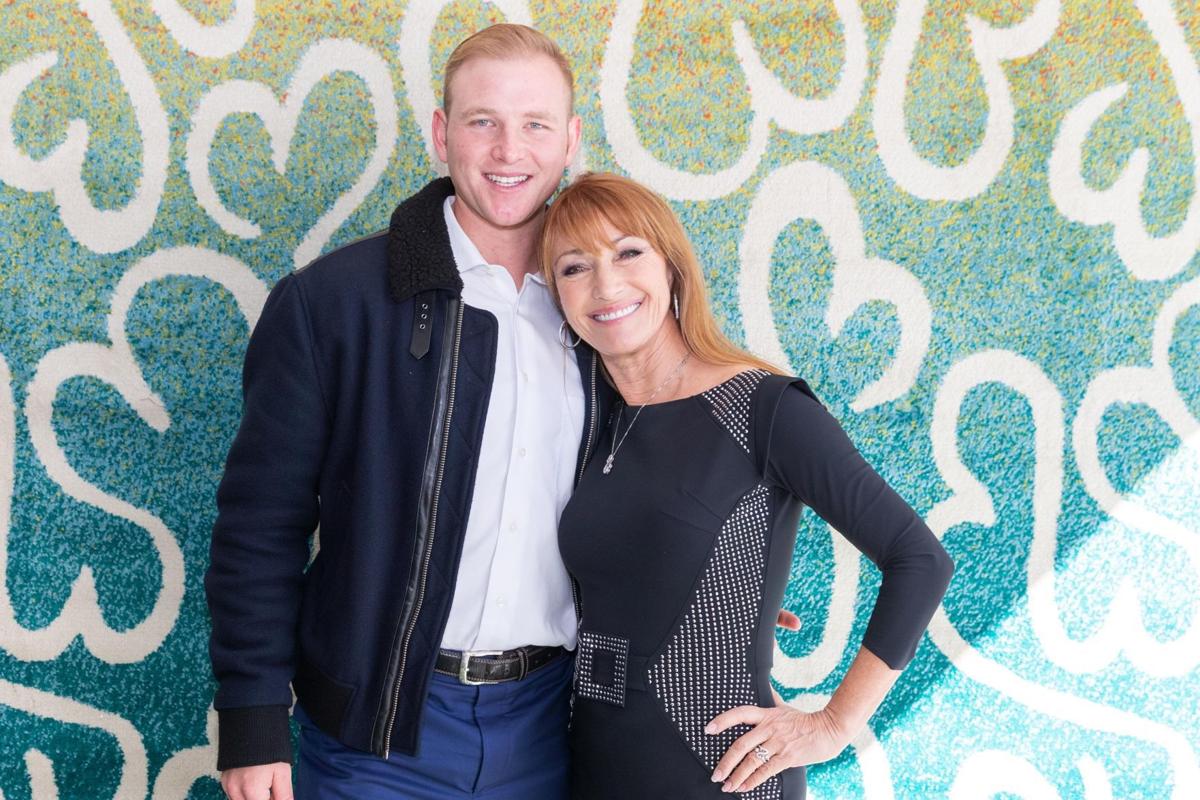 While he was still in diapers, Tucson Saguaros pitcher Kristopher Keach would join his mother on the set of "Dr. Quinn, Medicine Woman" and start throwing potatoes. The show's kitchen staff quickly taught him how to throw overhand.
Ever since then, actress Jane Seymour knew her son would grow up to be a baseball player.
"There was no question, from birth, what he was going to do," she told the Star on Wednesday.
Seymour will be joined by Keach's twin brother, John, at Cherry Field on Friday, when the Saguaros take on the Alpine Cowboys at 7 p.m. Seymour will throw out the first pitch.
Seymour, a two-time Golden Globe winner, is best known for her role as Dr. Quinn and as Solitaire in the 1973 James Bond movie "Live and Let Die."
Seymour said she couldn't be more excited to make her first visit to the Old Pueblo to see her son play in a Pecos League game. The pair talk every day, and Keach sends photos from games, but this will be Seymour's first time watching her son pitch as a pro.
"It makes me very proud," Seymour said. "It's a really hard road. I studied to be a dancer and I know how hard that was. When I talked to him about baseball, there's a lot of similarities in some ways. It's hard — you can have a talent, but you have to work incredibly hard."
Keach is no stranger to the hard work needed to be able to play the sport he loves. The 23-year-old bounced around different programs during his college career, playing at Cal State Los Angeles and Marymount California University.
The right-handed pitcher considered taking a break from baseball after college when a friend of his presented him with the opportunity to play for the Saguaros. The friend had made the team, but decided not to play. He encouraged Keach to vie for the spot.
"So, randomly, I gave them a call — I had to call them. They couldn't find my number, so I had to call them," Keach said. "I was going to take a year off, just because I hadn't finished the season. I just called… and it worked out."
After navigating through different college programs, the Pecos League turned out to be another curveball. Keach said his rookie season has been a wake-up call.
Saguaros players are responsible for their own transportation to away games. Once at their destination, they sleep four players to two-bed motel rooms.
"We get to know each other pretty quick," said Keach, who is 0-2 with a 5.81 ERA in 14 appearances. "It's a humbling experience and I'm really enjoying it."
Seymour is no stranger to toughing it out. She began acting with a repertory theater as a teenager. The actors and crew would practice all day and perform each night, usually working from 7 a.m. until midnight, she said.
Seymour owned an old car that could barely make its way through the snow. Somehow, it got her to the hotel where she was going to be spending the night. Seymour slept in a tiny back room that she said wasn't big enough to fit both her and her suitcase.
The hotel had a fireplace that required coins to work. Seymour didn't have any.
"I remember just sleeping in this tiny little bed, covered in all the clothes and all the coats and everything I brought with me," Seymour said. "I get it. It's tough, but it's also an amazing privilege. So many people dream of playing baseball professionally at all, at any level or even college ball, and he's made it so far. He's following his passion, and that's what's important for me."
Seymour has thrown out a first pitch once before — but she's never done it for her son's team or at a place like Cherry Field.
"She says she's going to practice so when she comes out here she throws a strike, hopefully," Keach said.
Seymour knows her way around the sport. Seymour played rounders, a girls-only sport similar to baseball, when she was a girl in England. One episode of "Dr. Quinn" included baseball.
Keach said his mom can hit a little, too.
"I'm going to try to get a little practice time and I've got to make sure I don't end up having a Tommy John (surgery) before I throw my first pitch – that would be sad," Seymour said.
"I said I will more than likely interpret the pitch more as a ballet move. I'm going to put my own style to it."
Contact reporter Norma Gonzalez at 520-262-3265 or