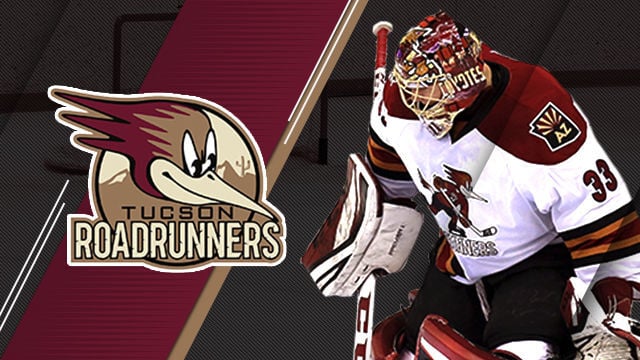 The saying, as it goes, suggests to score "early and often."
For the Tucson Roadrunners on Wednesday night at Tucson Arena, early was just plenty — especially with a goaltender of the Adin Hill variety in net.
Propelled by opening-frame goals from defenseman Cam Dineen and forwards Michael Bunting and Brayden Burke — let alone a 39-save shutout by Hill — Tucson completed the two-game home sweep of the Texas Stars with a 4-0 win.
It was the Roadrunners' third straight win, and eighth in their last 11 games, as Tucson (23-11-3-1) now sits just a single point behind the first-place San Jose Barracuda in the American Hockey League's Pacific Division race.
"Obviously Hiller in net was unbelievable again. It was great to have him back there," Dineen said, adding that the Roadrunners' defense in front of Hill "kind of had to take (Texas') pushback" for the remaining two periods.
That was especially the case late in the third as Texas (21-16-3-2) went a bit unorthodox and sent an extra skater out in place of goaltender Philippe Desrosiers for all but a few seconds of the game's final five minutes.
Hill, who recorded his second straight shutout in net for the Roadrunners — he turned away 21 on Saturday night in a 2-0 road win at Colorado — praised the Tucson defense for holding tough, especially during a late barrage when Texas had the extra attacker during a power play.
"It definitely brings a little more desperation level there, especially at the end with the 6-on-4," Hill said. "Our guys did a great job battling for all those loose pucks in front and finding ways to clear them."
Added Tucson head coach Jay Varady: "(Texas) wanted to push … and they did a good job with it. They were in our zone for extended periods of time right up until the end."
With Tucson effectively down two men, however, Hudson Fasching broke free for a shorthanded empty-net goal with 15 seconds remaining to put a lid on the scoring.
Hill's pair of shutouts come after his stint of about six weeks with the Arizona Coyotes, where he filled the role of No. 1 goalie at times and was named the NHL's second star during the first week of December.
While the goals by Bunting and Burke came barely a minute apart midway through the first, it was Dineen's wacky score that jumpstarted things about five minutes in. Looking to make a pass across the slot, Dineen flung the puck at a mass of Texas players in front of the Stars' net and had it deflect past starting goaltender Landon Bow.
"We actually work on a drill with (assistant coach) John Slaney, just bouncing it off things in front of the net to get deflections, so it just kind of worked out funny that way," Dineen said. "You throw it off someone's skate … luckily on that play it just redirected right in the net, so I'll take it."
The goal was Dineen's third of the year, followed by Bunting's 11th — also his fifth in four games since his own return from the NHL. Burke scored his seventh, and Fasching tied Bunting, Lane Pederson and Adam Helewka for the team lead with 11.
Bow started both games for Texas this week, giving up eight goals on 25 shots. He was pulled after the third goal Wednesday night.
Tucson's six-game homestand continues Friday and Saturday with a pair of 7:05 p.m. starts against the Bakersfield Condors.