The football journey of Larry Rose III is not unlike one of his long runs — twisting and curving, topsy and turvy, around in circles and, somehow, seemingly always back in Arizona.
And so it is that the pride of Las Cruces, New Mexico, the Arizona Bowl hero for the New Mexico State Aggies, finds himself once more about to descend upon the Grand Canyon State.
In early January, Rose will join the rest of the Arizona Hotshots for the inaugural training camp of the Alliance of American Football, an upstart professional football league.
The goal: Make it to the NFL.
The goal: Make it back to the NFL.
Rose had his NFL moment on one September day. Just a few days prior, his agent got a phone call from the Los Angeles Rams, who'd waived him on June 18 after plucking him off waivers from Tennessee. The Titans had signed him as an undrafted free agent after he rushed for 4,558 in four years for the Aggies.
Rose felt a fit with the Rams, both in terms of scheme and with the players. So when they called early during the week of their final preseason game against the New Orleans Saints, he was all ears.
"I got a phone call on Monday, flew out and had a walk-through on Tuesday, another walk-through Wednesday, and a walk-through at the hotel Thursday morning."
It would only be brief, but it would be something. Rose rushed 12 times for 43 yards and some opened eyes in the Rams' preseason loss to the Saints. The Rams cut Rose a day later.
See, Todd Gurley doesn't need too many backups.
"The way it unraveled man, if Todd Gurley wasn't as good as he is, I might be on the Rams," he said. "I knew going into the situation I had nothing to lose. Nothing was bothering me. I had an opportunity of a lifetime. I just had to go out and play football and play fast. My experience was great. I wish I would've gotten all four games. But being with the Rams, they made it a lifetime experience I'll never forget."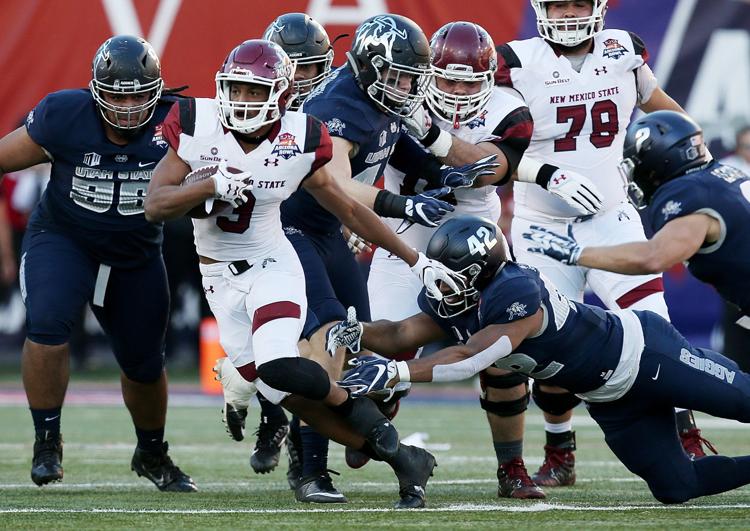 Speaking of never forgetting, Dec. 29, 2017, will be seared into Rose's memory for a long while.
It was on that day that he helped the New Mexico State lift its first bowl trophy in 57 years. His his 21-yard, overtime touchdown ensured that Rose will never have to buy another drink in Las Cruces.
"It was really just a feeling of relief," he said. "A feeling of relief and accomplishment. Especially with the fans rushing the field. Most importantly, I wanted to bring winning back to Las Cruces for the people. For the fans. Not so much for myself. After being there for four years and learning more about the university, you realize all these people want is a winning football team.
"I hold that dear to my heart. Don't let the people down. That's one thing that was just really big for me."
This was not Rose's first time carrying the Aggies on his back.
As a sophomore at NMSU, he rushed for 1,657 yards and was named a third-team All-American. Injuries got to him his junior and senior years, but he still totaled 1,799 yards and 14 touchdowns between the two seasons.
Among recent Aggies, he's a legend.
"That was the beauty of it," he said. "If I could do it all over again, I'd do it the same way. This town hasn't had a winning team in 57 years. I'm up for that challenge. Why not me? Why not be a part of a team that changes history? That turns things around. I knew I could be part of it. I didn't know what magnitude it would be. Didn't know I'd be an All-American. Didn't know I'd be an offensive MVP. Score the winning touchdown. I did know my talent was good enough to help do something. To make a difference."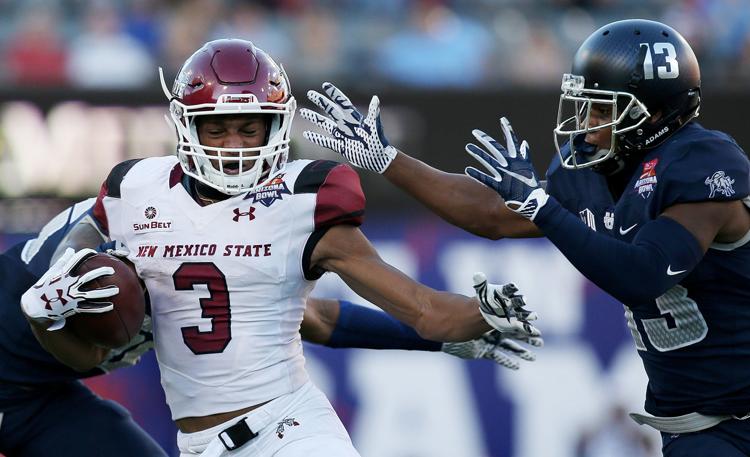 And he made a difference on the field, in the classroom and in the community. Rose said he still feels the adoration from the community.
"It's not a part of my everyday life, but whenever I do want to feel that love, I know all I need to do is step foot in Las Cruces," he said. "The city loves me, and I love it. I got that love in return. It's nice to go out and people acknowledge you, see what you do for the university.
"Life after college ball, one thing I'm thankful for is my career still isn't over. People still acknowledge me. It's nothing like those four years in Las Cruces. Nothing can top that."
Succeeding in the AAF, in Arizona, and turning that into a full-time NFL gig.
"Arizona has kind of become a normal place for me now," he said. "When I found out I was going to Arizona, I was excited. I like both Phoenix and Tucson, both really good places. I can't wait to get back out there and play some ball. I know one thing would make my day is if someone came up to me and told me they saw me in the Arizona Bowl. Someone who wasn't even affiliated with New Mexico State. That would make my day."