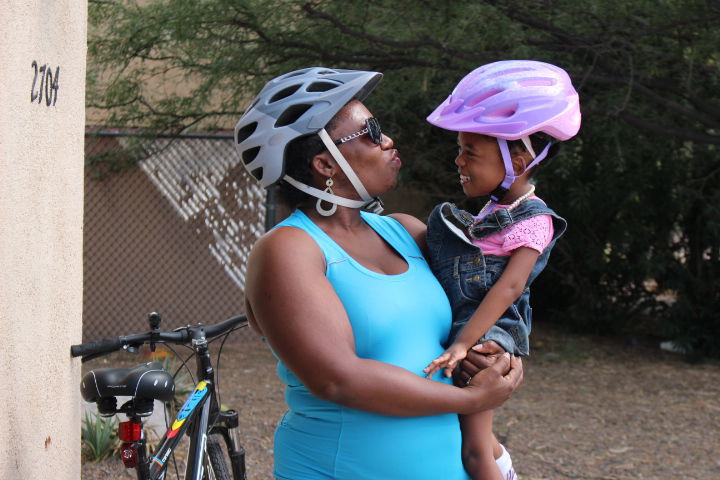 All Adiba Nelson wanted for her birthday was a present for someone else.
She turned 40 this year, a milestone for some, a nightmare for others. You know what's after 40? Fifty. Then 100. It's a big year.
Twenty-five, she said, freaked her out. Thirty took a little getting used to, but 40, you know what? She's fine with it.
Mostly because she's fine with herself.
"Every woman I know says 40 is amazing," she said. "I started to think about my life, growing up poor in New York City, moving to Tucson — and still being pretty poor — being homeless, being a single mom, all the way to where I am now, this crazy upward trajectory. And I realized there is nothing I didn't have or want or need. Growing up poor, you learn to only want what you need. You don't have eight pairs of socks if you don't need them. Not only do I have everything I need, but I have everything I want. I couldn't think of any one thing I'd want.
"My husband and I are going on a trip to celebrate our anniversary, I'm working, I've been blessed. And my daughter has been blessed. And I thought I know El Tour is coming up, and we do a lot of work with children's clinic, always raising money to get adaptive bikes for kids with special needs, and that's like the last bastion of childhood, bike riding."
So for her birthday, Adiba Nelson is riding the Tucson Medical Center El Tour de Tucson presented by Casino del Sol. And she's decided to get someone else a gift.
Turns out, Adiba already got her gift about eight years ago.
Her daughter, Emory, is 8 now — "going on 28," her mother adds — and she is as sassy as she can be. She was born with bilateral schizencephaly, a genetic birth defect that affects one in nearly 65,000 pregnancies, resulting in slits or clefts in the brain that can fill up with cerebrospinal fluid.
Most cases result in paralysis, either on one side or both, poor muscle tone that hinders motor functions, and, often, seizures.
The doctors' prognosis for Emory's life was not exactly brimming with positivity.
Now little Emory is doing ballet from her adaptive chair — "This year they're doing Sleeping Beauty," Nelson said — and she's begging her mother to play cello and fighting with her about who is going to tie her shoes.
"For the longest time, I brushed her teeth," Nelson said. "Then she said, 'I don't need you,' and it became a tug-of-war over a toothbrush. You start questioning everything. I thought I'd be one of those parents like, 'what I say goes,' but you can only argue about chocolate milk so many times. Just drink the damn chocolate. I don't care anymore."
What parent of a fierce 8-year-old girl doesn't fight those battles? They may be frustrating in the moment, but Nelson is glad to have them.
"Everything is a negotiation," she said. "But when she's 18, 19, 20 and eventually in the workforce, and someone tries to screw her over, she'll be fine. Realistically, she's always going to need help with physical activity. Me, a spouse, life partner, a home health aide. But when I see how much she knows — she's just a freakin' genius. It's scary. She'll be just fine. There is no reason this kid can't go to college, can't hold down a badass job. She'll be juuust fine."
As a parent, it turns out, Nelson just had to let go of the training wheels.
But, in doing so, she found out just how important a set of training wheels can be.
Nelson sees it all the time. Sometimes, even she falls victim to it herself.
She forgets that, above everything — above that fateful diagnosis and those battles of toothbrushes and Velcro straps — her child with a disability is still, of course, a child.
It is easy to forget that when maybe a child can't convey what he or she wants to do, when they can't explain what they want, or when it gets lost in translation. It's easy to forget that a child wants to play, when so much of that child's life seems just like a struggle to stay alive.
"I don't think it registers sometimes to people," Nelson said.
"When people think of kids with special needs, they don't think about the fact they're a kid. Their childhood is obsolete. They become their diagnosis. They become the medicine they have to take. A child wants to do child things. So much of their world is filled with non-child things. No one thinks about the kid aspect of it."
Nelson caught herself doing it.
People would ask her what they could get Emory for her birthday, and she'd reply, "Get her a toy with a therapeutic edge." Or, Nelson one day realized, simply a toy that she could play with.
"Childhood, the joy and fascination with it, the sparkles and the dandelions — that gets easily missed."
When she saw her little Emory riding her adaptive tricycle for the first time, her smile the size of Mount Lemmon, the wind in her face, and — for a moment — utter freedom, Nelson was reminded, and reminded for good.
"It's a whole new feeling of independence," she said. "You're literally in charge of your bike. You steer it, peddle it, put the breaks on. In every other aspect, when you have mobility issues, someone else is in charge of it. Someone is in charge of making your body go. Ordering the devices, the mechanisms, the braces.
"But when you're on that bike, you're in control. You're pushing your body. No one else. Emory, who is so fiercely independent, I'm running to keep up with her. She just takes off. It's like, kid, chill! I don't run. Slow down!
Nelson wants for someone else to feel that joy, that freedom, and for some other parent to realize that the world may be at their child's fingertips.
So she set a manageable goal, a modest fundraiser on Facebook and social media: $1,000 for an adaptive bike for someone else's child.
She's done it before, raised money to give another kid a set of magic wings, and she knew what she got out of it then, even if she did not see the final product.Nelson urges those who want to do the same to support the Children's Clinics Adaptive Recreation Fund.
"I don't think you ever need to know who is effected by good works," Nelson said. "The point is just do the good works, as long as it touches someone. We shouldn't look at things for the thank you card at the end."
So once more, in anonymity, she'll give a kid a set of wheels.
With two days to go in the fundraiser, Nelson was still $95 short. She looked at her husband.
"Two days out I realized my husband hadn't donated," she said. "You didn't donate to my birthday!"
One quick PayPal transaction, and it was done.
A new adaptive bike, for a kid who may never have known they needed it.
This is a biking family, after all.
Two years ago, the Star first profiled Nelson, who was attempting to ride in the El Tour de Tucson for the first time. By then, she'd already come a long way — as a parent, as a new wife, as a person. In just the last two years, she's come so much farther.
"What have I learned? I learned padded bike pants are a thing and for women they're crucial," she said. "God bless whoever designed them. I've learned the farther you go, you have to come back. No one is going to pick you up. So you realize, as hard as I push myself, I have to keep pushing myself to reach my goal, which is making it home in one piece."
On Saturday, they'll ride again. Nelson, in the 11-mile race, though she has a goal of soon jumping up to the 26-mile level, and Emory, who'll do the half-mile kids' fun ride, with either Nelson's mother or husband riding with her.
Realizing along the way, that someday, maybe next year, someone else's child will sidle up next to Emory, ready to take on the world with her.
"Would I have done this at 35? No," she said. "Why did I ride at 38? I wanted to do it for my daughter. I wanted her to ride in El Tour, too, to be able to experience it with her.
"In a way, I guess I just wanted her to be as proud of me as I was of her."
Be the first to know
Get local news delivered to your inbox!