It is a Monday morning in mid-May, and George Mares can't talk. The store is busy.
Two years ago, Showtime Cards, 5801 E.Speedway Blvd., would be a ghost town on a Monday morning, hobbyists trickling in over the hours. Maybe they'd buy a pack or two. Maybe even a box, if Mares pulled out the full-court press.
And this was after the sports card industry found new life in the mid-to-late 2010s.
Mares agrees to talk Tuesday. But then, nope, two people come in to bring collections that they hope and pray are worth a mint. Wednesday was tough because Mares had to do a series of box breaks — opening boxes of cards for buyers who purchase one random team, hoping to minimize the growing cost of a full box of cards — and Thursday…well, Thursdays are always busy.
He is free on Friday morning, but only for a while, because then a rush comes in.
This is 2021, and the trading card market is booming, and George Mares is the belle of the ball.
'Now it's cool to do it'
All kinds of balls, really.
Baseball, basketball, football — you name it. It's all going up.
Hockey and soccer. Whew, boy, are soccer cards soaring. Then there's Pokemon and Yu-Gi-Oh! and Magic the Gathering.
It's all a bit shocking to Mares.
"It's 1 p.m., and I haven't eaten all day and the phone won't stop ringing," Mares said. "When you and I used to collect, it was geeky. Now it's cool to do it. You have Logic the Rapper holding up a PSA 10 Charizard Pokemon card that he paid $280,000 for. Now all these young sneaker flippers see they can hustle and make money on cards."
Mares has called the sudden growth of the hobby a "perfect storm of events."
The hobby had already been on a major upswing in recent years as rookie cards in several sports began hitting levels almost unheard of in hobby circles. Mike Trout, Ronald Acuna Jr. and Fernando Tatis Jr. in baseball; Luka Doncic, Jayson Tatum and Zion Williamson in basketball; Patrick Mahomes and Tom Brady in football; Connor McDavid and Alexander Ovechkin in hockey — we're not talking cards that have gone up moderately in value. We're talking million-dollar cards here.
"I've never seen a bigger bull market," Mares said. "Nobody has ever seen this kind of money. It's going to continue. People think it's a bubble, but I've had this shop for 23 years and done this for 26 years, and there are a lot of indicators that make me think it'll settle, but not crash. I have 500 customers I see monthly, some daily. But every day, I see two-to-five new customers, and I ask where they are from, thinking they're from out of town. But they say, 'I'm from Tucson, but my son got into it,' or, 'I'm back collecting again.' And the money coming into the hobby – you've got these hedge funds and athletes."
For longtime collectors, it's not all fun and games.
Gone are affordable packs and relaxing conversations. Now a trip to the card shop is like visiting a financial advisor.
"It's actually been kind of frustrating," said longtime collector Curtis Keys, who visited Showtime Cards on Friday afternoon. "It's not a hobby anymore. Everyone sees it as an investment. They want to get the heavy hit and sell it for thousands of dollars. When I was 13, I didn't have thousands to spend on cards."
Here's the thing, though.
Frustrating as it may be, Keys is still in the store.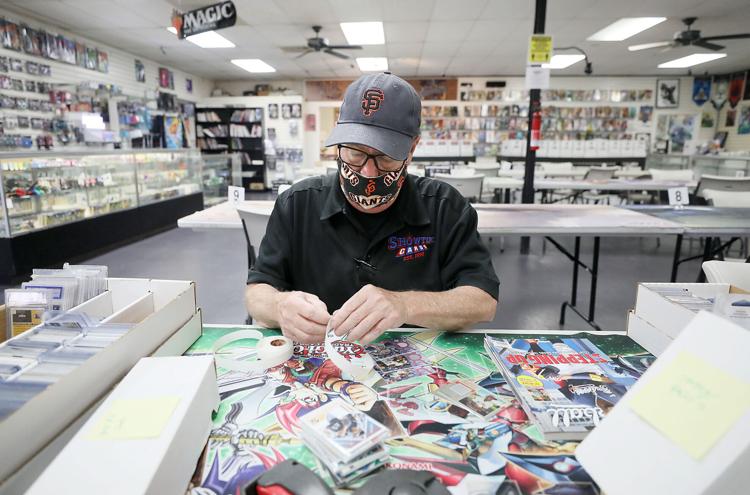 'That changed the game'
The sports card industry has always had ups and downs.
From its origins in the early-1900s in the form of tobacco cards to the explosion of popularity of Topps baseball sets in the 1950s and 1960s to the first major boom of the late-1980s, there has always been an ebb and flow. Premium cards were released in the early-1990s and by the late-90s, autographed cards and cards containing game-used jerseys and equipment were introduced en masse. In 2003-04, Upper Deck released its Exquisite basketball product — packs containing around a half-dozen cards sold for $500.
Soon enough, 10 cards and a stick of gum were a relic of the past.
These days, sports cards are looked at in the same vein as major investments.
"It has become a 100% legit investment," Mares said. "Everyone knows you can't throw your eggs into one basket. Now sports cards have become a little side thing with real estate and stocks and IRA and 401K. When these influencers got in, guys with net worth of $200 million, $500 million, a billion dollars? That changed the game."
Now regular auctions are hitting record values on a recurring basis.
"It started happening a year or two ago, but then it became a race," Mares said. "Every month we're seeing a new record broken. A LeBron James beats a Mike Trout and then a Mickey Mantle tops the LeBron, and then a Luka (Doncic) tops the Mantle. By year end, we'll have a $10 million card in the industry."
And the COVID-19 pandemic did little to slow things down.
When it shut down local businesses for weeks back last spring, Mares knew he'd be able to keep Showtime Cards up and running.
With the sports card industry going online to the extent it has — eBay and several other platforms have been established to buy and sell singles, and Facebook and Instagram have become go-to spots for trading and box breaks — Mares was able to not miss a beat.
If anything, things got even crazier.
Stores across the country recorded record sales as customers diverted money that previously went to live games, concerts, movies – anything else that was shut down – into sports cards.
"We were still in business," Mares said. "Heck, people wanted to break every single night."
Mares was busy renovating the store during that time, but even more importantly, he was given the peace and quiet to start going through some of the store's quarter and dollar boxes. Cards that were once worth pennies…
"I remember coming in here by myself going through common boxes and finding stuff anywhere from $10 to $200. Even more," he said. "A LeBron Panini Prizm (basketball card) that used to be $5 was now $400. You'd have a base Topps Kobe rookie out there for $12, and someone would offer you $8 and you'd gladly sell it. Now it's a $500 card."
He'd already had big finds before.
A few years back, he found a Giannis Antetotokounmpo Panini Prizm rookie card in a quarter box, submitted it to Professional Sports Authenticators (PSA) for grading, received a Gem Mint 10 and sold it for $600. That same card sells for around $4,000 now.
A life-changing stash
Mares was particularly shaken last January, when he learned that Bryant, the Lakers legend, had died in a tragic helicopter crash.
Mares was raised in both Tucson and the Westchester neighborhood of Los Angeles, not far from the Forum. He grew up a huge Lakers fan.
Showtime Cards? Where do you think he got the name?
There was Magic and Worthy and Shaq and more, but there was no one like Kobe. An avid sportscard collector and a store owner himself, Mares began acquiring Kobe rookie cards in the late-1990s. Even then he knew the value of graded cards.
He bought the best of the best and put them in a safe deposit box.
He hadn't visited the box in maybe two decades when looked in September.
Inside the box were several gem mint Kobes, including a 1996-97 Topps Chrome Refractor graded PSA 10. A month ago, one sold at auction for $500,000. Mares estimates the value of the cards in the box to be in the millions at this point. He can't believe it. His life has changed.
Will he sell the Kobe cards? He doesn't think so. It means too much to him.
"I still love the card," he said. "But if it gets to a million, I don't think I'm going to love it that much."