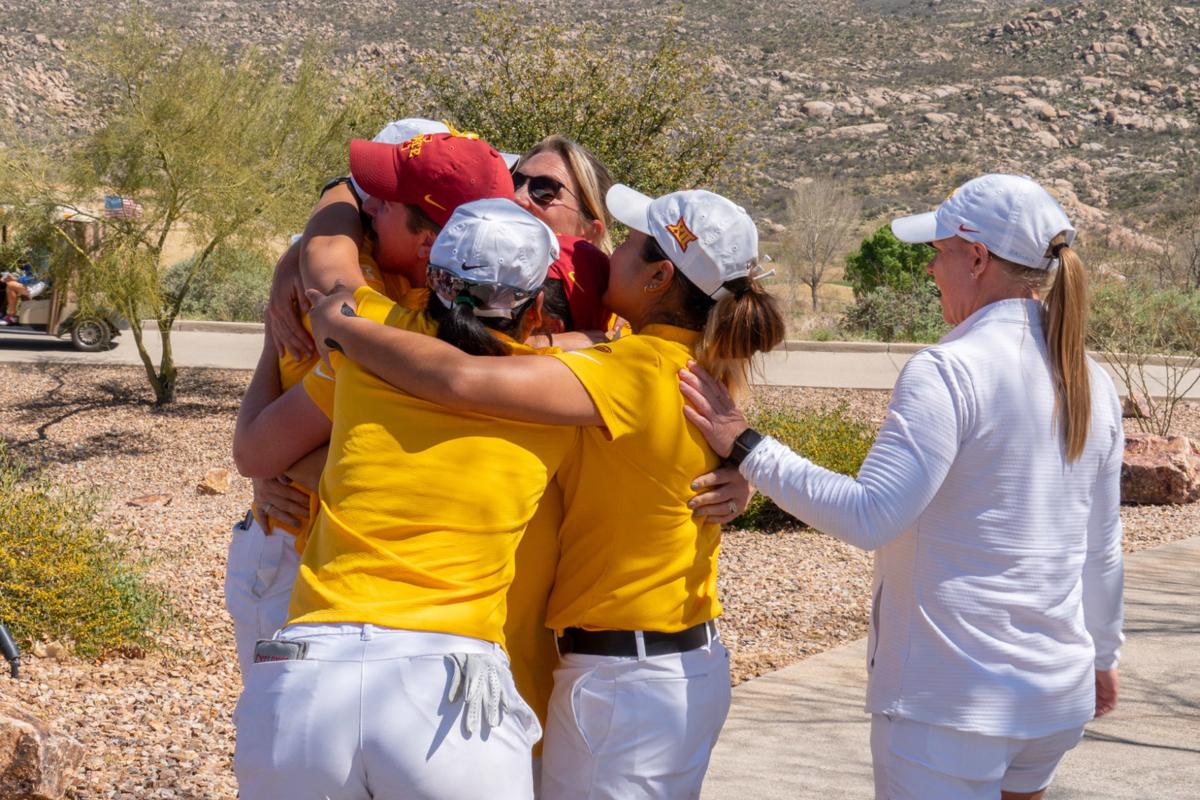 For the first time in most people's lifetimes, a March day has Southern Arizona's baseball diamonds, tennis courts, soccer fields and golf courses barren of young athletes, as collegiate and high school sports in the state and country have come to a screeching halt in response to the coronavirus pandemic.
For one community 45 minutes up the road from Tucson, the pause from sports broke a 21-year tradition.
The MountainView Collegiate Women's Golf Tournament is different from most, in that players and coaches stay in the houses of Saddlebrooke residents who cook them meals and drive them to and from the golf course.
For the players, coaches and residents involved, the tournament has resulted in deep and lasting friendships that in some cases meld into an extended family.
"Needless to say, we are very disappointed and sad" to cancel, said Jo Helms, the tournament and volunteer coordinator. "This tournament brings such joy and camaraderie to the community. We look forward each year to see these players with their skills, smiles and vibrant energy."
This year's tournament was scheduled to begin March 20 at The Preserve Golf Club, where it was also played last year. Prior to 2019, the tournament was played on the course for which it was named, MountainView.
The tournament got its start in 1999, thanks in part to Colorado women's golf coach Anne Kelly, a former Tucson resident who graduated from Santa Rita High School.
Kelly's mother, living in Saddlebrooke at the time, saw the need for a collegiate event in the area and recruited her daughter to help make it happen. CU worked with Kelly's mother for years to develop the tournament as a successful stop on the Collegiate Women's Tour.
Colorado stopped participating after it moved to the Pac-12 in 2011. Kansas State and Missouri stepped up to become the host.
"I've been around golf a really long time, and I've never seen anything like this," said Matt Hudson, Saddlebrooke's director of golf operations. "I think people just don't know that there's golf at its highest level occurring here."
Missouri senior Cherise Otter was looking forward to her fourth trip to Tucson and staying with the same family she'd stayed with during the previous three tournaments.
"The best part (of the tournament) is the host families. Everyone in the community is very nice, letting us stay in their homes for four or five days," Otter said. "You get the comfort of a home and homemade food from your host families."
But the home-away-from-home feeling extends beyond just the in-house lodging and homemade meals, which are a nice break from hotel buffets. Otter said that other volunteers in the community also get involved, shuttling players around the courses in golf carts.
Saddlebrooke residents also function as cheering sections for players during the tournament, which Otter said is a true morale booster.
"If you come off a bad hole and you get to see them next, it's still kind of awesome," Otter said. "They'll cheer you on no matter what, even if you just (double-bogeyed). It's impossible to have a bad day in that sense."
Helms has overseen the roughly 120 volunteers that turn out to help with the tournament each year for more than a decade. She took over the job from a neighbor who was moving away.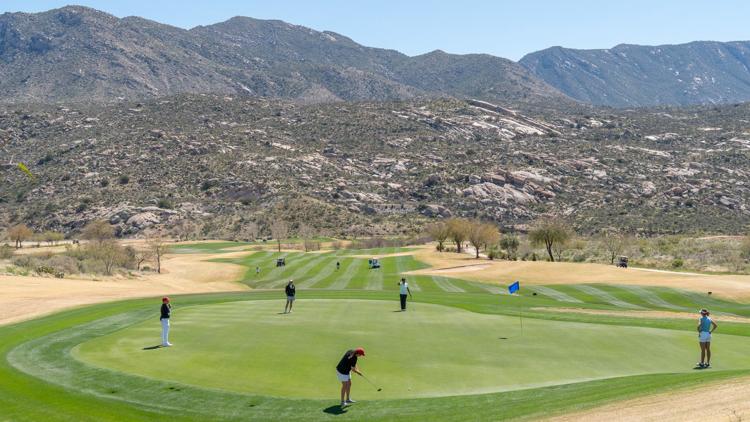 Helms, who plays golf four times a week, said that the bonds residents form with the players and coaches is real and lasting. Residents often drive to Phoenix to watch "their" players compete in other tournaments; some travel even further.
Mary Baglien is part of the latter group. She and her husband have been hosting golfers ever since they first moved to Saddlebrooke 17 years ago.
"It's such a nice experience. You get to meet gals from all over the country, and they're all obviously such avid golfers, but beyond that they're wonderful people," Baglien said, adding that over the years she's seen how hard the young women work to perfect their craft.
During one of their first years of hosting, the Bagliens housed a Swedish player who attended Mizzou, staying in touch with the young woman after graduation. They traveled to Las Vegas to watch her play in a tournament and even attended her graduation.
In the years since, the Bagliens have visited their former houseguest in Sweden, after she started a company that took visitors on golf junkets around the world, and she's also come back to visit them at their home.
"We've watched her grow up," Baglien said of the player, Maddie. "She's just one of those people you meet and fall in love with. She's brought such joy and fun to our lives."
Baglien, who pairs college teams with housing, said that hosts typically want the same team to come back.
"For our residents that are into golfing, they're very willing to take them in," Baglien said.
Baglien said that most of the residents are already grandmas and grandpas and are more than willing to add a few more unofficial grandchildren to their extended families.
"The players are such delightful young people. One of the things (hosting) does, is it reaffirms your faith in young people," Baglien said. "Most young people are like that, but we don't get to see it."
Kansas State coach Kristi Knight has been to the tournament every year since its start.
"As time goes on and different things change, our friendships are still there," Knight said of the relationships she's forged. While she and her team stayed in a hotel last year due to a change in some of the host residences, one couple had the team over for a barbecue and continues to cheer the them on when they take to the links.
While Knight is effusive in her praise of Helms, Baglien and the residents who open their homes, she also views the tournament as a win for the residents. The events are free to watch and the quality of play is top-notch.
"So they also get to see a lot of great players in the field," Knight said. "And they treat the teams and players so special. It's just a really fun event."
Mizzou coach Stephanie Priesmeyer has been around so long that one of her assistant coaches previously participated in the tournament as a player. Missouri participated in the inaugural tournament, but took a few years off in the early 2000s. But under Priesmeyer's leadership, they've been a staple at the tournament since 2005.
They've also had the same host families the whole time, Priesmeyer said.
"It's like going out to see our grandparents every March," Priesmeyer said. "The families we stay with are an extension of our real families."
The residents are unabashedly impressed with the players' skill and athleticism, which is a treat for her team.
So are the beds (which are typically larger than dorm beds) and private rooms and bathrooms they get to enjoy as part of their in-home accommodations.
The quiet homes and empty golf courses on this particular weekend are a palpable reminder of what is missing.
"We pick up tips just by watching their fluid golf swings, learn about their background and where they grew up, and form some long-lasting friendships," Helms said. "Although this year didn't work out, we are already anxiously awaiting 2021."
Concerned about COVID-19?
Sign up now to get the most recent coronavirus headlines and other important local and national news sent to your email inbox daily.