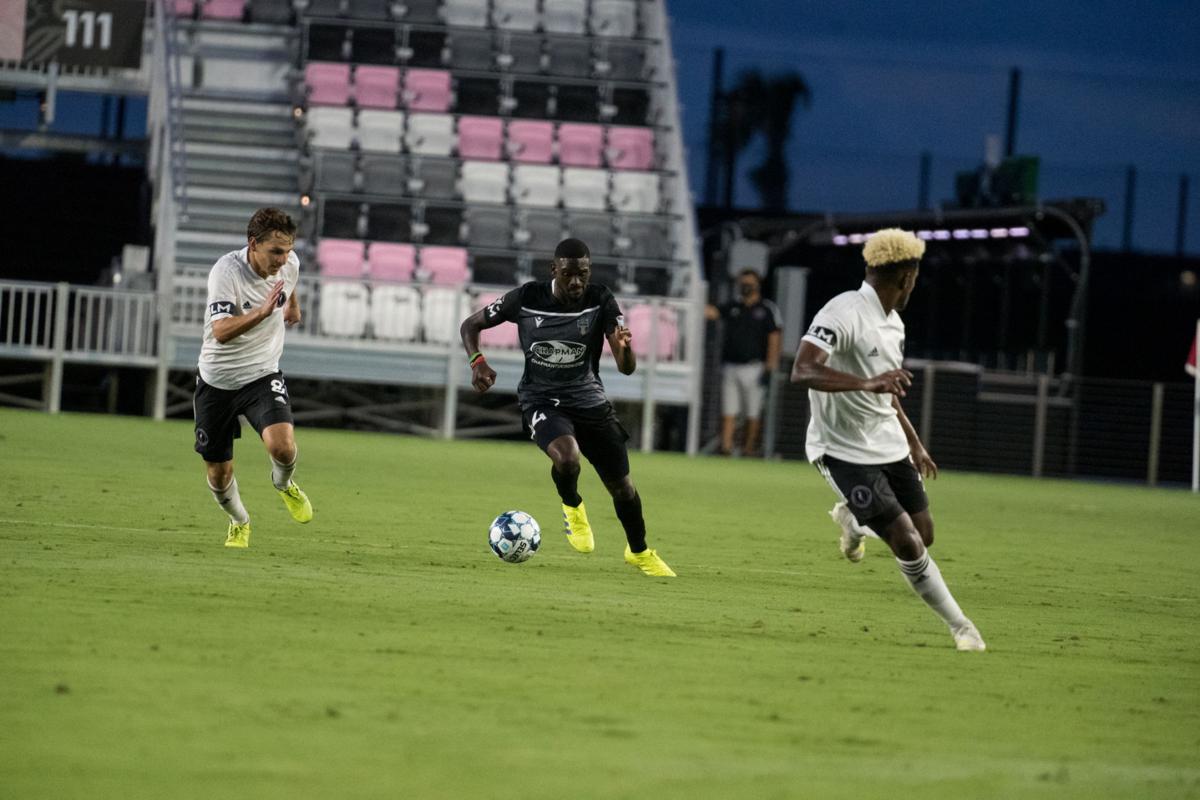 Change has been a constant throughout FC Tucson midfielder Raheem Somersall's soccer career, so he was well-prepared to help lead the team this year as one of only four returners on a roster full of new players.
"It's not that much of a change for me, I feel like, because in college, you... have changes every year," Somersall, 22, said. "From being a freshman until the time I was a senior, every year was different for me."
Born in Basseterre, St. Kitts, Somersall played three seasons of college soccer at Appalachian State University in Boone, North Carolina.
"From my freshman year into my sophomore year, I had a new coach. And then my sophomore year, we had only six or seven returning players from squad of 28," Somersall said. "The following year, it was also two new coaches coming in and then (a similar number of) players returning from the previous squad."
Somersall transferred to Florida Gulf Coast University for his senior season. That meant a different environment, new teammates and coaches. He's experiencing the same feelings with FC Tucson, which will play at the Chattanooga Red Wolves on Saturday afternoon.
"Not being to be able to have consistent teammates throughout college, it prepared me for something like this," Somersall said. "It's not so much of a big deal."
Somersall is putting his veteran status to good use with the Men in Black, taking on one of two captain positions. He serves as the club captain and community ambassador.
In a news conference before FC Tucson's season opener last week, coach John Galas said Somersall will help motivate and encourage players in his role as club captain.
And while Somersall is no stranger to change, assuming a leadership role on his team is nothing new.
"I was always looked at as a leader in some form from the time I was a freshman, " Somersall said. "It's just motivated me to continue striving to lead and be effective on and off the field."
And though the season is in its early stages, Somersall has already made an impact on some of his new team members.
"Just being near him in practice makes me a better player, just because of the way of he speaks and plays," first-year player Tommy Silva said of Somersall, who was in the starting lineup when FC Tucson took the field in their victory against Fort Lauderdale CF last Saturday in a fan-less Inter Miami Stadium.
Saturday' match will feel a little more like normal, as fans will be present for the inaugural home opener of CHI Memorial Stadium. Fans or not, it's all the same to Somersall, who — like most of his teammates — is just relieved to be playing again after the coronavirus pandemic shut down the season's start by months.
"It feels good to be back and really feels much better to also get the win on the road. For me, (the lack of fans) wasn't a big deal," Somersall said. "At the end of the day, we should be playing for ourselves, but as long as the fans are there we also play for the love and support of the fans."
With the shortened season — USL League One teams play a 16-game schedule instead of the usual 28 — Somersall said there's a "controlled rush" to achieve the on-and-off-fied chemistry needed to make a deep playoff run.
The quarantine helped the Men in Black come together, he said.
"It's different countries, different cultures, different lifestyles. And of course everyone, the Americans even, had different lifestyles growing up," Somersall said. "I feel like early on in the year, we didn't have much understanding of everyone, but the quarantine gave us a chance to get to know people and start working together. I felt like that has really given us a good chance to connect and given us a boost off the field."
This season, FC Tucson (1-0-0) is taking a stance on social issues. Every player is wearing armbands honoring the Black Lives Matter movement, which Somersall says he feels good about.
"There's always a conversation to be had, just because I feel like it's an ongoing thing. I feel like not everyone will understand because they don't wear the same shoes I do, or some of the other minorities," Somersall said. "At the end of the day, we're not just fighting for us — the team. We're fighting for everyone else that has experienced any form of injustice along that line."
Somersall is thankful for the support the community has shown him since he arrived last year, and grateful for the messages of hope and well wishes the team received during the past few months of coronavirus-related uncertainty.
"Unfortunately, we don't have the opportunity to engage with (fans) as closely and as passionately as we would like to be," Somersall said. "Every time we step on the field, (teammate) Niall (Logue) tries to pass this message along to the guys, 'Don't forget that when we play, we play for the fans back home.'"
Somersall is hoping that the remote options for watching FC Tucson games, including ESPN+ broadcasts and drive-in watch parties, will help engage new fans.
"This could be a way to learn about your Tucson community and learn a new sport. It's a chance to learn something different," Somersall said. "Even in the quarantine, I felt like everybody was able to learn something different. Just as we learned something about each teammate, this is the chance for the community to learn about us."
Be the first to know
Get local news delivered to your inbox!