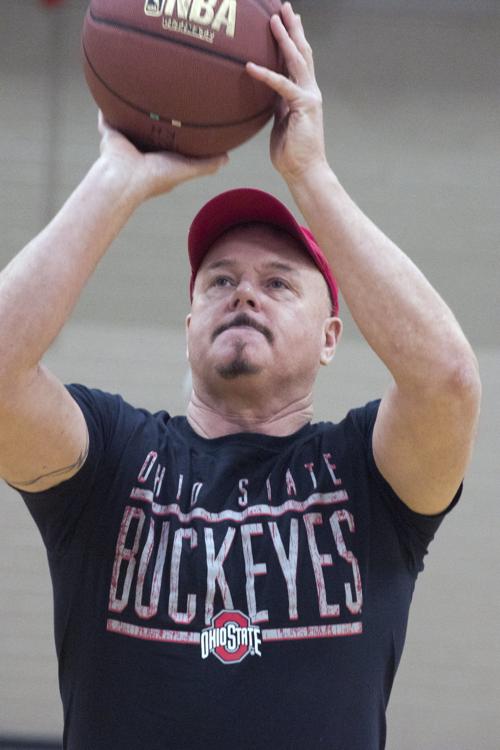 This is the first in a five-part Star series on how the coronavirus pandemic has impacted the lives and livelihoods of Tucsonans with ties to the world of sports.
On April 2, Brent Dennis celebrated the second anniversary of his hiring as Tucson's director of parks and recreation. Where and with whom did he commemorate that momentous occasion?
"In my office," Dennis said. "By myself."
In that regard, Dennis is no different than thousands across the city and millions around the world. He is practicing social distancing amid the coronavirus pandemic and working in isolation, or something close to it.
What distinguishes Dennis is the role he serves and the number of citizens he indirectly touches: He oversees the operation and maintenance of more than 130 public parks.
Dennis has served in a similar capacity in multiple municipalities for about 40 years. He loves his job. He's passionate about physical fitness. So you can only imagine how much it pained him to have to shut down hundreds of park amenities in compliance with government orders.
"To close playgrounds, having to take basketball off line, horseshoe pits, bocce ball courts — I don't like this version of March Madness at all," he said.
Dennis and his staff have temporarily closed 128 playgrounds, 96 tennis courts (parks and schools), 69 basketball courts (60 full, nine half), 29 horseshoe pits, 28 volleyball courts, five bocce ball courts and five shuffleboard courts. In addition, nine swimming pools that usually are open this time of year aren't. The official mandate from Gov. Doug Ducey's office came down April 3.
"That was the hardest day of my career," Dennis said.
Although parts of Arizona's park system remain open — including walking paths, bike trails and golf courses — the closures initially faced some resistance from upset, disappointed and confused park-goers. Some simply disregarded the closures; others stole signs and took down the yellow caution tape that rings playgrounds and ramadas throughout the city.
Dennis said he was getting 20-30 emails per day for a while from dissatisfied customers, especially basketball players who wanted to get some shots up. Dennis had to direct his staff to start removing rims — another decision he didn't want to have to make.
The emails have dwindled in recent days as people have come to accept the new reality. Dennis' message remains the same: The closures are temporary, and it's important for everyone to band together to mitigate the spread of the virus.
"As a community, if we can all work together, we'll get through it together," Dennis said. "There probably won't be a better day to celebrate as a community than when we can reopen fully."
When that will happen is anyone's guess. Ducey's stay-at-home order ends April 30, but that's subject to change. Asked to describe the biggest challenge he has faced since the COVID-19 crisis escalated in mid-March, Dennis summed it up in one word: uncertainty. It has many layers.
The Parks and Recreation Department has more than 430 employees, many of whom are seasonal or part-time workers who suddenly don't have much to do with pools, rec centers and senior centers closed. Should they apply for unemployment benefits?
Dennis also noted that sales tax is a critical component of the city's budget. With the economy careening toward a depression, it'll be difficult to keep the entire parks and rec team intact — even though its services, for now, have been deemed "essential."
"We're curtailing all expenses as best we can to see if we can get through this," Dennis said. "But nobody has a crystal ball."
Dennis never envisioned anything like this when he took the job two years ago. Back then, his primary task was helping to promote the passage of Proposition 407, a $225 million bond package dedicated to improving city park amenities. About seven months into his tenure, voters approved the measure — a major triumph for Dennis and his team.
"We got this infusion of much-needed funds," Dennis said. "Then enter COVID-19. But we'll get through this."
The only professional predicament Dennis could compare to this one was the financial crisis of 2008.
At the time he was working in the Bay Area, where his responsibilities included the San Francisco Botanical Garden and Golden Gate Park. He had to lay off staff members. Others faced furloughs.
"It was similar to these times," Dennis said. "But now we have a health crisis, and it's an invisible health crisis."
Dennis, 61, was born in Northwest Ohio and attended Ohio State, where he lived in the Ohio Stadium dorms that housed students from 1933-99. Dennis' time as a student overlapped with the end of Woody Hayes' tenure. Dennis played flag football at the Horseshoe and was a renowned intramural basketball player. (He played basketball in this year's Tucson Senior Olympic Festival and can still knock down 3-pointers from the corner).
Dennis studied landscape architecture and began his career in public service working for the Columbus Recreation and Parks Department. He spent about 10 years in California, working for the cities of San Francisco and Anaheim, before coming to Tucson in the spring of 2018. He was drawn to its sense of community and "collaborative nature."
Dennis lives near Morris K. Udall Park. He still works mainly out of the Parks and Recreation Department building at Reid Park, where he doesn't have much company; on Monday, the only other employee in the office was a front-desk receptionist. Under normal circumstances, he'd have 35 to 40 teammates on site.
Dennis doesn't have gym access, so he's doing his best to stay in shape through home workouts. He has a yoga mat and dumbbells and found the time to hit The Loop for a bike ride late Sunday afternoon.
His weekdays begin at 5:30 a.m. with a light workout, stretching, a protein shake and glass of orange juice.
"Then I go to my lonely office," Dennis said. "It's really not that bad. I know every day is one day closer to the end of this whole mess."
Be the first to know
Get local news delivered to your inbox!