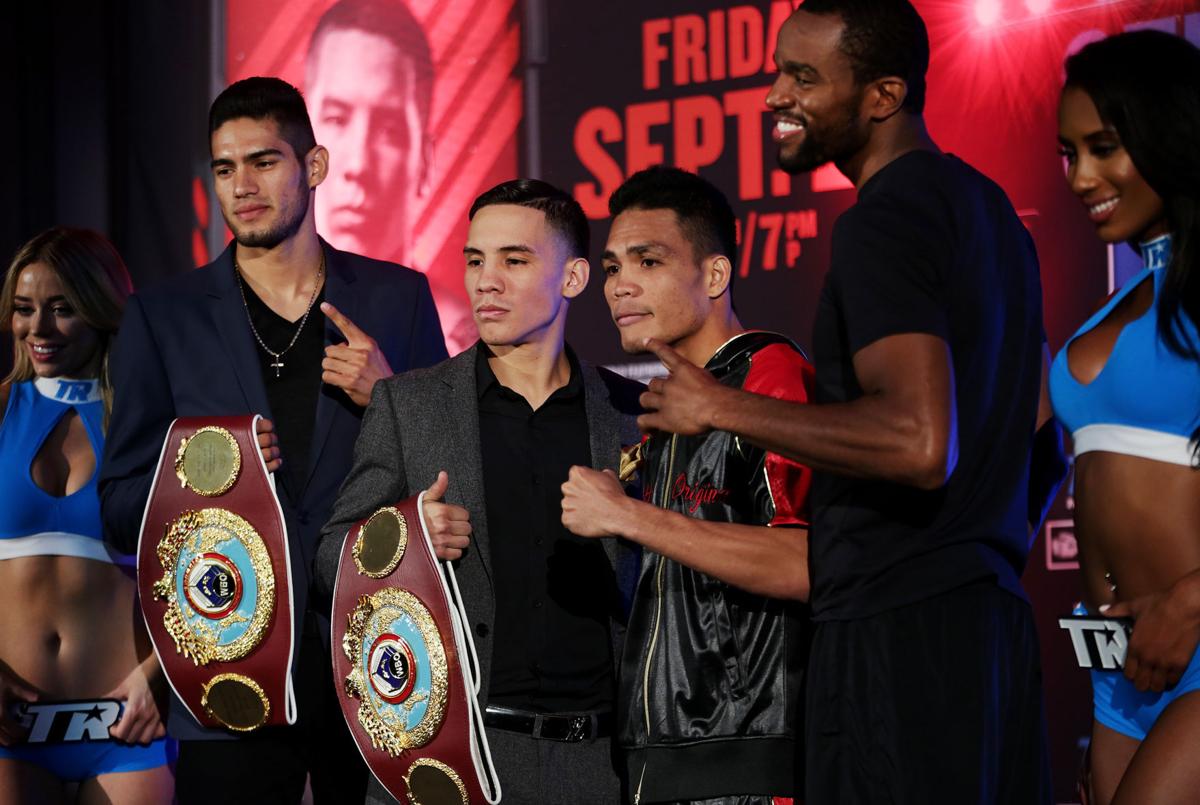 While working toward a long-awaited WBO title shot Friday, Philadelphia boxer Jesse Hart has been making sure his other career is in pretty good shape, too.
Well before Hart landed in Tucson this week to prepare for his WBO super middleweight title fight on Friday against champion Gilberto "Zurdo" Ramirez at Tucson Arena, he was letting barbs fly.
"He is an OK fighter," Hart told boxingscene.com about Ramirez in August. "Nothing spectacular."
To Boxingtalk.com last month, Hart (22-0, 18 KOs) was quoted saying that Ramirez built up his gaudy 35-0 (24 KOs) record partly by "fighting guys that are 7-18" in his native Mexico.
"I don't think he's got the skills that I do," Hart said. "He's an ordinary Joe."
But by the time Hart strolled into Tucson's Undisputed Gym on Tuesday, he cracked a mischievous smile when asked about all that stuff.
"It's business," Hart said. "Controversy sells. But I don't dislike the kid. We never had a disagreement. It's business.
"(People say) 'Jesse is trash talking.' No, man, he's the champion of the world. How can I discredit the champion of the world? I mean you gotta be a real fighter in the sport to know what I'm talking about. This is business. Business. That's all."
It's the kind of talk longtime Philadelphia promoter Russell Peltz is happy to hear.
"When he fights for us in Philly, I don't even have to do any work," Peltz said. "He does it all himself. If more fighters were like Jesse, boxing in Philly would be a lot healthier."
The thing is, this time, the fight might live up to all that talk.
Hart and Ramirez are expected to have the most hotly-contested fight on Friday's card, which is headlined by Tucson-bred Oscar Valdez (22-0, 19 KOs), who will attempt to defend his WBO featherweight title against Filipino fighter Genesis Servania (29-0, 12 KOs).
The Hart-Ramirez fight also puts a squeeze on Top Rank, which promotes both fighters in Ramirez' mandatory title defense.
"It's gonna be a barnburner. Barnburner," Top Rank president Todd DuBoef said after a Tucson Convention Center news conference Wednesday. "Ramirez is a brilliant boxer, really good technician. Uses both hands, uses his reach. He's going to wear you down. And Jesse is a flat-out puncher, a dangerous, dangerous puncher. Zurdo is gonna have to be careful."
Both fighters are tall, about 6 feet 3 inches, and Ramirez's long reach and footwork make him a crafty opponent to deal with.
Ramirez also had a drastically different personality. While Hart showed up for Wednesday's news conference wearing a Nike boxing T-shirt and a black hat emblazoned with the word "WAR," Ramirez wore a dark dress shirt, necklace and sportcoat.
His words were restrained, too.
"It's a good fight. It's gonna be a tough fight," Ramirez said. "I expect him to be a good fighter.
"He moves around the ring. He tries to open with the counter punches but I'm ready, prepared for whatever he brings to the ring."
Even when asked specifically to comment on Hart's remarks, Ramirez just smiled and returned a quiet volley.
"l know that he's been talking a lot," Ramirez said. "I know he's been talking trash about me but I don't care. I have the microphone in the ring. I'm going to prove my skills in the ring and keep my belt."
Ramirez may also have the crowd on his side, being a native of Sinaloa, Mexico, with fans in both countries.
Not surprisingly, that doesn't faze Hart. The Philly fighter beat Mexican Andrik Saralegui at Tucson Arena in December 2016, on the undercard of another Valdez fight, and was confident that he could even win a decision before what is expected to be a largely Hispanic crowd.
Hart said he's ready, being more patient and more experienced as a fighter. He says he's taken in advice from both his father, a former pro contender, as well as former light heavyweight champ Bernard Hopkins, a fellow Philadelphian that Hart says has been a longtime mentor.
Then there's that confidence from inside.
"They say Gilberto Ramirez is the best champ in my division," Hart said. "I keep hearing that. So after I beat him, what does that make me?"
There's no doubt Hart is willing to answer that one himself.