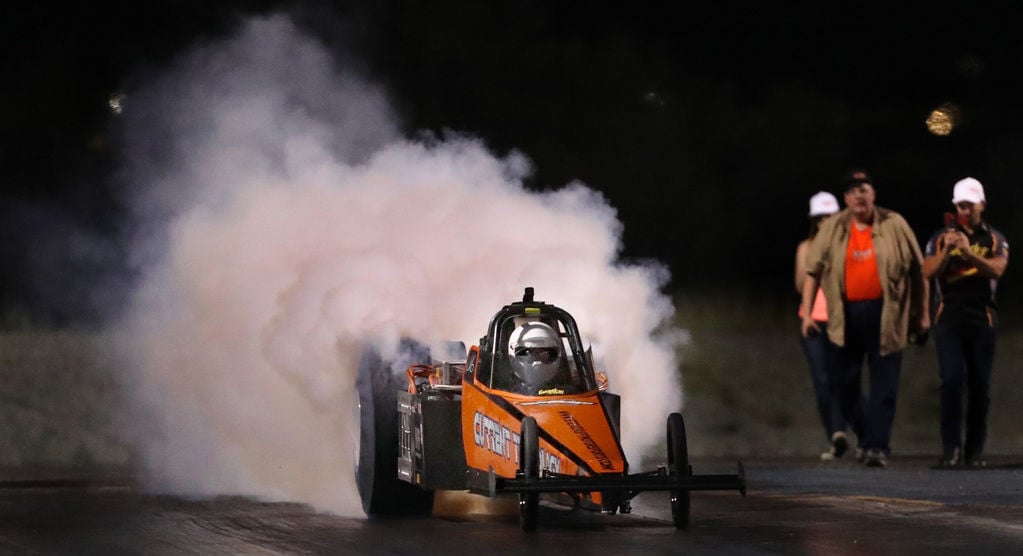 Before every race, drag strips worldwide are coated with a solution that, when it touches the hot rubber of spinning tires, turns into a glue compound. The sticky stuff provides the traction that dragsters need to go faster.
This week, a record-setting racer at Tucson Dragway heard the glue.
Steve Huff drives a electric dragster, making him the conductor of a sports spectacle that sounds nothing like you'd think it should. There are no revving engines with Huff's car, named Modern Technology 2.0, and no ear-splitting acceleration. Just a high-pitched whir — and the sound of glue ripping away from the tires.
As the clock neared midnight on Wednesday, Huff became the first racer to go 200 miles per hour in an electric car, posting a speed of 201.07 mph. Huff returned with his crew Thursday night and went 200.20 mph, making the record official. (Rules dictate that racers must "back up" each record-breaking run to within 1% of the original time.)
By Friday, Huff and his five-person crew were headed back to Seattle, where the 53-year-old professional racer lives. It capped weeks of uncertainty, confusion and — finally — celebration.
Huff was understandably hoarse on Friday as he explained how he ended up in Tucson for the record-breaking attempt.
Huff had been locked in "the quest for 200" with his rival, drag racing legend "Big Daddy" Don Garlits. Garlits held the electric dragster speed record of 189 mph. Following some tweaks to his electric dragster, Huff was ready to make a run at the mark — and then break 200 mph.
He initially planned the attempt at the Auto Club Dragway in Fontana, California, but was forced to postpone because of the coronavirus. Last week, with California still on lockdown, Huff began to look at other tracks in the west. He had raced a high-performance Harley-Davidson motorcycle in Tucson decades ago, and remembered the Tucson Dragway as being a good surface.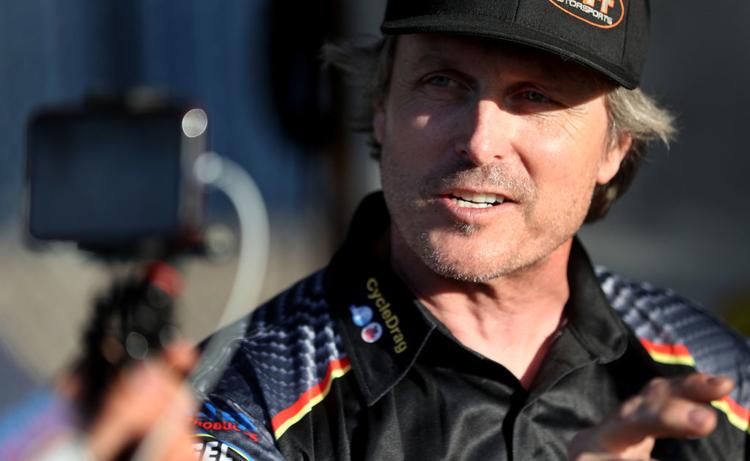 Plus, "it was relaxed, it's cool," he said. "I've gone fast here before."
Huff and his crew drove from Fontana to Tucson, arriving Tuesday night. The Tucson Dragway wasn't what Huff had remembered. It was much, much better. There were lights available for night racing and a spotless facility at his disposal.
"We couldn't even find a cigarette butt on the ground," he said.
Huff and his team made their first attempt around 8 p.m. Wednesday. They took their time, knowing that a new car, motor configuration and on-board computer would require some tweaking. Racing electric vehicles at high speeds is "very uncharted territory," Huff said.
"This is why I rent racetracks and don't just show up at events," he said. "We know that sometimes we need some time."
As the night wore on, Huff set a personal best of 185 mph. He told his crew he thought he could break Garlits' mark that night — probably by going somewhere between 192 and 196 mph.
Huff made his final attempt at 11:58 p.m. He did not look at his speedometer as he drove.
"I heard on my radio, '201,' and I was just on top of the world," he said.
The record should be a boon for Tucson Dragway, located at the Pima County Fairgrounds. Track manager Matt DeYoung said Thursday that Huff's accomplishment is "a massive thing for us."
That Huff was even allowed to go 200 mph well into the night emphasizes just one of the advantages of his electric dragster. It's quiet compared to combustion engines, save for the sound of the tires breaking away from the glue on the track. There is no oil to spill.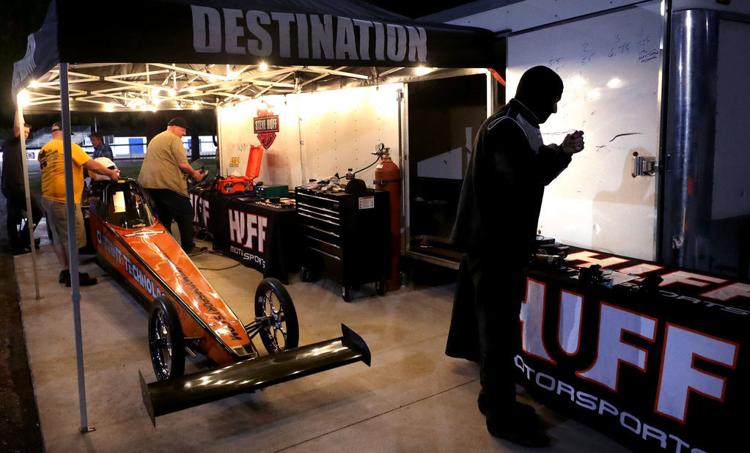 And the cost of running and maintaining the electric dragster is minimal.
In between his record-breaking attempts, Huff plugged his car into a 220-volt outlet on site at the Tucson Dragway. He estimates that each charge costs about 70 cents.
Huff said the average amortized cost of one race in his dragster is about $40. Other 200 mph cars can cost up to $1,000 per race.
Of course, that comes after an initial investment of hundreds of thousands of dollars.
Huff's dragster comes with an 800-volt battery that stores 1.6 million watts — the largest battery of its type ever produced. Under Huff's hood is enough energy to power 2,400 homes for 20 seconds.
Huff hopes his run will add a bit of an edge to electric vehicles, many of which are praised for the fuel economy and technological advances rather than performance. One of Huff's sponsors, AEM Performance Electronics, is making computers that will safely manage and upgrade electric vehicles — a development that could allow gearheads like Huff to tinker, safely. Other aftermarket companies are focusing on high-performance batteries.
It won't be long, Huff said, until car enthusiasts will be able to buy an electric car's drive-train and build around it. Huff said he's already in the market for "a wrecked Tesla that I can turn into a street hot rod."
"There's a large consumer group that wants to be able to tinker," he said. "What we're seeing is that aftermarket companies will allow guys like me, and even students … to 'hop up' their car so that they're not stuck with having an old Chevy or a Honda Civic."
Electric hot rods should be able to go fast. But Huff's record is probably safe — at least for a while.
"You know, the first guy through the wall often gets a bloody nose," he said a chuckle. "But hopefully now that we've gotten through that wall, others will follow.
"This record will be broken, and I hope that I'm there when it is."
Be the first to know
Get local news delivered to your inbox!