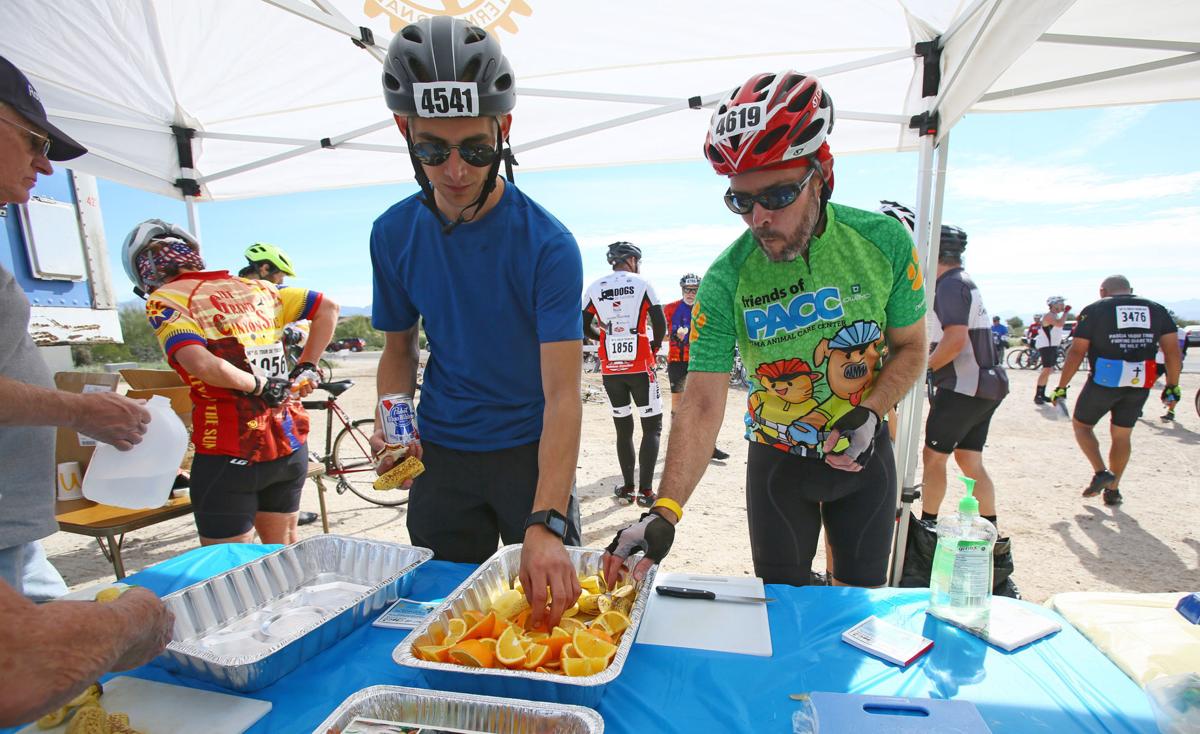 Every time the call comes, Natasha Wrae answers.
After cheering on her brother, Brett Stallworth, at El Tour de Tucson's finish line for years, her fellow local Rotarians needed a finish line booth coordinator. She stepped up without hesitation.
When Wrae heard that Gary Hirsch, who led the charge for the ride eight times, retired, she offered to take his place.
And as long as she was at it, why not join the Perimeter Bicycling Board?
"I'm very service-oriented. They wanted help, I helped," said Wrae, a Tucson attorney.
Wrae and the Rotary team will ride in their 11th consecutive El Tour de Tucson Saturday. More than 100 Rotarians in Tucson will participate in the ride, and hundreds of others around the world will join via the Ride to End Polio program. In 10 years, Rotary International has raised more than $53.3 million in an effort to eradicate polio. This includes a 2-to-1 match from the Bill & Melinda Gates Foundation.
Last year, they raised $5.7 million including the matching funds. This year's goal is $3.4 million prior to the match, which would make it more than $10 million.
Wrae says pitching in is just part of her makeup. She has four kids and what she calls "a very busy family life."
"If I'm not busy and falling asleep exhausted at night, I must be doing something wrong," she said. "I am setting an example for my four kids to teach them that it's not all about them. You need to be willing to help when help is needed."
One of her four sons, Connor, a freshman at Catalina Foothills High School, is following in his mom's footsteps. He is active in Interact Club, a youth group sponsored by Rotary.
Connor and his dad, Michael Storie, also plan to take part in the 50-mile El Tour ride.
In Wrae's role on the Perimeter Board, she was instrumental in naming Bill and Melinda Gates this year's El Tour Dedication Recipients. Typically, this honor is given someone who rides a bike or is directly connected to El Tour. Last year's honoree was Olympian Nelson Vails. Three years ago, it was Denise Mueller, the world's fastest female bicyclist.
This year is a little different.
"I look at it more broadly," Wrae said. "Their 2-to-1 contribution encourages other Rotarians to ride in Ride to End Polio. It's infectious — the numbers add up. That's how I see it. It's amazing how much they contribute. It's a source of bragging rights for El Tour. We've helped. The numbers wouldn't be nearly as high without the $53.3 million. It encourages others to get out and ride and be active."
In her role as chair, Wrae is ushering in a few changes.
New at the booth this year are a few stationary bikes, so people can hop on and ride along. The booth will also have crutches and walkers for relay races "to experience what it's like to have polio," said Wrae.
She has larger plans. The first thing she wondered when she took over was why Rotary International wasn't a title sponsor of El Tour. Her team then raised enough money to become a presenting sponsor.
"People don't know who Rotary International is. (Now) we are on all the marketing materials for El Tour — on all the posters. People see it in Tucson and in the bicycling community. It changes the image and branding," she said.
"It's also a huge contributor to the sustainability of our success. And it's a way for people to better themselves and help people around the world."
When Wrae took over as the finish line booth coordinator six years ago, she never could have expected what was on the horizon.
"I was very comfortable in my position. I never dreamed I'd be elevated to this level and take on this responsibility. It's a labor of love," Wrae said.