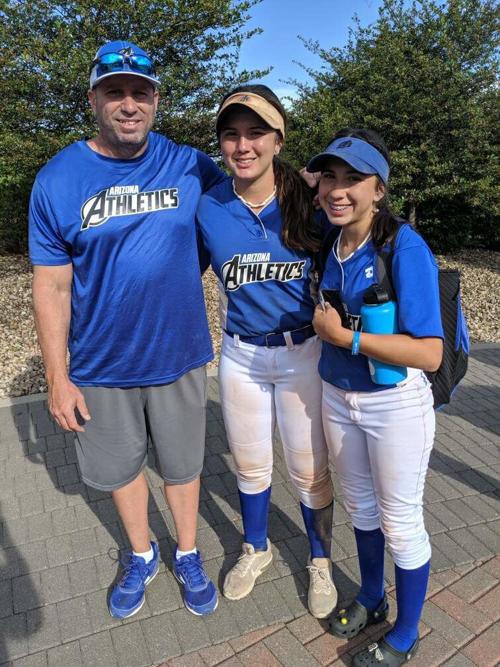 This is the third in a five-part Star series on how the coronavirus pandemic has impacted the lives and livelihoods of Tucsonans with ties to the world of sports.
For Elite Sporting Goods, one of only a handful of local shops of its kind in Tucson, March is the retail equivalent of Christmas. March is typically when local Little Leagues start up. Elite provides about half of their uniforms and a decent chunk of their equipment.
"It's probably 30% of our gross sales," said Andy Camen, who manages the Elite location on South Campbell Avenue.
Uniform orders, Camen said, represent 65% to 70% of Elite's business. The store also outfits high school teams.
Given the lack of local alternatives, Elite Sporting Goods, which opened in January 2019, seemed to be in a strong, stable position.
Then the coronavirus hit. It was like the Grinch who stole Elite's version of Christmas.
High school baseball and softball shut down. Little League never got underway.
Some teams and leagues already had paid for and picked up their uniforms. That's the good news. The bad: Elite Sporting Goods stands to lose "tens of thousands" of dollars if youth baseball and softball don't resume this spring or summer, Camen said. The store lost about 50% of its equipment sales because Little Leagues never made it to opening day.
"It's pretty bleak," said Camen, who worked at the now-closed Baum's Sporting Goods on Speedway for 22 years before opening Elite with business partner Miguel Valenzuela. "That time frame is pretty much how we stay in business for the year."
Little Leagues could start up again as early as May 11. If the suspension of activities is extended, a Little League season is still possible in June, July or even August. That would help. The interim will be a struggle.
"Without having that 3-4 weeks of busy time, it's definitely going to take a toll on us down the road," Camen said. "Hopefully not to the point where we have to close."
Elite Sporting Goods has two locations, one on South Campbell and the other on Oracle Road just north of Orange Grove. The Oracle store has closed for the time being. The Campbell store, the one Camen manages, remains open, albeit with limited hours – and limited customers. Elite also provides uniforms and shirts for contractors, plumbers and others in the workforce who have been deemed "essential"; otherwise, the Campbell store might not be open for business.
Elite has six employees between the two stores, and Camen is hopeful they can remain on the payroll. Elite has applied for a small-business loan through the federal government's Paycheck Protection Program. Camen is concerned the process will be drawn out. He considered forfeiting his salary to help his employees before learning about the loan program.
"Like you do with your kids," said Camen, who has two softball-playing daughters, "you do whatever you can for them."
Elite isn't the only sporting goods store in Tucson, but it serves a specific role in the community as a major supplier of team uniforms. Ballplayers can acquire gloves, bats, helmets, pants and shoes from Big 5 or Dick's. Their parents can order that stuff online. But Elite is the place to go for uniform orders, as Baum's had been before it shut its doors in 2019.
Camen's longstanding relationships with vendors – many of whom only sell through authorized retailers – enable him to get good prices, which he's able to pass along to Elite's customers. Working with a local outlet also gives teams and leagues flexibility with their orders that they otherwise wouldn't have.
"Andy, through Elite and previously Baum's, has been very accommodating for the local leagues," District 12 Little League administrator Cindy Snow said. "If we were short something, he got it in quickly. If we couldn't get there to pick something up, he delivered it either to the park, my work or my home."
Another difference between Elite Sporting Goods and the bigger stores: the amount of personal attention Camen is able to give his customers.
"I don't really consider it much of a job," he said. "I love seeing a kid come in and get a brand-new bat or glove. I put myself in their shoes and remember those times. I'm in my comfort zone."
Camen, 44, grew up in Tucson and played baseball in the Cactus Little League and for Palo Verde High School. After attending junior college, he began working for Baum's in 1997. Camen made $4.25 an hour and did "whatever they wanted me to do," he said, including tasks as menial as taking out the trash.
Camen eventually became the store manager, a job he held for 10 years. When the owners of Baum's decided to close the store, Camen realized a void would be left in its wake. Valenzuela, who had been one of Camen's customers and became his friend, felt the same way – that Tucson needed a sporting goods store with the service and services Baum's had provided. They went into business together, and Camen brought with him the ethos he had picked up from his former employer: "We don't want to be a store. We want to be a destination."
Camen accepts the fact that people will shop online for the sake of convenience and often price. But he believes they're missing out on something by not shopping local.
"I don't understand how parents can do that with their kid," Camen said. "To me, it's an experience. You can put three different gloves on that are the same model, and they all feel different. I want to put it on my hand, feel it, smell it."
Nowadays, those opportunities for Camen come when he helps coach his daughters' club softball teams. Angelina, 17, is a catcher, like her father. She'll be a senior at University High come fall. Ariana, 14, plays second base. She's set to enroll at Tucson High.
Their typically busy spring and summer schedules are currently in flux. Camen wants for them what he wants for all the ballplayers out there – that sometime soon "they're able to lift the ban here and let the kids get back on the field."
Be the first to know
Get local news delivered to your inbox!