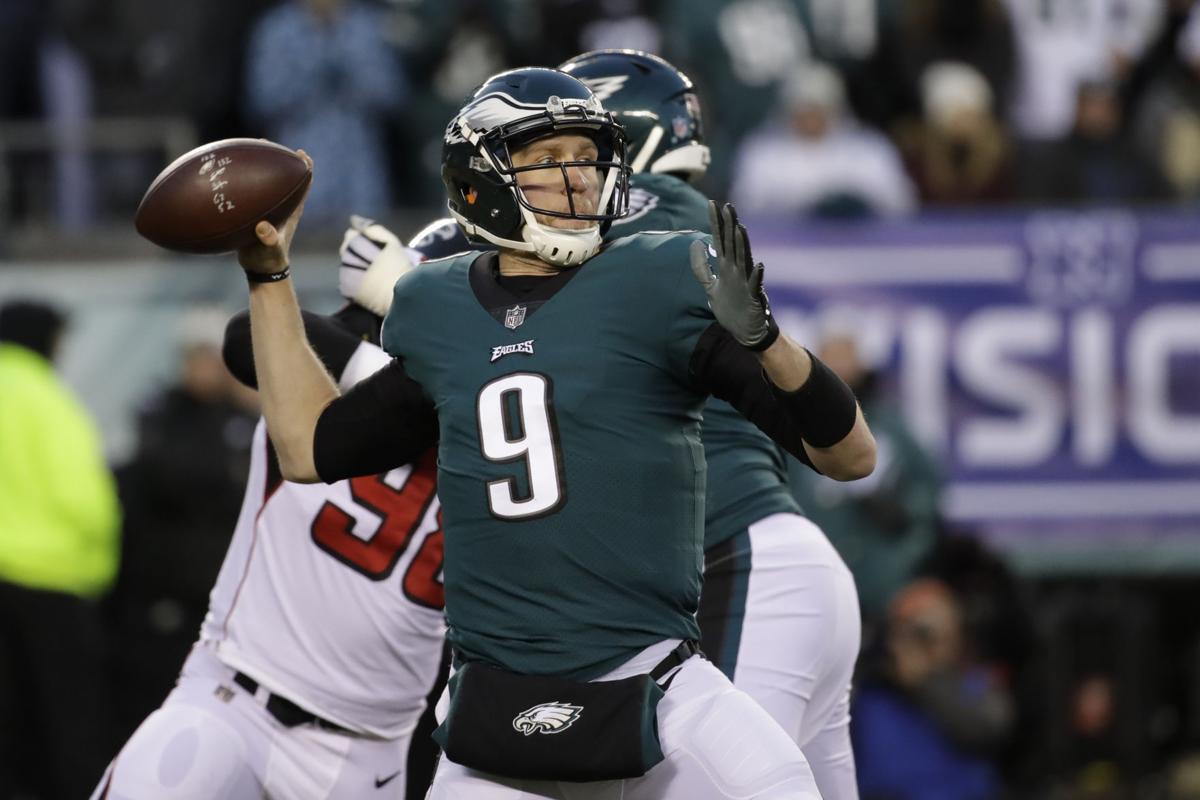 PHILADELPHIA — He jogged through the home locker room at Lincoln Financial Field a hero, king for a day, or, well, at least not the court jester.
Nick Foles was no hero on Saturday — certainly not like he was on one Oakland afternoon four-plus years ago — but he did not need to be. The Eagles, who he once left in frustration only to return to in a lesser role, defeated the Atlanta Falcons, 15-10, to advance to the NFC Championship game next Sunday, which they'll host.
Triumphant and proud, Foles could not go two feet in the locker room without someone stopping him. A fan, lucky enough to be down in muck amongst his idols, asked for and got an autograph. A team equipment manager gave Foles a handshake like he'd just become a father. An impeccably dressed bald man tapped him on the back and …
Oh wait, that's Tony Dungy.
Even he wanted in on the love.
It's hard to believe, thinking back to the last few weeks, when Foles was destined to be the reason Philadelphia's season would end prematurely.
He had to be, after all, the lowly backup quarterback struggling to emerge out of the shadow of Carson Wentz, who was off to one of the best seasons for a young QB in league history. Almost like it was five years ago, when Foles took over for Michael Vick and then went 8-2 with 27 touchdowns and two interceptions.
So, it turns out, he's been here before.
Not just in this locker room. Not just the loudest voice in this huddle. But having his ability questioned.
He's been poked at, picked and prodded.
And on Saturday, he stood up to the challenge.
"I am very humbled to win this game and to be a part of this team," Foles said after the game. That's what it's always been about. I know there was a lot of people against us this last week. Just answering questions, and just hearing about it. But the biggest thing about this is that it's sports, that's part of it.
"The biggest thing in our locker room is we believe in one another."
On Saturday night, the Eagles were united behind and around their quarterback.
Offensive lineman Lane Johnson said that when Wentz went down, the team instantly looked to Foles to be their emotional compass. Such is life for a starting NFL quarterback.
"A lot of us have played with Nick before," said Johnson, who was a rookie in 2013, when Foles came in for Vick and took the league by storm.
"And the other guys have seen what he's able to do in this league. He had the whole world against him today, and he knew what was coming, but the way he prepared, especially during the bye week, we saw how serious he was, and he had great resolve."
Before the Eagles hosted the Falcons on Saturday afternoon, it was easy to spot the cheapest Eagles fans at the stadiums.
They were the ones in the Foles jerseys, ratty and tattered, with mothballs chewed through, probably not taken out of hibernation for a half-decade.
It's hard to imagine — perhaps unfathomable, even — that any Philadelphia fan was sporting a new Foles jersey. Not with Wentz the current and future fresh prince of Philadelphia, albeit sidelined for the time being after tearing his ACL in Week 14.
They say the most popular guy on any football team is the backup quarterback, but that's not really the case when the starter is the No. 2 pick from the year before and leads the league in touchdown throws when he gets injured. At that point, a backup QB is a curse, a disappointment.
And, sometimes, a saving grace.
No, Foles didn't set the world on fire like he did back in 2013, when the former Arizona Wildcats quarterback came from near-obscurity — at least outside of Tucson — to salvage the Eagles' season.
No, he didn't match his performance of Nov. 3, 2013, when he had the single greatest day in NFL history, throwing for seven touchdowns, zero interceptions, and 406 yards, in a 49-20 win over Oakland.
He didn't have even the second greatest day in NFL history.
But he got the job done, completing 23 of 30 passes for 246 while leading the Eagles into the NFC Championship game, Philadelphia's first conference championship appearance since 2008.
"I felt good all game," Foles said. "I thought we were moving the ball throughout the course of the game. The thing in the first half is we made a few mistakes that hurt us a lot, but just coming in at halftime, the thing was just keep playing, let's keep getting in rhythm."
At times, Foles was fantastic. Late in the second quarter, his throw to Alshon Jeffery on second-and-10 from the 50-yard line went for 15 yards, setting Eagles kicker Jake Elliott up with a 53-yard field goal as the first half expired.
On a crucial third-quarter drive, which also resulted in three points, Foles started 5 of 5. On a fourth-quarter drive that started at the Philadelphia 17-yard line, he hit Jay Ajayi for three yards, Ajayi again for 32 yards, Zach Ertz for 11 yards, Nelson Agholor for 10 and Mack Hollins for nine.
All told, he hit eight different receivers and averaged 8.2 yards per completion, outplaying Atlanta's Matt Ryan, who went 22 for 36 for 210 yards and a score.
This time, his cleats won't be heading to Canton.
No busts will be carved because of this performance.
But at least he didn't go bust.
"Nick did a great job, man," Philadelphia defensive lineman Chris Long said. "He made the throws he had to make. He didn't make any mistakes.
"In a close, low-scoring ball game, a turnover is huge, and he didn't do those things.
"We know what he's capable of, and we haven't played our best game as a team yet with Nick in there."
For his Philadelphia teammates, Foles delivered about what was expected.
And don't forget: In his first start this season, Foles had four touchdowns against the Giants.
Then came two starts with a combined 23-of-49 passing, with two interceptions and one touchdown. In an instant, Eagles' fans began their annual dance with misery.
Philadelphia, the top seed in the NFC, was even the underdog heading into the game.
But given extra time to practice with the first team during the crucial bye week, Foles discovered a rapport that was missing with Jeffery. On Saturday, Foles found him for 61 yards.
"You guys doubted him," Jeffrey said. "We never doubted him."
Be the first to know
Get local news delivered to your inbox!