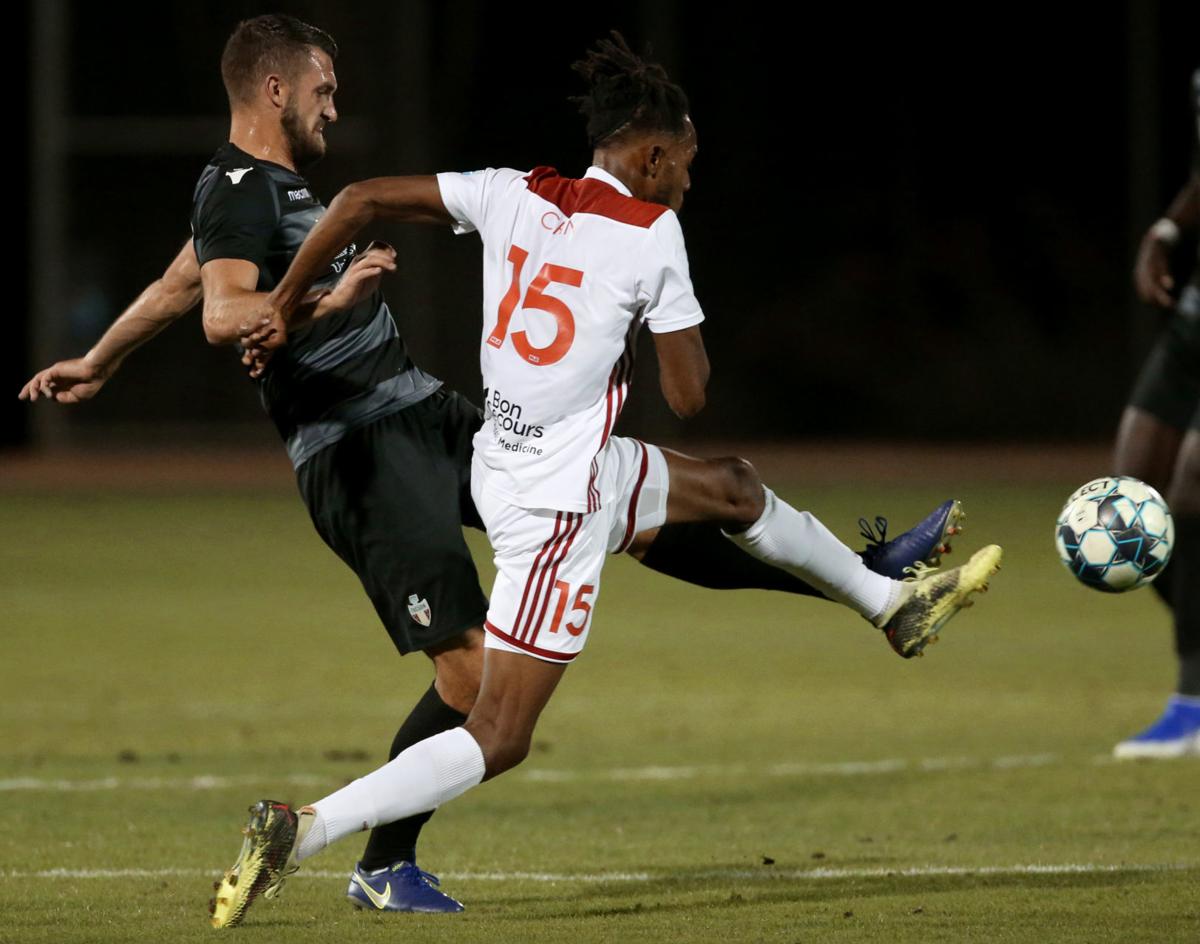 In many ways, the real beginning for FC Tucson — which first fielded a team back in 2011 — was this year.
The club gained professional status in 2019, played in a brand-new league and was under the guidance of a new head coach.
The inaugural USL League One season was a bumpy one for the Men in Black (8-11-9), who finished eighth out of 10 teams.
But the seeds of growth have been planted.
"I'm not used to being 8-11-9, I'm used to being on the other side of things, so it's hard for me," said FC Tucson coach Darren Sawatzky, who brought an extensive coaching background from the Seattle Sounders' academy, and even coached Guam.
"I'm learning, but Tucson has been incredible."
FC Tucson spent its previous years in the USL Premier Development League — now USL League Two — and its roster was mostly filled by college players for the summer season.
Now fully-professional, FC Tucson is faced with a number of challenges — namely, a longer, eight-month season, facing difficult travel and opponents that have similar ambitions.
There was also an adjustment period dealing with player comings and goings from Phoenix Rising FC, the first-place USL Championship club that happens to own FC Tucson. Six Men in Black players bounced between the two clubs throughout the season.
"We've done an excellent job of helping Phoenix Rising," Sawatzky said. "We helped them on their 20-game (winning streak), so we did our job as a reserve team. I'd have loved to have seen us win more games, but the real jewel in the season for us is that guys are signing (for Phoenix)."
While Phoenix rolls, the Men in Black stumbled down the stretch, going 0-4-2 and missing out on the playoffs.
"The season as a whole was an opportunity missed, and it manifested itself in little ways in every game," defender and captain Kyle Venter said. "Missing a chance here, giving up a soft goal there — our consistency with delivering those things wasn't there."
Following the team's 3-1 loss Friday to North Texas SC — the reserve team for FC Dallas, which has one of MLS' top developmental academies — Sawatzky seemed to be looking into a crystal ball.
"That's the fruit of that labor — it will take us 15 years to get to that level," he said. "Every time someone goes up (to the first team), there's a 16-year old fighting for that spot. "We just don't have that culture yet, that's going to take time."
What's in the club's immediate future remains to be seen. Some players, like 17-year old Ilijah Paul, who got his first taste of professional soccer the last few games, will return to Phoenix as his loan to FC Tucson completes.
Others understand that their footing may not be so solid.
"We all have our individual motivations," midfielder Karsten Hanlin said. "Everybody has somewhere they want to go next and win a contract, and that's not going to happen if we sit around and watch the team lose."
Forward Jordan Jones scored a team-high 10 goals and received a call-up from Phoenix in August, but even that's not enough for him to be to feel comfortable about his future.
Be the first to know
Get local news delivered to your inbox!