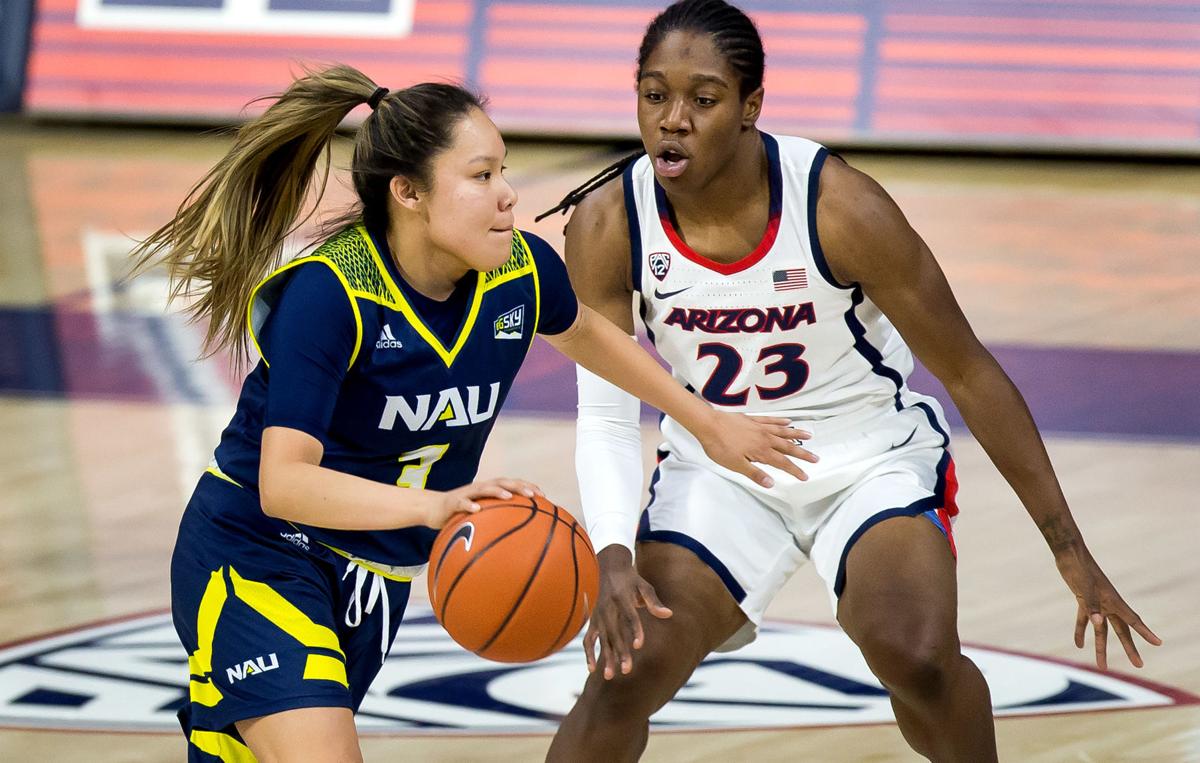 JJ Nakai left her hometown of Flagstaff for the first time in 2017, when the Coconino High School star committed to play for Pima College's nationally ranked women's basketball team.
Leaving home was a must if Nakai wanted to continue her basketball career. Her hometown college, NAU, didn't initially offer her a scholarship. When Loree Payne took over as the Lumberjacks' head coach in April of Nakai's senior year of high school, she made recruiting the guard a priority. But Nakai had made up her mind: She was leaving.
Nakai was determined to prove to both NAU and all other Division I schools that she was the one who got away.
"I was always considered to be the underdog. That's what helped me make my decision to go the juco route," Nakai said. "I wanted to make a name for myself and prove people wrong."
Mission accomplished. In two years at Pima College, Nakai became the Aztecs' all-time leader in points (1,397) and assists (442) and was the first player in program history to be named the ACCAC Player of the Year.
In her second and final season at Pima, Nakai averaged 24.1 points and 6.7 assists per game.
A Reno relocation
Nakai left her adopted home of Tucson in the summer of 2019. This time, she went ever further away.
Nakai signed with Nevada, a team in the Mountain West Conference.
"Everyone wants to get away from home," she said. "I was like, 'You know what? Maybe I should go a little farther.' "
Life in Reno wasn't what Nakai (literally) signed up for, especially on the court. Nakai played in 21 games, averaging 3.8 points per game. She made just one start and averaged 14.3 minutes per game.
"It was just really different," Nakai said. "They were more about slowing the ball down and run something every single possession. It wasn't my type of play."
Nakai isn't a ground-and-pound combo guard that's going to run a half-court offensive set. All her life, the 5-foot-7-inch Nakai has been a scoring blur — a style she picked up while living minutes away from the Navajo reservation.
"Rezball" is a fast and chaotic yet fundamentally sound way to play. Nakai often attended and played in basketball tournaments on the reservation growing up.
When Nakai turned on her TV, she saw the Phoenix Suns doing something similar. She became obsessed with coach Mike D'Antoni's "Seven Seconds or Less" offense, with no-look passing legend Steve Nash leading the way.
"That was my go-to whenever I watched basketball," she said.
It was hard for Nakai, who grew up admiring Nash — and Allen Iverson, too — to adjust to Nevada's system. The guard said she learned from her experience, even though she decided to leave after one season.
"I didn't have a lot of things go my way and I learned how to cope with it and keep pushing," she said. "The things I took away from Nevada have given me motivation to this day. Even though Nevada wasn't the exact situation I wanted, I still took a lot of things away."
Safe at home
Nakai left Reno after one season. Home was calling.
The guard transferred to NAU, giving Payne — the coach who had recruited her hard out of high school — the recruit she first sought three years later. Nakai is the first Flagstaff native to suit up for the 'Jacks since Teresa Diaz did it in 2005.
The NAU coaching staff welcomed her back with open arms. And the NCAA granted Nakai a waiver to play right away, making her an instant part of the Lumberjacks' fast-paced attack.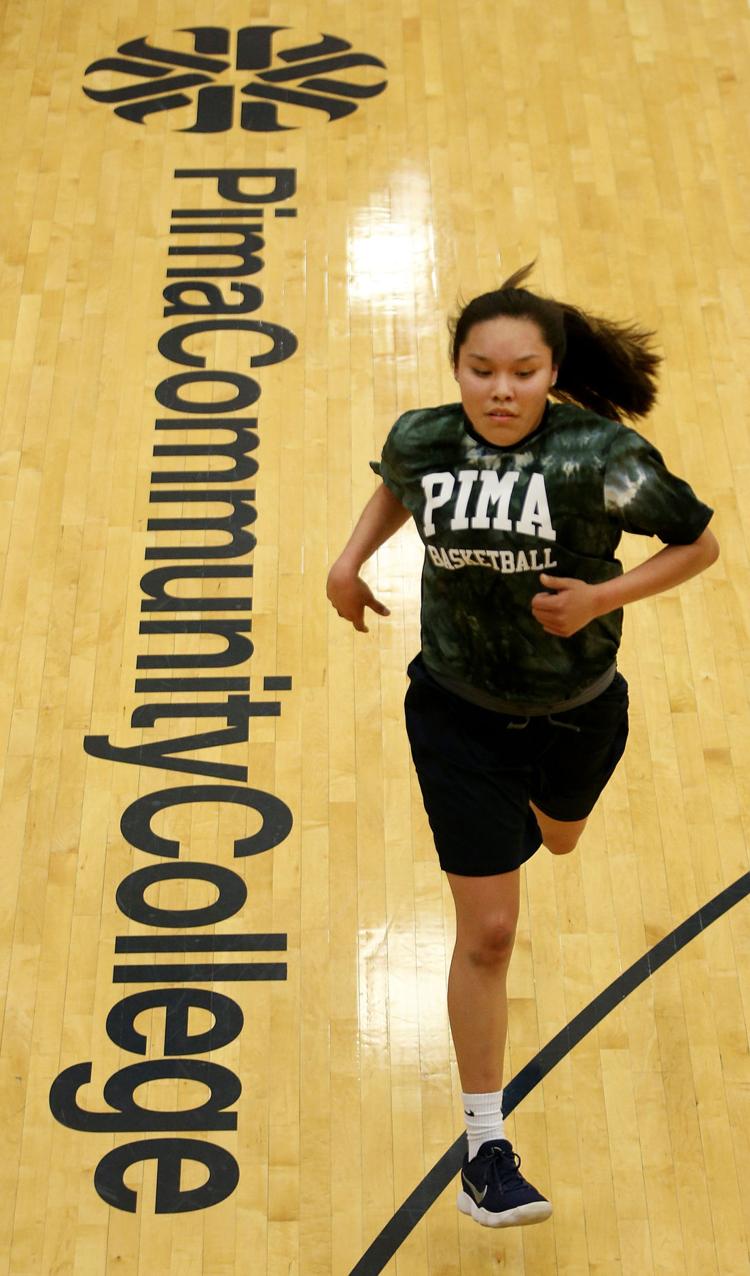 "She needed to spread her wings and get outside of the state," Payne said. "Fortunately for us, it didn't work out, and now she's here. … There was no doubt she was going to be able to contribute to us and be one of our main contributors especially scoring-wise. I could just see how her game fit our system really well so that was really exciting for us."
Through the first two games of the COVID-19-affected season, Nakai has emerged as one of the top scorers for NAU (1-1). She is averaging 19.5 points per game and has shot 4 of 7 from 3-point range.
Nakai was a bright spot for the Lumberjacks in Sunday's 76-63 loss to the No. 7-ranked Arizona Wildcats in McKale Center. The senior scored 17 points in 38 minutes, all while guarding All-America point guard Aari McDonald on the other end of the floor.
UA coach Adia Barnes was impressed with what she saw.
Nakai is "a really good player," Barnes said. "She's got floaters, she can score, I really like her game. She was hard for us to guard a lot of times."
Returning to Tucson was a moment Nakai will never forget. The city was where she grew from a small-town scoring star to a legitimate Division I prospect.
"It's an opportunity that doesn't really happen for a lot of people," she said. "Especially being in a place I like to call home, it was great. I enjoyed the experience. … It was exciting, and I embraced it because it doesn't really happen often."
Nakai's basketball accomplishments make her a recognizable figure in Flagstaff, and every so often a local will say hello to her at a gas station or on the NAU campus.
A few years ago, Nakai was itching to get out of Coconino County. Now? Being home isn't so bad.
"Having my family there every day and them having my back and supporting me is another plus," Nakai said.
"Just continuing everything I've learned over the last couple years, I'm taking everything in, and I just want to win a championship for my hometown."