It is a few days before Christmas and UA women's golf coach Laura Ianello is talking about her team's fearless, almost bigger-than-life run to the 2018 NCAA championship.
Her voice breaks and tears spill from her eyes.
"I'm such a bad mom," she says, sobbing. "It was the worst summer of my life."
Her declaration is so unexpected, her emotions so raw, that I feel I will cry, too.
"You are not a bad mom," I say.
"I was only home 13 days this summer," Ianello says, dabbing at her tears. "The last six months have been the most stressful of my life. I'm just exhausted."
A few days later, Ianello and her daughters, Natalie, 5, and Joanna, 3, join her husband, Jeff, in Laura's hometown of Charleston, Illinois. They break the unofficial Facebook record for happy Christmas photographs taken with grandma, grandpa, cousins and aunts.
It is a year that Laura Myerscough Ianello will never forget. It is the year she became the Star's No. 1 figure in Tucson sports, 2018.
Sensational finish
To put Arizona's 2018 women's golf season in perspective, you almost have to go back to the epic 1982 "The Band Is On The Field!" finish of the Cal-Stanford football game.
Arizona's dauntless victory at the Karsten Creek Golf Club in Stillwater, Oklahoma, merits the adjectives that Cal radio broadcaster Joe Starkey used 36 years ago when he blurted "this is the most amazing, sensational, dramatic, heart-rending, exciting, thrilling finish. …"
The difference is that Arizona's exhilarating comeback was not accompanied by a band or by a radio announcer using exclamation marks after every syllable. It was done in relative silence — it was golf, after all — on a hot and humid afternoon in Oklahoma.
"Basically, we had no chance," says Ianello's long-time assistant coach Derek Radley, now the head coach at Oregon.
After four days of stroke play at Karsten Creek, ninth-place Arizona trailed Baylor by two strokes for the final berth in the match-play championships. Arizona junior Bianca Pagdanganan needed to eagle the hole for Arizona to force a sudden-death playoff against Baylor.
Do you understand how difficult it is to eagle a hole?
Pagdanganan was 188 yards from the pin. Her golf ball was sitting down, in a depression. She would have to carry an imposing lip at the edge of the green just to get the ball onto the putting surface.
"I was thinking, 'Bianca, you have to get a little lucky,'" Ianello says now. "She could've chunked it 150 yards. When I look at the TV footage, I still can't believe she carried it."
Even at that, Pagdanganan, a transfer from Gonzaga who arrived on campus two weeks after the 2017-18 school year began, needed to make a 30-foot eagle putt — with a twisting, downhill break — just to get Arizona into a playoff against Baylor.
"Bianca is a player who is fearless," says Ianello.
The putt dropped into the cup. After not only a shot-for-the-ages, but also a putt-for-the-ages, how can you possibly lose?
About an hour later Arizona eliminated Baylor and advanced to a match-play showdown against No. 1 UCLA, the first of three potential matches against top-10 teams in a three-day period.
Taking golf seriously at 9
Ianello arrived on the UA campus in January 1997 at a time Arizona was coming off the 1996 NCAA championship. She was immediately sold on playing for a program that produced Annika Sorenstam and would win the 2000 NCAA championship.
"I struggled my first and second years at Arizona," she says. "But the team was outstanding. We won the 2000 NCAA championship, although I didn't make the lineup."
Ianello wasn't a golf-specific athlete growing up in Charleston, Illinois. Her father, Jerry Myerscough, who has made a living owning Arby's franchises in the Midwest, coached his daughter's softball teams and basketball teams. She started golfing at 5, accompanying her dad to the local country club.
"At 9, I began taking golf seriously, taking lessons," she says. "I had the bug. My parents didn't push me and I am so grateful for that."
In 2000, Ianello had the week of her young life, reaching the finals of the U.S. Women's Amateur. A year later she was captain of her final UA golf team. She didn't complete her degree requirements, choosing to hit the road and push for the LGPA Tour.
"I never gave a thought to coaching," she says. "I was going to make playing golf my life."
By 27, bouncing on and off the LPGA Tour and several mini-tours, Ianello injured her back and began working at an upscale Scottsdale golf facility. She gave lessons. She sold golf gear.
"I hated the job," she says. "I didn't love golf any more. I was broke and miserable. I was tired of asking my dad for money so that I could travel to another tournament."
Her UA coach, Greg Allen, left Tucson to become the head coach at Vanderbilt. He told Ianello he wanted to hire her as his assistant coach, but first she needed to return to the UA and finish her degree work.
Ianello entered the CATS Forever program and graduated. She was immediately hired as an assistant coach on Shelley Haywood's UA staff; Haywood left the golf program during the 2010 season. New Arizona athletic director Greg Byrne promoted Ianello to the top job. She was 31.
"Laura's had several chances to leave the UA," Jerry Myerscough says. "But she loves Tucson and so do her mother and I. We have been spending the winters in Tucson for 20 years."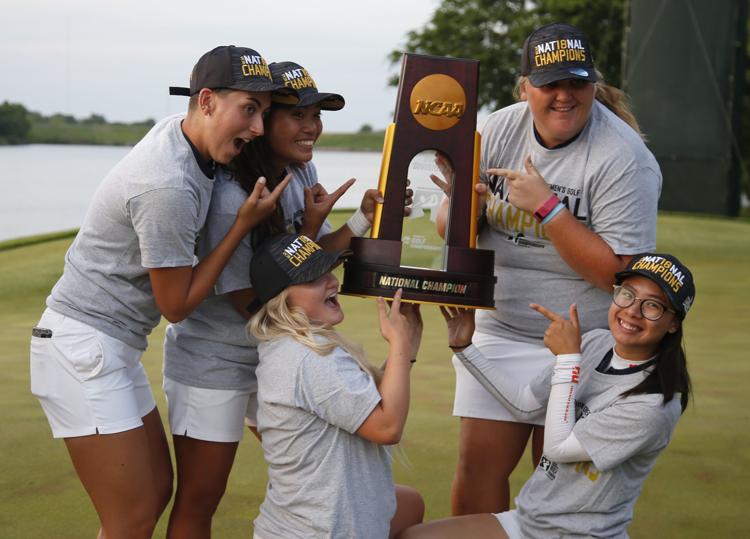 Momentum 'such a big thing'
In the NCAA match-play finals, Arizona opened by shocking No. 1 UCLA. A day later it chopped down No. 5 Stanford. It would have to beat No. 2 Alabama to win the national championship.
"Most of the attention went to Bianca's eagle putt and to the 5-footer Haley Moore made to beat Alabama on the last hole," Jerry Myerscough says, "but it also took Gigi Stoll and Sandra Nordaas to rise to the occasion and win matches people didn't expect them to win.
"Momentum is such a big thing. They got on a roll like few I've ever seen. You've also got to get a little bit lucky."
Luck? When three-year starter Krystal Quihuis quit the team to play on the LGPA Symetra Tour at the outset of the 2018 season — a transaction that rocked the program — freshman Yu-Sang Hou enrolled. She has since become one of the top players in college golf.
No one thought it then, but Hou's arrival was trading up.
"Hou eats and sleeps golf, but she's a kind and gentle soul," Ianello says. "She brought a new dynamic to the team. She brought all the good things; we just jelled. The girls accepted one another and got along. That's so much of the battle."
Moore's 5-foot putt to beat Alabama and win the national championship triggered an impromptu celebration that was played and replayed by Golf Channel for a week.
"I was standing next to Haley's mom, Michelle; she was so nervous she couldn't watch," Jerry Myerscough says. "I told her 'Haley can handle it' and she did. It was a moment I'll never forget."
'A Rock Star'
Laura Myerscough met Jeff Ianello at a Scottsdale nightclub in 2004.
"Just a random thing," she says. "I loved the fact he was driven and had goals. He was so disciplined for a 23-year-old. He has seen me through everything."
Laura and Jeff were married in 2009. He worked for the Phoenix Suns and was soon working in Manhattan as part of the NBA's vast marketing and sales unit. In their first four years of marriage, Jeff lived in Phoenix. When he was hired by the NBA, he commuted to Manhattan every week.
Somehow, the Ianellos made it work.
"Jeff put his career second to mine," says Laura. "He's a rising star in his business, yet he put his family first."
She stops and dabs tears from her eyes again.
In a 15-month span, Laura gave birth to Natalia and Joanna. At the UA, Byrne feared Ianello would quit to become a full-time mom, or move to New York to support her husband's career.
Byrne often referred to Ianello as "a rock star."
Two years ago, Jeff Ianello became executive vice president for SeatGeek, a New York-based firm that markets tickets to the NBA, NFL, to concerts and to the theater. Their sometimes long-distance relationship endures.
"Laura's such a good mother, she makes me so proud," her father says. "She's a lot like her mother and her grandmothers. She doesn't do things halfway. You couldn't get a better daughter. She does amazing things."
Three weeks after Arizona won the NCAA championship, Ianello lost her treasured assistant coach. Radley was hired to be the head coach of Oregon's women's golf team. It was a back-to-reality moment that shook Ianello and ended the championship celebration.
"Coach D and I literally were like brother and sister," she says. "When he left, it was like I had gone through a divorce. It was so painful. It was like 'how am I going to recruit?'"
Not only that, Arizona's recruiting Class of 2019 was far from complete. Ianello flew to England, where she got a commitment from top prospect Hollie Muse. She hit the road to all of the summer's must-see girls golf tournaments, but this time, minus Radley, she did all of the footwork herself.
She did not replace Radley, interviewing a handful of candidates, until school began in September.
"Natalie and Joanna spent a lot of time with us," Jerry Myerscough says. "That's part of the support from your family. I know Laura went through some anxiety, but it all worked out. She gave it all she had."
In late November, after most of the Top 25 women's golf programs had completed their recruiting classes of 2019, Ianello knew something was missing. The UA had won the biggest event of the fall season, the Pac-12 Preview in Hawaii, but the school's top recruiting target, Taiwan's Vivian Hou — sister of standout sophomore Yu-Sang Hou — had delayed her choice of schools. Every team in the top 10 wanted her.
Finally, on the morning of Nov. 21, Ianello noticed a Facebook message from the Hou family. Once she translated the message from Mandarin, she read the happy words: "I will be attending the University of Arizona."
"It was 7 in the morning but I just broke down and cried," Ianello says. "It had been such a long year, but a great one, too."
---
---