On a long drive to Tucson from a 2016 basketball tournament in New Mexico, the caller ID on Todd Holthaus' phone illuminated.
"I remember thinking, 'this is either really good or really bad,'" Holthaus says now.
Really bad? Nakai would've been calling to decline Holthaus' offer to play for Pima College.
Really good? On Wednesday night, Nakai needs to score 14 points to become the leading scorer in PCC women's basketball history.
Really, really good? "She's the best player in my time at Pima," says Holthaus, who has coached five first-team NJCAA All-Americans since 2009.
Jacqulynn "JJ" Nakai, who grew up in the Navajo nation east of Flagstaff, is maybe 5 feet 6 inches tall. Don't let that fool you. She plays big. She plays fast. She plays clutch.
With Pima trailing 82-75 in the final 30 seconds of a recent game against ACCAC power Central Arizona College, Nakai swished two 3-pointers and a free throw to force overtime. Pima ultimately won 114-112. Nakai finished with 36 points.
"I don't know if I've ever seen anything like that," says Holthaus, who has coached more than 400 basketball victories. "JJ has a collection of great moments, but in terms of a sheer will to win, that was the pinnacle."
Nakai has scored 1,181 points at Pima College. She leads the mighty ACCAC in scoring, 24.1 per game, which is third in the NJCAA. But that's just half of her work. She averages 6.8 assists per game, which is also No. 3 in the nation.
This isn't a fluke, or one person padding her statistics for a bad team in a bad league. The ACCAC is widely viewed as the nation's best junior-college league, and the Aztecs are ranked No. 17 nationally.
"In more than 40 years, JJ has one of the three highest motors of players I've coached," says PCC assistant Jim Rosborough. The three: Arizona consensus All-American point guard Damon Stoudamire and the UA's leading women's tennis player of the last 20 years, Lacey Smyth.
"She never, ever, ever takes a play off or a practice repetition off. She listens, absorbs and then it translates in games. She never stops."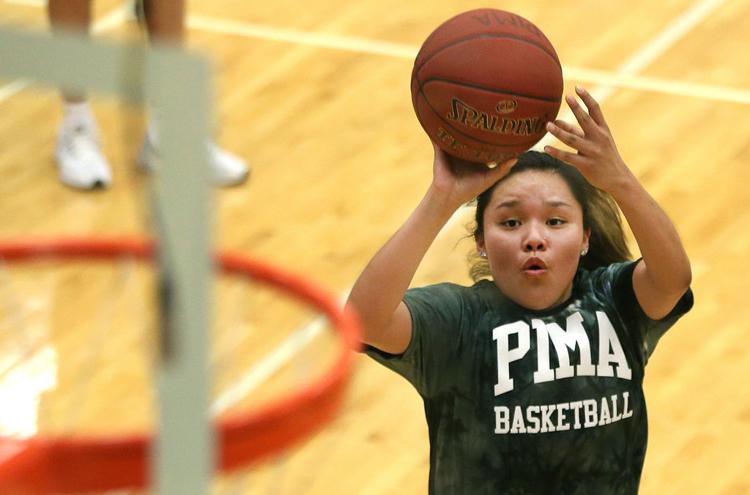 How did Pima College successfully recruit such a talent? All 12 schools in the ACCAC were acutely aware of Nakai's success at Flagstaff's Coconino High School; the 2016-17 Panthers went 27-5 and reached the state semifinals, the best season in school history. Nakai was superb, averaging 20 points and seven assists per game.
Ultimately, Nakai became an Aztec because of PCC's old-fashioned footwork and perseverance.
Assistant coach Pete Fajardo, the former head coach of the Salpointe Catholic and Catalina Foothills girls basketball teams, has developed winning instincts in more than 20 years of coaching.
He saw Nakai play in the summer.
"You've got to see her play," he told Holthaus.
And so Fajardo invited Coconino to a summer tournament at the Cholla High School gym in 2016. It didn't take long for Holthaus to understand that Fajardo knows his stuff.
"We offered her a scholarship on the spot," says Holthaus.
Part of Pima's — and Nakai's — good fortune was that her mother, Jessica, was looking for someone to help JJ through her first year away from home; someone to be more than a coach; someone to watch over her daughter; someone like the engaging and warmhearted Holthaus.
"Someone in my family knew Todd and told us that he's not just a good coach but also like a dad to his players," Nakai says. "It wasn't just going to be about basketball and that's what I was looking for. You can joke around with him. You know he'll treat you right. I feel it's one of the better decisions I've made."
And Tucson is just close enough to Flagstaff for Jessica Nakai to attend most of her daughter's games and still get home before midnight.
A lot of coaches talk about "turning boys into men." For Holthaus, it's turning girls into responsible young women.
"She just blossomed this year; her personality has emerged," he says. "She's very well-adjusted. You can't help but like her."
Now comes what Nakai and her coaches hope is the Big Finish. The Aztecs have three regular-season games remaining and are positioned to win the Region championship and play in the NJCAA Division II nationals.
Beyond that, Nakai seems a lock to be a first-team All-American again this season, and possibly the ACCAC player of the year, or very close.
She will take four or five recruiting visits in the spring and continue her career at a Division I school. Nevada, Gonzaga, NAU and many others are interested.
"I get calls from D-I coaches every week," says Holthaus. "She has a lot of options. If we get to the national tournament, it'll open even more doors. Someone's going to get a winner."