Befitting the only general manager in the history of La Fiesta de los Vaqueros, Gary Williams dresses the part: cowboy hat, cowboy boots, Wrangler jeans, and a bushy mustache so convincing you'd swear he was in costume for a John Wayne movie at Old Tucson.
"I always wanted to be a cowboy," Williams said Thursday at the Tucson Rodeo Grounds. "I was a professional bull rider for a many years. I was a rodeo clown."
He pulls out his phone and punches up a precious keepsake photo from the 1950s. It is 5-year-old Gary Williams with his father, Gene, walking on a downtown Tucson sidewalk. Both are dressed as cowboys, head to toe.
"It's been in my blood forever," he says.
At 5:45 a.m., Thursday, when it was dark and cold, Williams arrived at the Tucson Rodeo Grounds to help park cars, big rigs, cattle trucks and horse trailers. He was wearing five-layers of rodeo gear to stay warm.
"If you do this job right," he says, "you never stop."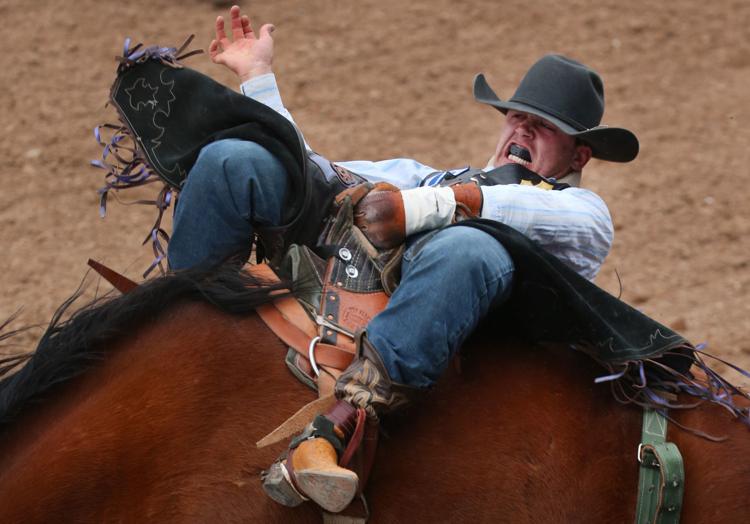 Williams never stops. He is a treasure of Tucson sports like few others, one of the reasons La Fiesta de los Vaqueros is celebrating its 94th anniversary and recently was chosen as one of America's 25 leading rodeos by a topeventsusa.com.
How good is that? There are 668 rodeos sanctioned by the Pro Rodeo Cowboys Association.
Williams, who was a football lineman of note for the mid-1960s Rincon High School Rangers, was the 13th chairman of the Tucson Rodeo Committee from 1994-95. About that time the Rodeo Committee — the equivalent of golf's Tucson Conquistadores — decided they needed a full-time general manager for their growing enterprise, and conducted a national search.
The search led them back to Tucson, back to Williams, who has held the GM position for 25 years. If you're picking a Mount Rushmore of Tucson sports history, Williams is a given. That's how much he's meant to this historic event and its iconic parade.
He's by no means a one-man show.
During the 94th La Fiesta de los Vaqueros, Williams is aided by 40 members of the Tucson Rodeo Committee, 50 associate members of the committee, 12 advisory members and more than 100 volunteers.
If there's anyone who can match Williams' enthusiasm and commitment for the Tucson Rodeo, it is committee chairman Jose Calderon, a Santa Rita High School grad who operates Hacienda Nuevo Builders but has given his heart to this wonderful rodeo enterprise.
"This is my last year as chairman, but I can't ever see myself not being part of the operation," says Calderon, a former bullrider and ranch hand.
"I volunteered in 2006 and was told to show up and expect to get dirty. At the beginning, I mucked stalls, moved rocks and dirt. I basically ruined my boots. But I love this so much that I always get duded-up, in all of my cowboy gear. This is a year-round commitment and I wouldn't do anything else."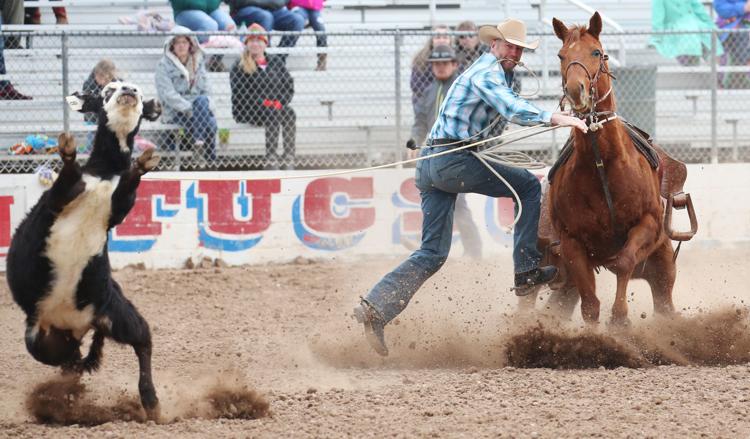 There are other rodeos with more identifiable names and reputations. The Cheyenne Frontier Days Rodeo. The Pendleton Roundup. The Snake River Stampede. But few have a history of excellence to match La Fiesta de los Vaqueros.
The Tucson Rodeo has thrived for 94 years with a diverse mix of chairmen from all walks of Tucson life whose legacy has been carried on by Williams and Calderon.
M.H. Starkweather, chairman from 1942-45, was an architect who built Tucson's original city hall. Ferd Lauber, 1960-70, who brought the office furniture firm Walsh Brothers to Tucson, was a former caddy for presidential candidate Barry Goldwater. Monte Mansfield, 1951-54, was Tucson's first-ever Ford dealer in 1914.
More recently, John Marcello, a professor of animal science at the UA, a former calf roper and coach of the UA rodeo team, was the Tucson Rodeo chairman from 1986-90.
On Tuesday, for example, about 5,000 Southern Arizona schoolkids, K-8, were at the Rodeo Grounds for slack competition.
Ticket prices remain reasonable, from $20 to $70. The Tucson Rodeo is a nonprofit, charitable organization and it is as reliable as the monsoon clouds of July.
Since the Tucson Rodeo's start in 1925, it has missed just one of more than 400 performances. In 1941, a troublesome storm in Texas forced a railroad shutdown in El Paso, where steers and broncs bound for Tucson were unable to be transported to Tucson.
If it rains Friday, the rodeo goes on.
"We don't stop for rain. We don't stop for anything," says Calderon. "There is an art to maintaining the dirt and soil during a storm, and we are fully prepared. Our commitment is to the safety of the stock and the competitors. We understand there is more than $1.5 million of stock on this property during rodeo week, so we educate our people to be prepared for the worst."
"In 1998 we had six inches of rain from Thursday morning to Saturday night," Williams remembers."We had so much mud piled up around the arena that you could completely submerge yourself. But we made the best of it."
Now, 94 years after it began, the Tucson Rodeo makes the best of it as one of the best at it.