Hansen's Sunday Notebook: Andre Iguodala's new book a fascinating and engrossing read
Star sports columnist Greg Hansen offers his opinion on recent sports news.
Iguodala's new book a fascinating and engrossing read
I sat down at 7 p.m., Thursday planning to read the first chapter of Andre Iguodala's book "The Sixth Man: A Memoir," and nurse it through the next few days.
At midnight, I put it down. It was absorbing.
There is no vanilla, no blah-blah-blah in the biography by Arizona's 2004 All-Pac-10 basketball player. The first third of Iguodala's book is a strong and consuming narrative of his upbringing in a black community in Springfield, Illinois, and his step-by-step, unvarnished development as an elite basketball player, both in Springfield and Tucson.
"My goal was to get as far away from Springfield as possible," he writes. "When I got to Tucson, I had never seen so many white people assembled in one place. It was a culture shock of the highest order."
Iguodala's initial reaction to Lute Olson: "There was something ruthless about him. I don't mean that in a bad way, necessarily. When I was done working with him, I still wasn't clear on whether I liked him."
But he praised Olson's ability to make him a better ballplayer. "One thing was certain; he taught me the game of basketball like no one else ever had," Iguodala writes.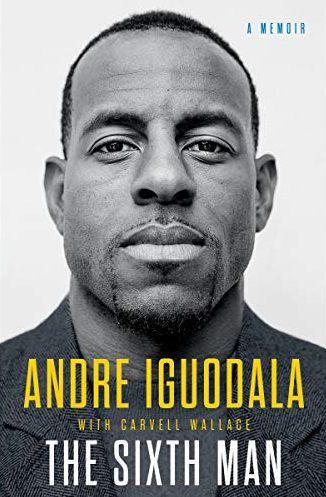 He similarly praises Golden State coach Steve Kerr and former Wildcat teammate and ex-Warriors assistant and interim coach Luke Walton.
Iguodala, a first-round draft pick of the Philadelphia 76ers in 2004, the NBA Finals MVP of 2015 and a 2012 Olympic gold medalist, does not waste space. Every paragraph about being raised in the attic of a Springfield house by his single mother — about her insistence that he be a dedicated student and rise above the temptations of his lower-economic and racially charged neighborhood — is incisive.
He did not leave Tucson as an advocate of the college basketball system. He refers to it as "Blackness against the Machine."
"It's not about education, it's about sports," Iguodala writes, "We help with ticket sales, TV rights, jersey sales, concessions, branding, enrollment and we help with recruiting. We were basically part of the marketing and administration departments. That was a large part of the reason I began to think about leaving college early."
Although Iguodala says he was a 3.0 student in his two seasons at Arizona, he writes that the UA did not care if he got "an actual education, just that we remained eligible. Students take BS classes and have their homework completed by tutors.
"NCAA basketball is a racket and players are the only one's losing. There is no purity in the game."
Iguodala, 35, has been paid $136 million in his NBA career. He has one year remaining with the Warriors, at $17.1 million. He spends the last half of his book with a descriptive log of his professional career, from the grind to the glory.
If anything is missing from "The Sixth Man," it's that he doesn't touch on his family or personal life beyond his college days, and doesn't address his growing reputation as a businessman, especially as a tech investor in the Silicon Valley industry.
Perhaps he'll share that in a sequel to "The Sixth Man."
Pima tops UA in final standings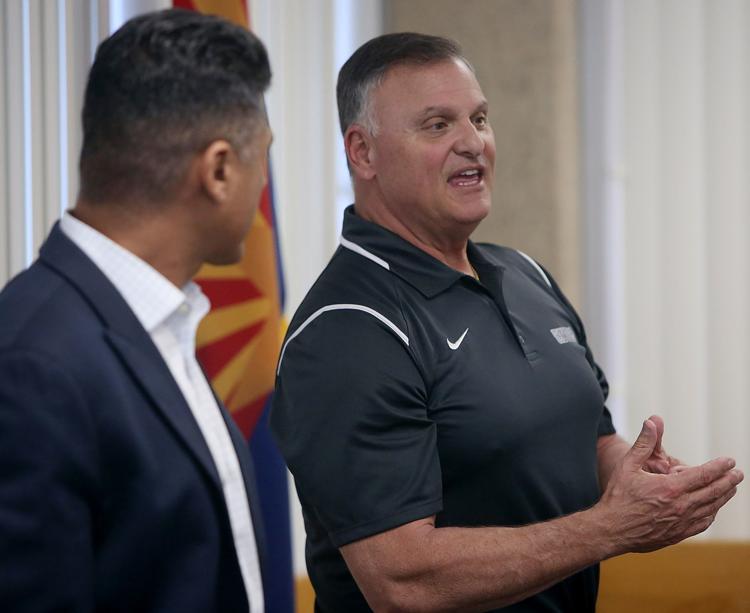 Pima College finished 17th in the NJCAA's Daktronics Cup standings for the 2018-19 athletic season, a cumulative average, sport by sport, ranking the Aztecs against all other junior college athletic programs.
Arizona finished 41st in the NCAA's Directors' Cup, which is eighth among Pac-12 schools. Arizona State was 19th. Stanford was first.
The Aztecs athletic program has never been stronger than in the last decade. It finished No. 5 nationally in 2016 and 2012. Arizona has not finished in the top 10 since the late 1990s.
Here's how the last five years compare between PCC and Arizona.
2019 — Pima 17th, Arizona 41st
2018 — Pima 25th, Arizona 51st
2017 — Pima 26th, Arizona 42nd
2016 — Pima 5th; Arizona 25th
2015 — Pima 10th; Arizona 36th
Stacy Iveson's Team Israel has Olympic dreams
Stacy Iveson coached Pima College to two NJCAA softball national championships and later coached Yavapai College to two NJCAA titles. Now the director of operations for Arizona's softball team, the Catalina High School grad is head coach of Team Israel in the European Cup Softball championships that begin Sunday in Poland and the Czech Republic. The winner of the week-long competition earns a berth in the 2020 Tokyo Olympics. Iveson has plenty of familiar faces helping; former UA standout Lisa Bernstein, once the head coach at Minnesota, and Arizona's 1991 NCAA championship pitcher Debby Day, now head coach at Cal Lutheran, are Iveson's assistant coaches. One of Israel's key players is Canyon del Oro High grad Alexis Kaiser, a catcher who hit .250 with seven home runs in her freshman season at Syracuse.
Sabino coach headed to MLB All-Star Game with son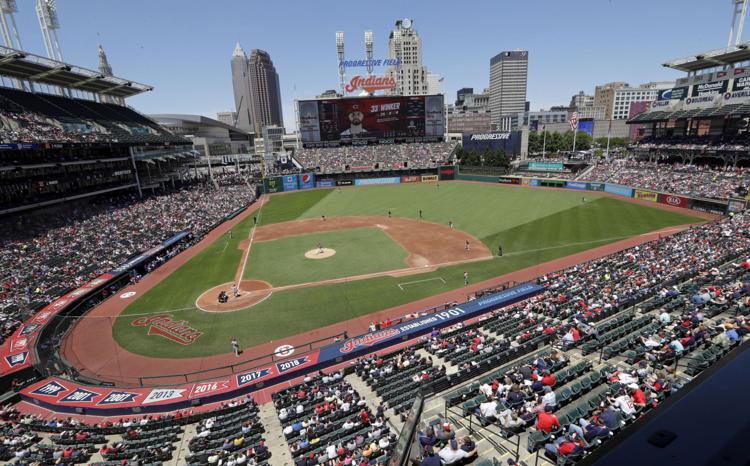 Sabino High School girls volleyball coach Amy Johnson and her husband, Sean, are going to the MLB All-Star Game in Cleveland in two weeks, and not just to see Mike Trout or any of the New York Yankees. The Johnson's 12-year-old son, Jake Johnson, has been selected to be part of Gatorade's Hydration Team during Monday's Home Run Derby. Jake will provide Gatorade for the American League home run hitters near home plate after each stop in play. The Johnsons also will be guests of MLB at the Fan Fest and the All-Star Game.
Christine Clark a worthy member in Pima's newest Hall of Fame class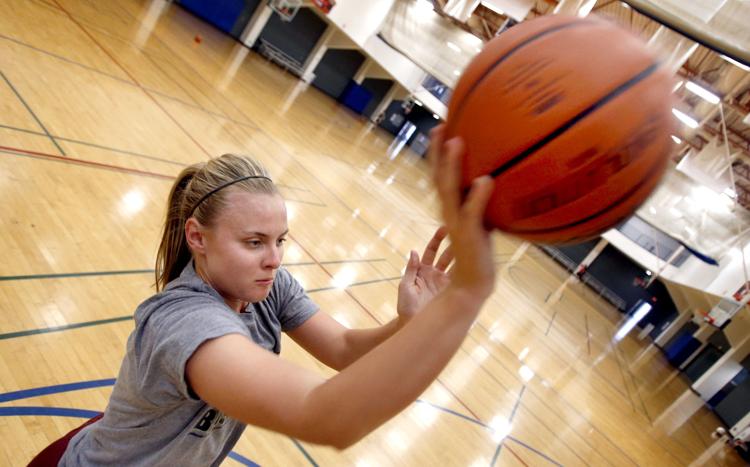 When I listed the Pima County Sports Hall of Fame Class of 2019 last week, I omitted one top selection — Christine Clark. The former Tucson High School state hurdles champion and All-State basketball player was voted into the PCSHF in her first year on the ballot. Clark went on to become a three-time All-Ivy League basketball player at Harvard, played professionally in Italy, was a graduate student manager on Adia Barnes' staff at Arizona, and then was an assistant coach at Florida and now at Belmont University. The Class of 2019 will be inducted Oct. 27 at 12:30 p.m., at the DoubleTree Hotel.
Tucsonan Fogltance set to join Pac-12 Officiating Hall of Fame
Tucsonan Jim Fogltance officiated his first high school football game in 1965 and was hired by the Pac-10 in 1978. On July 25, the retired Tucson educator will be inducted into the Pac-12 Officiating Hall of Fame during a league workshop in Phoenix. He will join Marana's previously-elected Cleo Robinson in the Hall of Fame. Fogltance is now a crew chief in the Pac-12's TV replay operation; in previous years he was an on-field referee at the Rose Bowl, BCS games and spent three years in the USFL. His son, BJ Fogltance, is an official for CFO West, which supplies football officials for Big 12, Mountain West and Southland conference games.
Jesse Mermuys set to coach fellow former Cat Brandon Ashley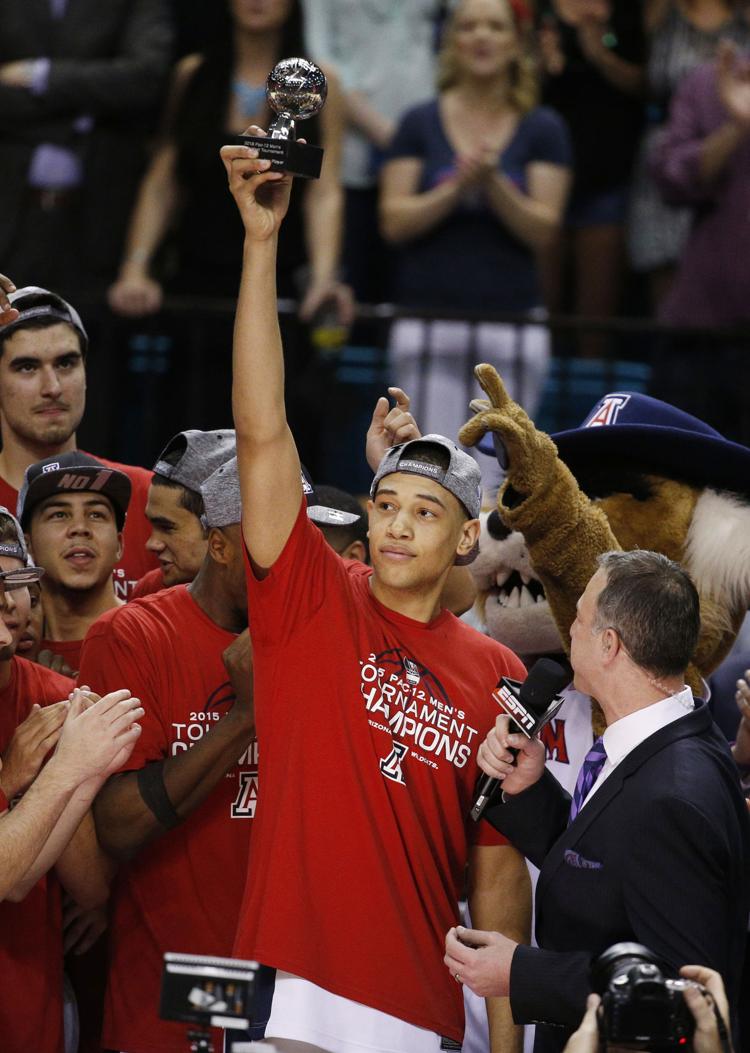 Salpointe Catholic and UA grad Jesse Mermuys will be the head coach of the Sacramento Kings NBA Summer League team next month. He had been Luke Walton's top assistant coach with the Lakers the last two years, and also coached for the Toronto Raptors and at Pima College. Mermuys will be coaching former Wildcat Brandon Ashley, the Pac-12 Tournament's 2015 MVP. Ashley spent last season playing in the EuroLeague for Apoel Nicosia in Cyprus, averaging 11.8 points per game.
"Dick Tomey Award" would have several candidates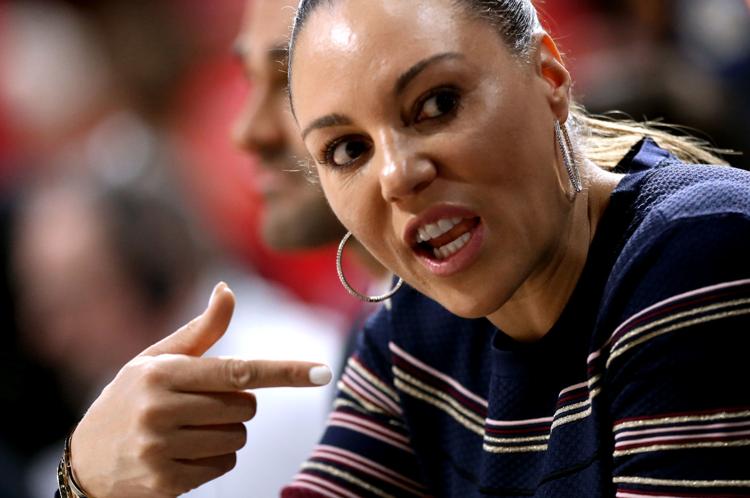 Every year, ASU presents the Frank Kush Award to the coach voted as the year's best by his peer coaches in the athletic department. This year's winner was hockey coach Greg Powers. That is one award the UA would do well to copy. Call it the Dick Tomey Award. The voting for Arizona's 2018-19 season would've been compelling. Would it go to Adia Barnes for her rescue of the long-woeful women's basketball team? Or to softball coach Mike Candrea, for leading UA back to the WCWS? Or perhaps to men's tennis coach Clancy Shields, who produced the UA's first NCAA Tournament berth since 2010and breaking a six-year losing streak within the Pac-12?
Pac-12's baseball demise has been greatly exaggerated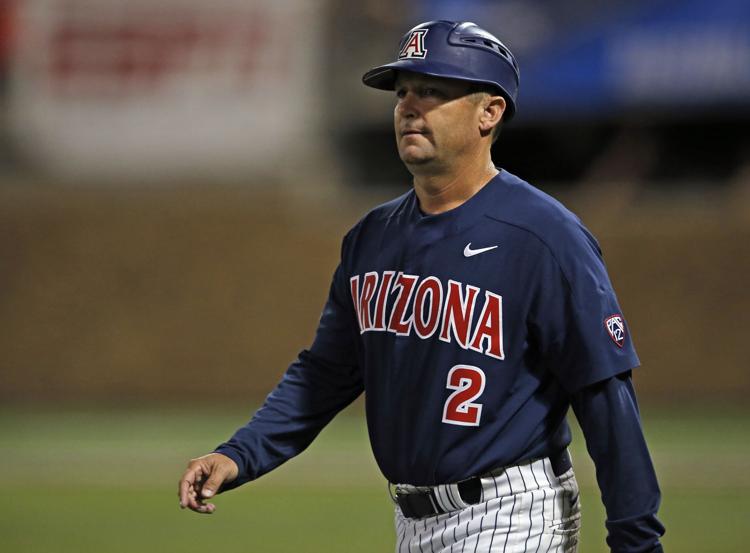 College baseball appears to have made a historic shift at the top in recent years, with Vanderbilt (twice), Oregon State (three times) and Coastal Carolina winning the College World Series. The Pac-12 ruled college baseball for 50 years, 1950-1999, winning 22 national championships. Has the Pac-12 other than Oregon State slipped? No. As Jay Johnson attempts to restore Arizona to the elite level of college baseball, it's notable that the league has produced 25 CWS teams the last 20 years. In the previous 20 years, 1980-99, the Pac-12 sent 27 teams to the CWS. The most sobering number for Arizona is that in spite of winning the national title in 2012 and reaching the championship game in 2016, Arizona is just 144-149 in the powerful Pac-12 the last 10 seasons. That pales next to Oregon State's 207-94. ASU is 161-132, the worst decade of baseball at ASU since the 1950s.
UA swimmers honored as Pac-12 student-athlete standouts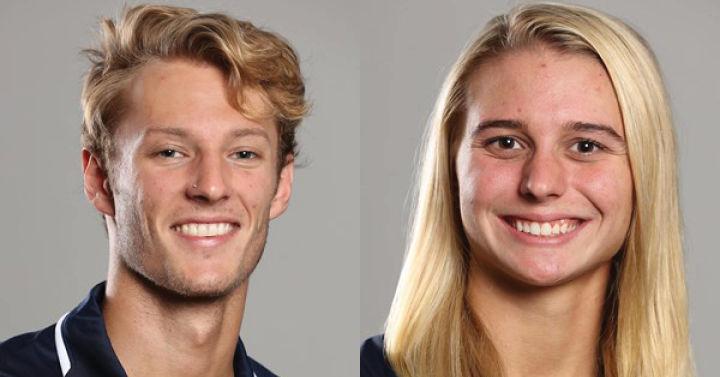 The Pac-12 last week announced the 2018-19 winners — two per school — of the Tom Hansen Medal, symbolic of combined athletic and academic performance. Arizona's winners were swimmers Chatham Dobbs and Katrina Konopka. Since the medal was established in 2009, swimmers and divers have dominated at Arizona, winning 11 of the 22 medals. Track and field produced four winners. The only men's basketball player to win was Dusan Ristic. The only UA football players to win were lineman Brooks Reed and kicker John Bonano. This year, for the first time, the Pac-12 produced three football medal winners: WSU quarterback Gardner Minshew, Washington linebacker Ben Burr-Kirven, and Utah linebacker Chase Hansen.
Alabama AD Greg Byrne selected for new post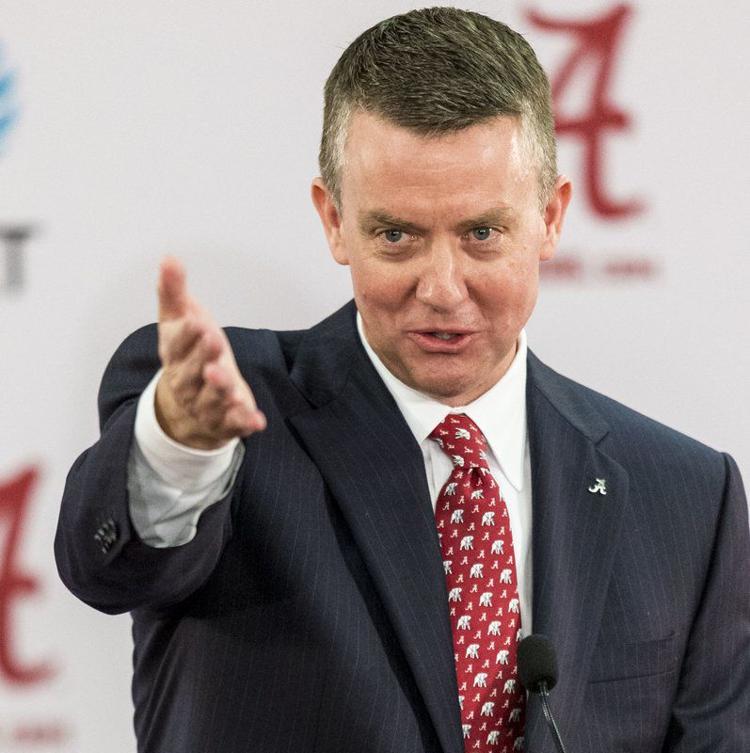 Former Arizona athletic director Greg Byrne, now at Alabama, was selected president of the NACDA last week, the national organization for athletic directors. His father, Bill Byrne, was the NACDA president in 1992, during his term as Oregon's athletic director. It's rare a Pac-12 AD serves at the top of that group. Washington's Mike Lude (1982), ASU's Fred Miller (1979), Arizona's Jim Livengood ( 1999), and UCLA's Dan Guerrero (2012) are the only Pac-12 ADs. One thing to keep in mind: being NACDA president doesn't necessarily promote job security. Miller, Lude and Livengood all were forced out of their AD jobs.
Recruiting bursts not always what they seem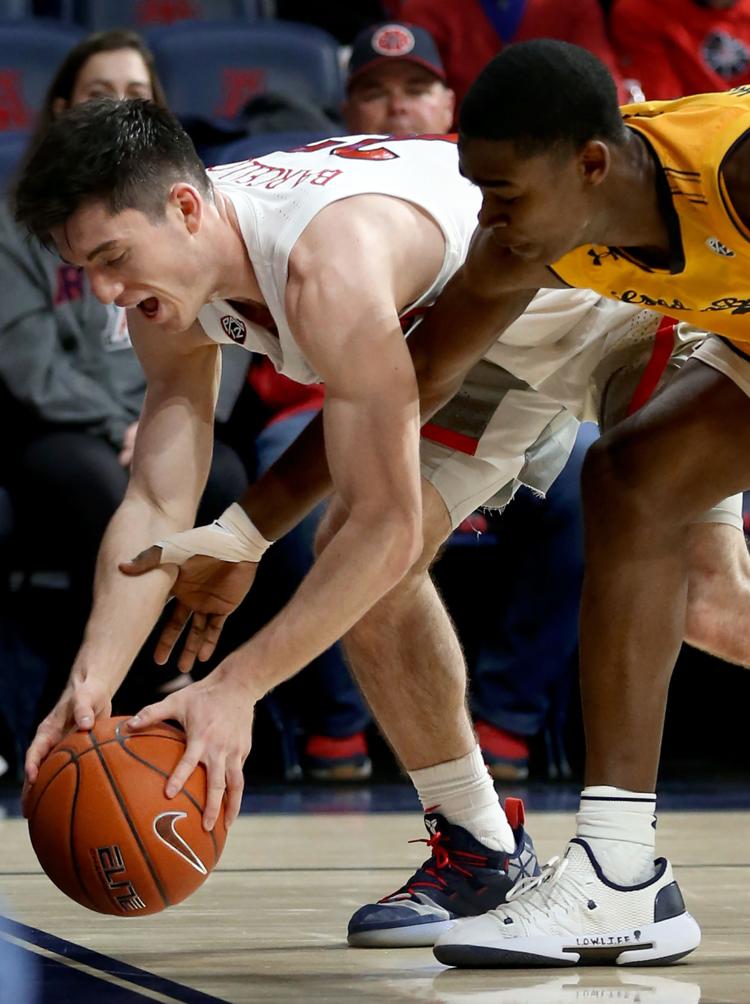 In the college basketball recruiting Class of 2017, Rivals.com ranked Alex Barcello and Brandon Randolph as four-star recruits and Emmanuel Akot as a five-star player. Now all are gone. Either the Rivals people blew it, or Arizona's coaching staff got a little blurry-eyed during the evaluation process. Oregon had a similar bust with the Class of 2017; Abu Kigab and Victor Bailey were four-star recruits; both have since transferred after spending most of the time on the bench. The Pac-12 coach that best recruited the Class of 2017 was Colorado's Tad Boyle. His three four-stars — D'Shawn Schwartz, Tyler Bey and Evan Battey — are the best returning threesome in the Pac-12, by far, and the Buffaloes are likely to be the Pac-12 favorite in 2019-20. At Arizona, Barcello, Akot and Randolph combined to shoot 91 for 297 from 3-point range. That's 30.6% . In an age when 3-point shooting is becoming the most important offensive variable in basketball, it's almost hard to believe Arizona won 17 games last season.
My two cents: Pac-12 powers again set to feast on cupcakes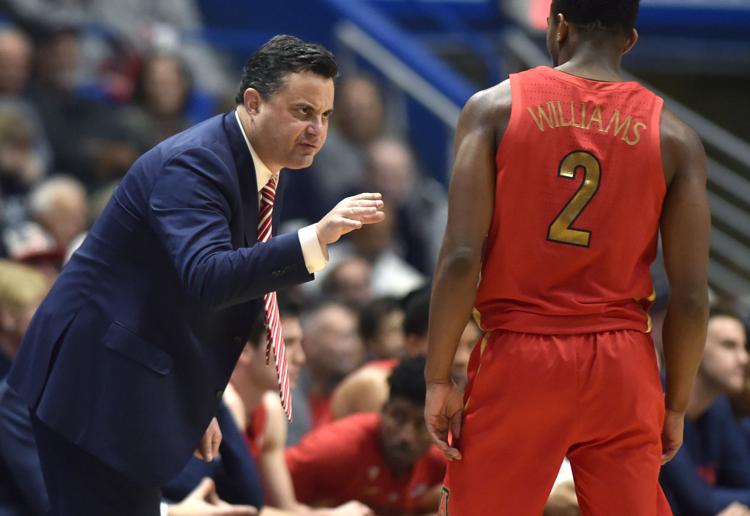 UA basketball ticket buyers and attendees of Arizona's home basketball games, have been burned during the Sean Miller years, paying for diminished nonconference schedules with few Top 25 programs visiting McKale Center.
The same is true this season, although there is an exception: Gonzaga will play at McKale on Dec. 14.
For a change, it is worse this season at UCLA and Arizona State.
New UCLA coach Mick Cronin will surely play before thousands of empty seats at Pauley Pavilion when the Bruins present this list of home opponents: UC-Santa Barbara, Long Beach State, UNLV, Southern Utah, Hofstra, San Jose State, Denver and Cal State Fullerton. Typical of modern college basketball, UCLA's premium nonconference game is at a neutral setting, North Carolina in Las Vegas.
At ASU, Bobby Hurley's 2019-20 home nonconference schedule is a bottom-feeder: Central Connecticut State, Rider, Louisiana-Lafayette, Prairie View , Texas Southern, St. Mary's, Creighton and Georgia, which went 11-21 last season. ASU's potential top game would be against Virginia — in Connecticut.
Scheduling continues to be a stain on college basketball, an invitation for potential ticket-buyers to stay home.