Star sports columnist Greg Hansen offers his opinion on recent sports news.
UA showing NCAA it has zero-tolerance stance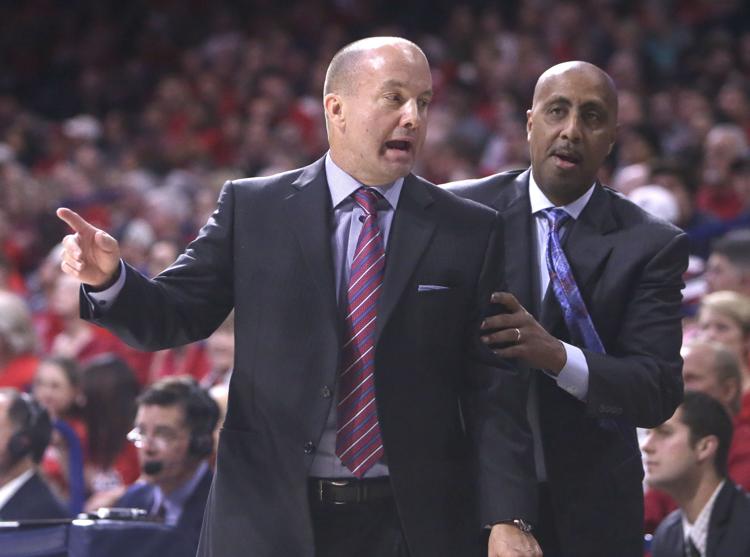 The UA's move to terminate assistant basketball coach Mark Phelps on Wednesday could've appropriately been announced with Don Henley's 1989 song "The End of the Innocence" as background music.
"Offer up your best defense
"But this is the end
"This is the end of the innocence"
As Henley then sings: "the lawyers clean up all details."
Given the NCAAs reputation for slow-moving and often ineffective investigations, some UA fans might've been lulled into thinking that former Arizona assistant coach Book Richardson would take the fall for the school's basketball program. End of story. Move on.
But the biggest warning of the potential for more trouble was a November report in The Arizona Republic. It stated that two Phoenix law firms had already spent more than 3,000 hours investigating Arizona's basketball program. Cost to the UA: more than $1.4 million.
Few Top 25-level basketball programs could survive that type of examination without the discovery of a broken rule or two, big or small.
In reality, three things became clear once Arizona chose to support and retain Sean Miller in March of 2018:
1. The UA would be proactive in searching for evidence of wrongdoing, leaving no stone unturned.
2. The school would take a zero-tolerance stance.
3. To minimize risk, Arizona would strictly follow the advice of attorneys.
The UA's move to terminate Phelps should show the NCAA that the school isn't attempting to hide anything and won't tolerate rule-breaking. All of these elements should be helpful when the NCAA completes its investigation of the UA basketball program. The school's willingness to be compliant and forthcoming may not shorten any potential NCAA penalties, but it might help to avoid a multi-year NCAA Tournament ban.
Back in form, Arizona National is a gem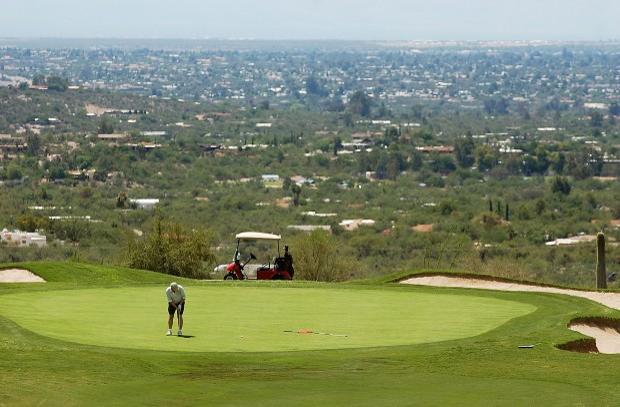 Arizona National Golf Course, once the home of the UA golf programs and a coveted facility that attracted, among others, a young Tiger Woods, survived a near-death experience last spring.
It was saved from bankruptcy/foreclosure by a Canadian financial firm after the Sabino Springs Homeowners association voted to sign a five-year lease at $100 per home per month to maintain and operate the picturesque golf course near Mount Lemmon highway.
Arizona National had all but died a few years earlier when the IRI Golf Group failed to pay its bills and, among other things, had the water turned off and shut down. It lost scores of members during the bankruptcy that followed.
Now operated by Billy Casper Golf, a course-management firm that is in charge of more than 60 golf courses nationally, Arizona National has returned to form.
"We had 3,300 rounds played here in January," said general manager Bernie Eaton. "That's up from 1,900 rounds last January."
Eaton and Billy Casper Golf also made Arizona National more financially-friendly, lowering rates from the high-end $80-90 level to the $45-65 bracket.
Eaton isn't a rookie at this stuff. He has worked at the top levels of Southern Arizona golf at Starr Pass Golf Club, El Conquistador Golf Club, Quarry Pines and at the vast golf operation in Saddlebrooke.
"One of the issues here has been that some think it's a private club because it's located in a gated community," said Eaton. "Well, we are open to everybody. ''
Arizona National has Happy Hours, Burger Nights, Fish Fry Fridays and extended breakfast hours on the weekend. It's a strong reflection on the recovering golf industry in Southern Arizona.
These 5 stories stood out last week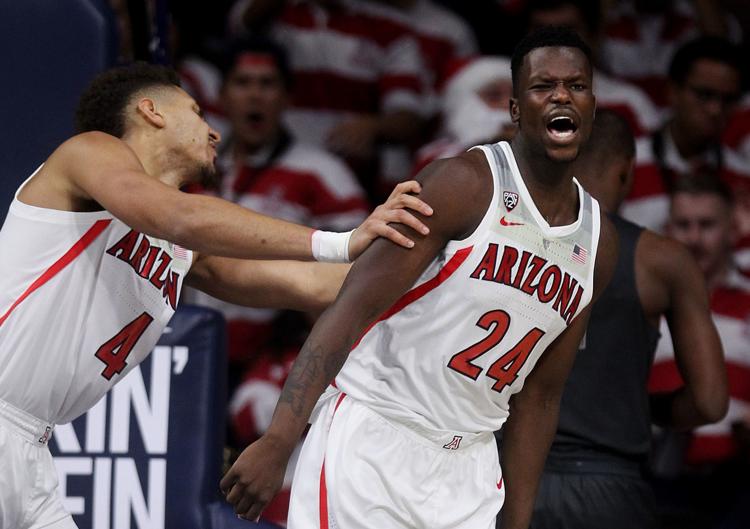 1. Oklahoma last week gave offensive line coach and co-offensive coordinator Bill Bedenbaugh a raise to $750,000 per year, making him what is believed to be the highest-paid offensive line coach in college football. When Bedenbaugh was Mike Stoops' line coach at Arizona from 2007-10, it didn't take long to realize he was something special.
2. Emmanuel Akot's apparent decision to transfer to Boise State is commensurate with his basketball ability. Akot arrived at Arizona as a five-star recruit in the Class of 2018. It became clear in about five minutes that those who put the star-rankings on prospects blew it on Akot, who isn't a fluid athlete, can't create a shot and plays without much confidence. If he stays at Boise State through his senior year, 2022, he could average 10 or 12 points a game and be a solid contributor.
3. When the UA selects its sports Hall of Fame Class of 2019 it should give strong consideration to Paul Robinson, a Marana High School grad who played football and track at Arizona in 1966 and 1967 and became the AFL Rookie of the Year, a two-time Pro Bowl tailback who rushed for 1,074 yards for the 1968 Cincinnati Bengals. "I don't know what it takes to get in the Hall of Fame," Robinson said last week, "but I'm 74 and my time is coming to an end. I'd like my nephew (Salpointe Catholic mega-prospect Bijan Robinson) to be able to be part of something like that."
4. Heather Moore-Martin, who has coached Catalina High School's boys volleyball team and Salpointe's girls volleyball team to four state championships since 2010, was named Western Region coach of the year, 2017-18, by the National Federation of High Schools last month. That's an award that includes all schools in California, Nevada, Arizona and Hawaii. Moore-Martin is 95-18 her last three seasons at Salpointe, with two state titles and a runner-up finish at state. It is a well-deserved honor.
5. Tucson High's 23-1 state championship basketball team of 1969 was honored at halftime of the Badgers' final home game last week. It will also be honored at the boys Class 6A state championship game Feb. 26 at ASU's Wells Fargo Arena. The '69 Badgers beat No. 1 Phoenix Union and No. 2 Tempe in the final two games that year. Delano Price, who scored 24 points in the title game, and Chuco Miranda, who scored 21, were at the Tucson High ceremony last week, joined by All-State selection Kenny Ball and five others from the school's last state championship basketball team.
Trevor Hoffman will talk shop on UA campus before Friday's jersey retirement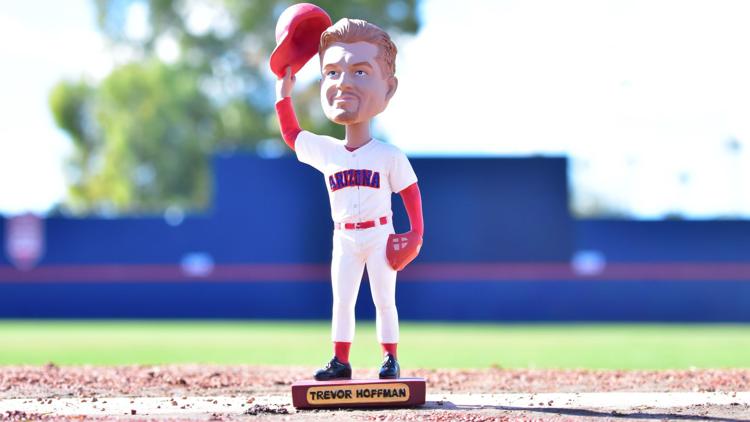 Arizona opens its 2019 baseball season Friday evening at Hi Corbett Field against UMass Lowell, and the draw will be the jersey retirement ceremony for ex-Wildcat and MLB Hall of Famer Trevor Hoffman. Earlier in the day, Hoffman will hold a "Fireside Chat" at the UA Student Union with those from the Eller Sports Management program and with UA donors. The school's Sports Management program began in 2010 and has become so popular that it now offers a minor and a certificate program to about 500 students each year.
Former local swimming star finds in his niche
From the Where Are They Now Department: Flowing Wells High School and UA grad Marcus Titus, possibly the top male swimmer from a local high school in Tucson history, is teaching at the Arizona School for the Deaf and the Blind, where he attended elementary school. Titus is in the process of completing his master's degree in deaf education from the UA. Titus' swimming career at Arizona was something out of a storybook. After transferring from ASU, he became a 12-time All-American and a key part of Arizona's 2008 national championship team. I've covered few events in my career more rewarding than watching Titus reach the finals of the 2012 U.S. Olympic Trials in Omaha, finishing eighth in the 100 breaststroke, about 1.2 seconds away from making the Olympic team. It's hard to believe but Titus is now 32.
Arizona's Yu-Sang Hou keeps climbing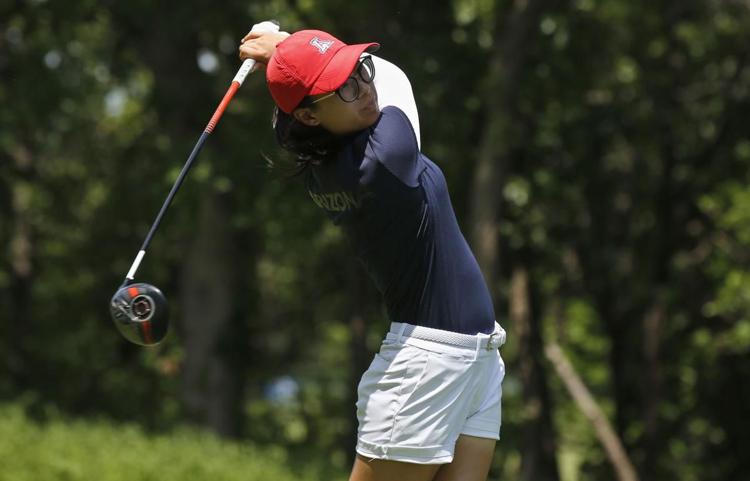 Arizona sophomore golfer Yu-Sang Hou has climbed to No. 11 in the nation in Golfweek's current analytics of the sport. Hou has probably played better than anyone in NCAA women's golf the last few months, winning the brutally difficult Pac-12 Preview in November and finishing No. 2 overall, one-stroke back, in last week's Northrop-Grumman Challenge in Los Angeles. She has also been invited to play in the inaugural Augusta Women's Challenge early in April at Augusta National Golf Club.
Rodeo has Southern Arizona flair in more ways than one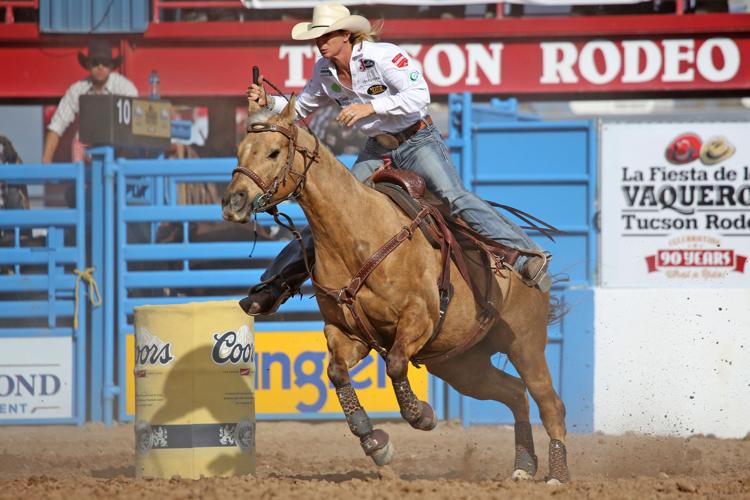 The entry list for this month's La Fiesta de los Vaqueros, the Tucson Rodeo, includes 637 cowboys and cowgirls, including more than 50 National Finals Rodeo competitors. It also includes 18 from Southern Arizona, including four-time world champion barrel racer Sherry Cervi of Marana. Of note, Marana's Tim Robertson, a steer wrestler, and his wife, Kelly Robertson, a barrel racer, will be joined by their son, Trey Robertson, who will compete in steer wrestling.
Cochise's Jerry Carrillo continues to win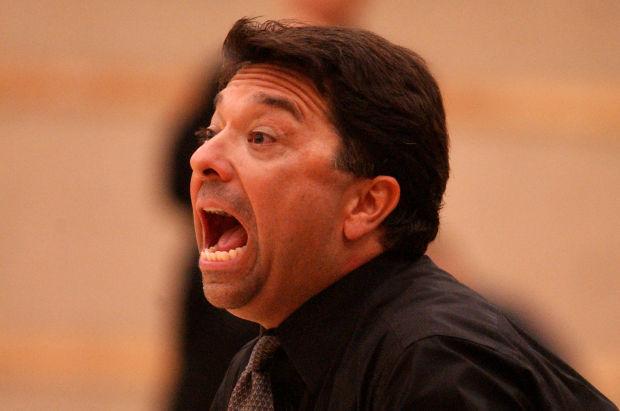 Cochise College men's basketball coach Jerry Carrillo, newly elected to the Pima County Sports Hall of Fame, is having another one of his championship seasons. The Salpointe Catholic and UA grad leads the powerful ACCAC by two games over his schoolboy friend Brian Peabody's Pima College Aztecs. Cochise was 20-4 entering Saturday's game against Mesa College. Proof of Carillo's impact in coaching has been seen recently on ESPNU. Ex-Cochise players Bryan Urrutia was in an ESPNU game for Maryland-Eastern Shore, as were Grambling State's Dallas Polk Hilliard of Cochise and Chaz Mack, a Catalina Foothills grad playing for Cornell.
Kelly, Smoltz, Stricker among Cologuard field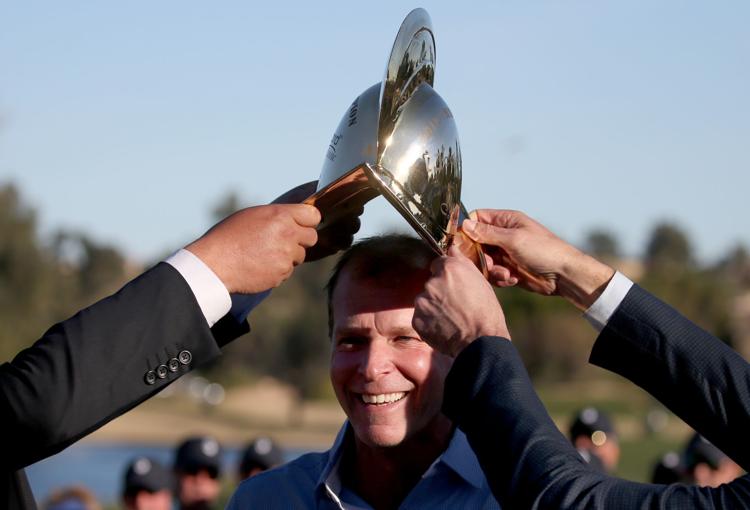 Tucson's PGA Champions Tour event, the March 1-3 Cologuard Classic, will stage a press conference Monday at Omni Tucson National starring Jerry Kelly and Hall of Fame baseball pitcher John Smoltz, who will be part of the tournament's regular field this year. The Conquistadores are expected to announce Monday whether former Arizona All-Americans Robert Gamez and David Berganio, both 50 and now eligible for the Champions Tour, will be part of the field. It is expected that defending champion Steve Stricker will return to Tucson this year; Stricker is scheduled to play in the Champions Tour's Chubb Classic this week in Naples, Florida.
High school soccer stars in Tucson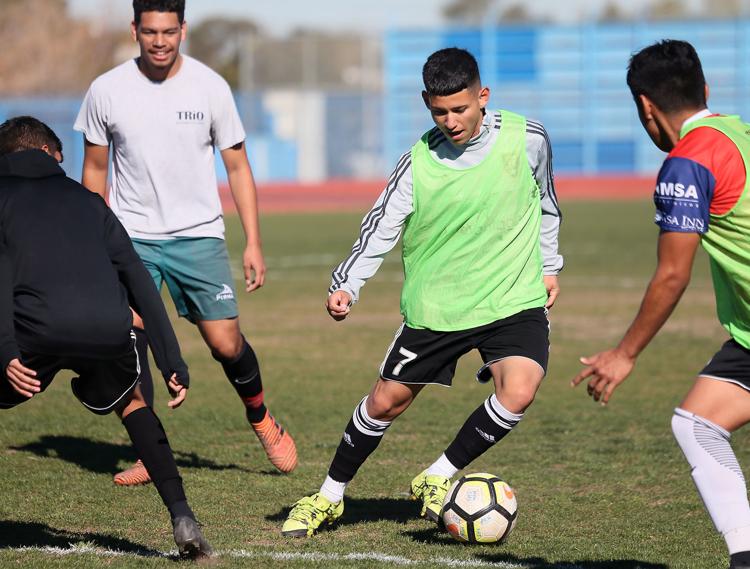 Further proof of Tucson's standing as one of America's leading youth soccer cities is seen in the ongoing high school state playoffs. Three Tucson teams are ranked No. 1 as the playoffs enter the quarterfinals: Casey O'Brien's Sunnyside Blue Devils boys team is No. 1 in Class 5A, Wolfgang Weber's Salpointe Catholic Lancers are No.1 in the boys 4A bracket and Sean Watkins' Ironwood Ridge Nighthawks are No. 1 in the girls 5A tournament. Looking for a potential upset? No. 2 Rincon/University, coached by Roxanne Taylor, is chasing Sunnyside for the boys 5A title. Unfortunately, all of the 5A and 4A state championship games this month are scheduled to be played in the greater Phoenix area.
All-time Tucson referee dies at 83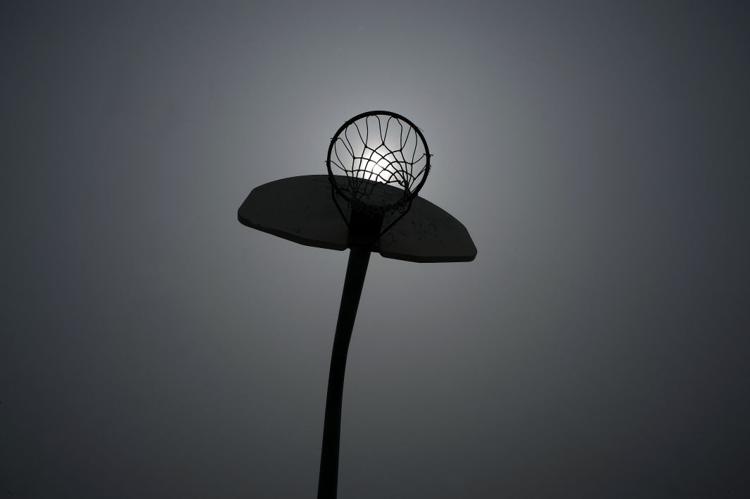 Irv Brown, who died last week in Denver at 83, probably remains the most well-known basketball referee in Tucson history, and the best I've ever seen. From 1965-78, Brown probably worked about 100 UA games in the old WAC days. He also worked six Final Fours in that period. I was fortunate to be able to sit with Brown at an Arizona-Colorado basketball game at the Coors Events Center three years ago and listen to his stories of Bear Down Gym and of the hotly contested WAC games at UTEP, Utah, BYU and New Mexico. "College referees get $3,000 a game now," he said. "When I did the Final Four I got $150 and a watch."
My two cents: Pima needs to see the light(s) when it comes to building new soccer facility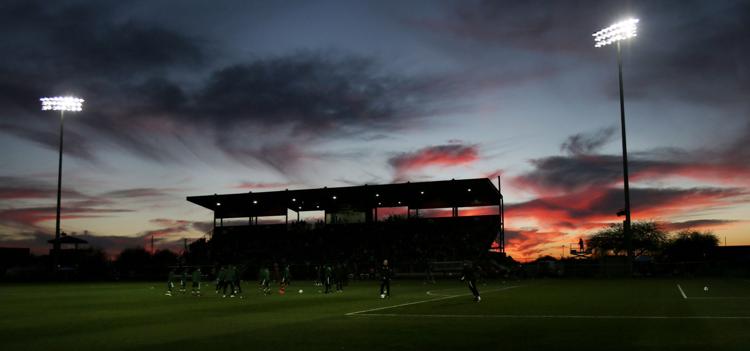 Pima College is in the process of deciding whether to build a soccer facility on its west campus, one befitting the defending NJCAA national championship men's team and a strong women's program.
Acting athletic director Jim Monaco deserves credit for jumping on the facilities issue at PCC in his first few months on the job.
It would be a move of financial sense. The Aztecs spent close to $60,000 last year to rent Kino North Stadium for its men's and women's games.
The one negative is that Kino North is viewed as the top soccer facility in NJCAA and gives the perennially top 10 program of men's coach Dave Cosgrove a special identity and top recruiting ability. It is also easily accessible to fans. Plus, Cosgrove's team is 57-3-4 at Kino. It's a homefield advantage like few others.
If PCC indeed builds an on on-campus facility, the one necessary item is lights. It's already hot enough from mid-August to mid-October, the heart of PCC's soccer schedule. Without lights, playing daylight games would detract from the whole process.