Hansen's Sunday Notebook: Pac-12's latest hiring cycle goes against its inclusive, diverse past
Star sports columnist Greg Hansen offers his opinion on recent sports news.
Arizona's Adia Barnes the only head coach of color on Pac-12 hardwood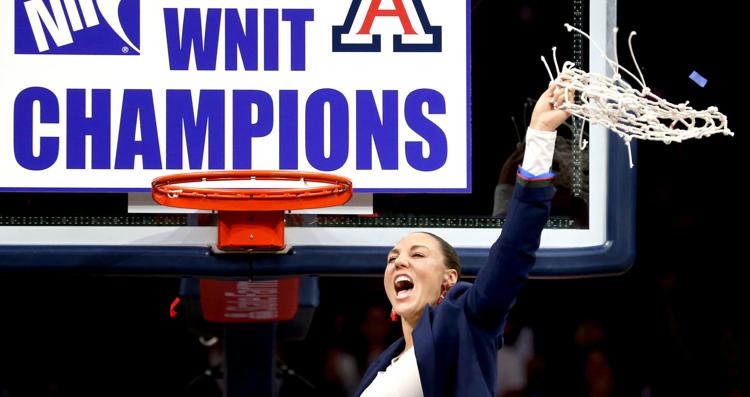 The annual hiring/firing season of college basketball coaches created a potentially troubling issue in the Pac-12. For the first time since 1972, there are no African-American head men's basketball coaches in the league.
In fact, of the 24 men's and women's head coaches in Pac-12 basketball, Arizona's Adia Barnes — who is biracial — is the only person of color currently employed as a head coach.
"Someone pointed it out to me," Barnes said. "Honestly, I haven't done enough research on the process of each individual hiring to comment."
Not only are there no black men's head coaches in the Pac-12, there are none in the Big Ten, either. The Big 12 has just two minority head basketball coaches, Mike Boynton of Oklahoma State and Shaka Smart of Texas.
This can't be a good trend for contemporary college basketball. Of the top 50 scorers in Pac-12 men's basketball this season, 41 were black. The numbers aren't as high in Pac-12 women's basketball, but of its 50 leading scorers, 28 were black.
The two black head coaches in Pac-12 men's basketball, Washington State's Ernie Kent and Cal's Wyking Jones, were fired at season's end.
One of the league's most positive basketball developments of the last 20 years has been its racial diversity and inclusion in coaching. From 2000-19, the league had as many as five black head coaches simultaneously – Washington's Lorenzo Romar, Oregon's Ernie Kent, ASU's Rob Evans, WSU's Paul Graham and USC's Henry Bibby — but all were ultimately fired and replaced by white coaches.
"I was somewhat surprised when I was hired by Arizona because I was replacing a black coach (Niya Butts) and athletic directors often go the opposite way, and hire someone different," said Barnes. "When I was hired, the other two finalists were white males with head coaching experience. I had never been a head coach, so Arizona went against the grain and took a chance on me."
The Pac-12 has a much better current record of racial diversity and minority inclusion in football, with four black head coaches — Arizona's Kevin Sumlin, Arizona State's Herm Edwards, Stanford's David Shaw and Colorado's Mel Tucker. The league has five non-white athletic directors, including ASU's Ray Anderson.
While every Pac-12 men's and women's basketball program has at least one black assistant coach, that platform has not led to a significant number of head coaching opportunities.
Of more than 125 Pac-12 black men's assistant coaches since 1980, only four — Romar, Stanford's Trent Johnson, USC's Charlie Parker and Cal's Todd Bozeman — became head coaches in the league.
Identifying, developing and hiring minority head coaches is more of an issue in college basketball than the one-and-done rule or anything else. Think about it: the last time the Pac-12 didn't have a black head basketball coach was 1971. That was when Arizona was playing at Bear Down Gym and Sean Miller was 3 years old.
Pac-12 discovers Salpointe Catholic star Bruno Fina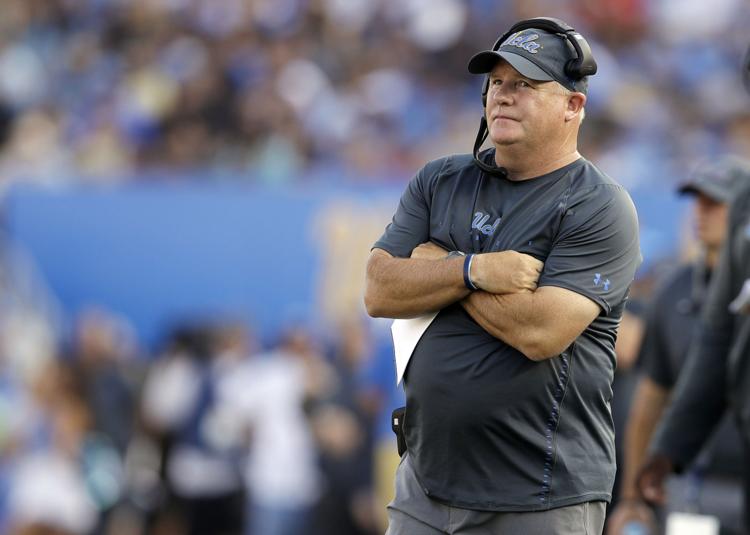 Until last weekend, Salpointe Catholic senior-to-be Bruno Fina, a 6-foot-4 inch, 240-pound lineman, had been on a single recruiting visit — to the NAIA's Abilene Christian.
But in the span of 24 hours, Fina visited USC and UCLA and was offered scholarships by head coaches Chip Kelly and Clay Helton.
"It was like walking through a fog," said Bruno's father, John Fina, a former All-Pac-10 tackle at Arizona who played 11 seasons in the NFL. "It was like a dream."
What the Trojans and Bruins discovered was not only does Bruno have a pedigree like few other recruits, he has the measurables and intelligence to be a difference-maker.
He has a 1,310 SAT score, which would qualify him for any Ivy League school. And when USC and UCLA grasped his growth potential, both were quick to invite him to be part of their football team.
When Arizona coach Dick Tomey discovered the undersized John Fina 30 years ago in a Salpointe-Sabino basketball game, Fina was built like a basketball player: about 6-3 and 190 pounds. Bruno is already 50 pounds heavier than his father was as a Salpointe senior.
Tomey, who made a living identifying under-the-radar recruits like John Fina, passed on those skills to then-Arizona assistant coach John Baxter, now an assistant coach at USC. It was Baxter who attended the 2018 Salpointe state championship game to scout Fina, as well as running back Bijan Robinson and defensive back Lathan Ransom.
And it was Baxter who encouraged the Finas to make an unofficial visit to USC last week.
"When they offered Bruno, I was like a block of ice, I couldn't breathe," John Fina said.
"I was crying. It was incredible."
This is just the beginning of the recruiting chase for Fina. He is scheduled to attend the Stanford football camp this summer, where former Arizona assistant coaches Duane Akina and Pete Alamar and former UA player Peter Hansen are aware of his legacy and football genes. Bruno and his father also attended an Arizona spring practice last week.
"One thing that hasn't changed since I was recruited 30 years ago is that the coaches want to look you in the eye, assess your character and get to know you before offering you a scholarship," John Fina said. "I'm so proud of Bruno. It was a weekend I'll never forget."
Joseph Blair leads Vipers to G League title
Former Arizona Wildcat Joseph Blair won a championship in his first season as a G League head coach with the @RGVVipers. (Via @Blairplayer IG) pic.twitter.com/2AJVOrS1qp

— The Wildcaster (@TheWildcaster) April 13, 2019
Arizona's 1994 Final Four center Joseph Blair had a rookie coaching year like few others, capped on Friday night by leading the NBA G League Rio Grand Valley Vipers to the league championship. In the post-game celebration, the Vipers did to Blair what Arizona players did to Lute Olson upon winning the 1997 NCAA championship — they took glee in rubbing Blair's head, captured live on ESPN. "I'm just overwhelmed," said Blair, 44, who scored 1,086 points for Arizona from 1991-95. "This is surreal for me." Blair played 14 seasons of pro basketball in the EuroLeague, and had two stints with the old Harlem Globetrotters.
Wildcats contending again under tutelage of Laura Ianello
Coach Laura Ianello's Arizona women's golf team, the defending NCAA champions, will play in the Pac-12 championships Monday through Friday in Los Angeles. The Pac-12 meet is almost as difficult as the NCAAs. Arizona is ranked No. 7 nationally according to golfstat.com analytics, which is a shade behind No. 1 USC and No. 4 Stanford, a bit ahead of No. 13 UCLA and No. 15 Arizona State. The Wildcats have a foursome to match any team in college golf — No. 26 ranked Yu-Sang Hou, No. 38 Bianca Pagdanganan, No. 41 Haley Moore and No. 97 Ya Chun Chang.
Sarah Sellers back in her comfort zone at Boston Marathon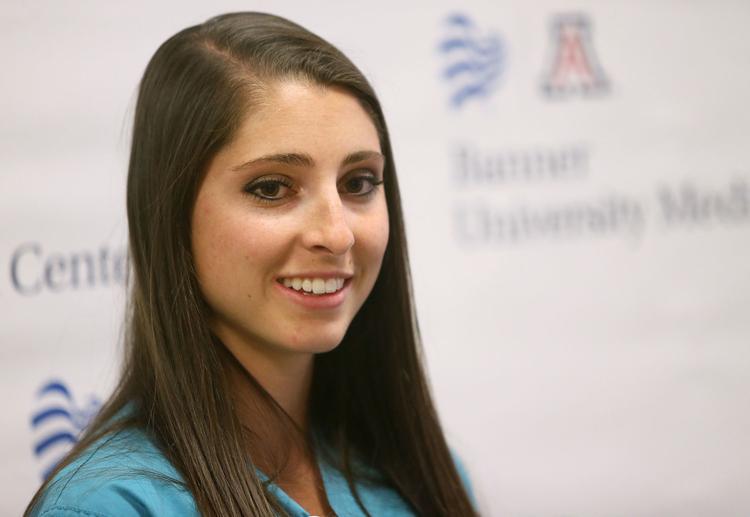 Tucson nurse anesthetist Sarah Sellers will no longer be an anonymous also-ran as she enters her second Boston Marathon on Monday. She was recently the subject of feature stories in the New York Times and Boston Globe, and by several distance running online sites. A year ago, Sellers finished a surprising No. 2 overall in the women's race. To come close to that this year, she'll need to run significantly faster than the 2 hours 44 minutes of last year, a time that was comparatively slow because of a rainstorm. She has since improved her career best to 2:37 and told reporters she hopes to crack 2:30 on Monday.
Nico Mannion shows he can be an immediate difference-maker at Arizona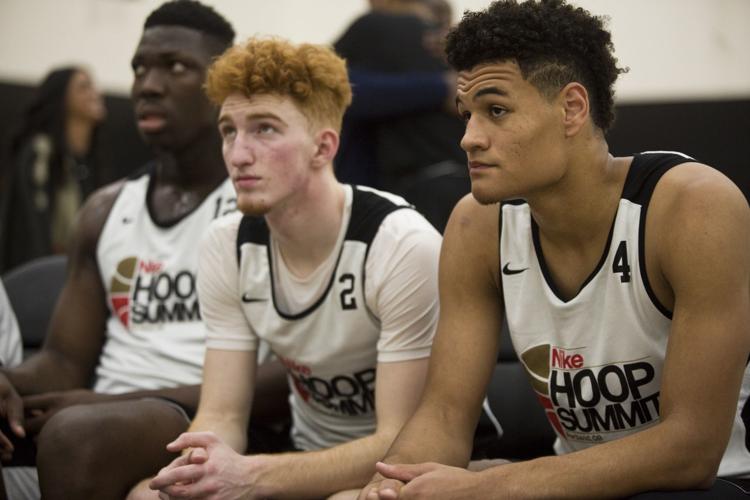 If you watched incoming Arizona point guard Nico Mannion during ESPN's Friday telecast of the Nike Hoop Summit global all-star game, your reaction was probably similar to mine. Mannion has a chance to be the Pac-12's premier point guard as a freshman. He reminded me of ex-UCLA point guard Lonzo Ball, but with better shooting skills. The Pac-12 will have three standout point guards next season — ASU's Remy Martin, Colorado's McKinley Wright and Oregon's Payton Pritchard (if he does not turn pro) — but I think Mannion has the most upside of any of them and be a program-changer.
Lute disciple Rodney Tention back in college hoops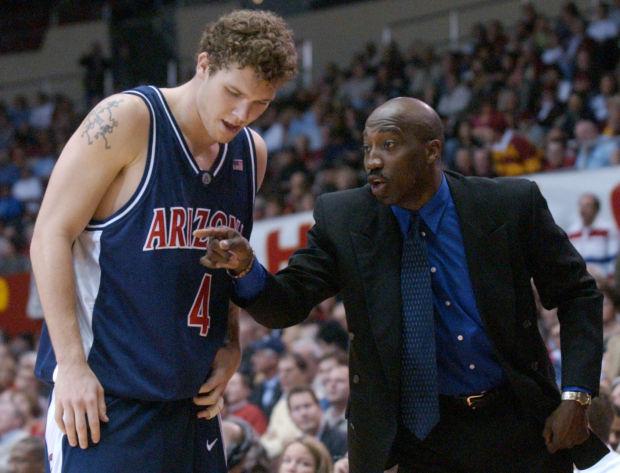 Rodney Tention left Lute Olson's coaching staff in 2005 to be the head coach at Loyola Marymount, where he was later dismissed after going 48-123. Tention, who is often given credit for discovering Gilbert Arenas during the summer AAU season and helping Arizona get him away from Kansas State, has since coached on the staffs at Stanford, San Jose State and San Diego, before spending last season as the head coach at Palo Alto High School. Last week Tention returned to college basketball, hired to be an assistant at Cal Poly. He is 56.
Rivalry renewed? Miller and Cronin have gone head to head before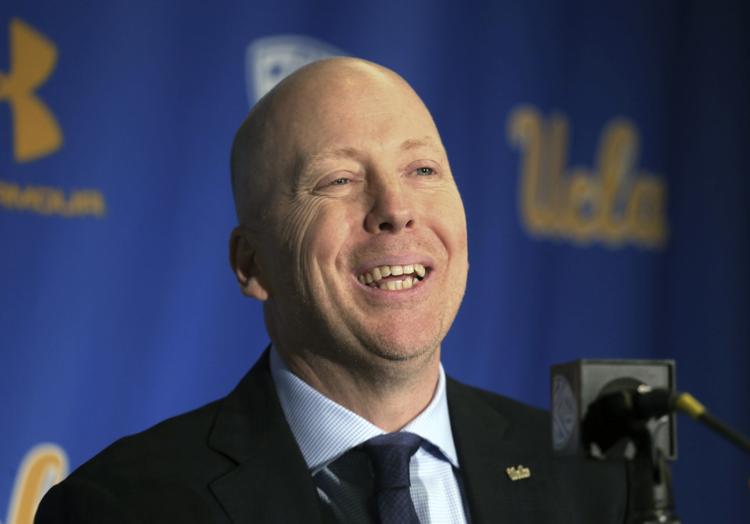 Arizona's Sean Miller and new UCLA coach Mick Cronin were fierce rivals when both coached in Cincinnati from 2006-09. Miller, at Xavier, and Cronin, at Cincinnati, met three times in high-profile, sellout games between two intense, defense-first programs. The average score was 66-64, with Xavier winning twice. It shouldn't take Cronin long to fill the UCLA roster with Top 100 recruits and have the Bruins back in the Top 25, helping to restore the Arizona-UCLA rivalry as the Pac-12's best.
Tucson's Gertrude Greenfield hits 101 from the pitchers' mound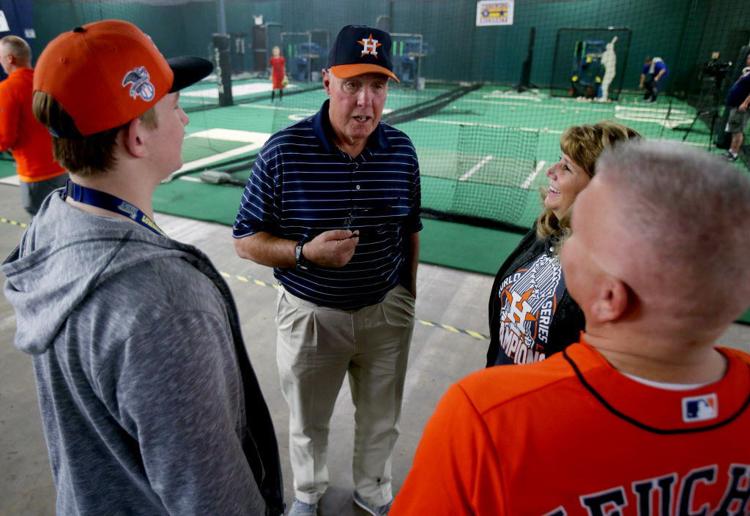 Before the Houston Astros game against the New York Yankees on Wednesday, Tucsonan Gertrude Greenfield threw out the ceremonial first pitch, caught by All-Star second baseman Jose Altuve. It was Greenfield's 101st birthday, and, amazingly, Altuve hit his 101st career home run that night. The Astros selected Greenfield to throw out the first pitch because she is the mother-in-law of Tucsonan Brent Strom, the Astros' pitching coach. Gertrude is used to being around sports figures. Her late husband, Tom Greenfield, was one of the top football players in Arizona history, an All-Border Conference lineman in 1936 as part of the "Blue Brigade" era, the first Wildcat ever to play in the NFL, as part of the 1939 Green Bay Packers.
Tucsonan will 'go golf' on ESPN Radio every week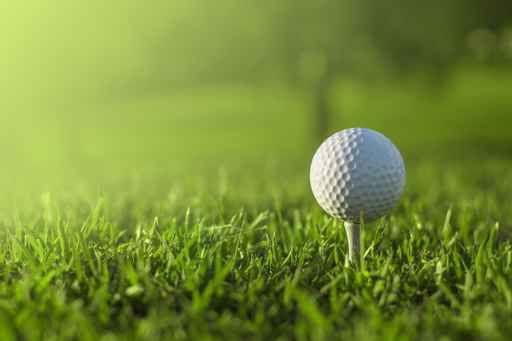 Tucsonan Mike Boyd, a former member of the Pima County Board of Supervisors, has become active in the golf community, including coaching the Rincon/University High School golf team. Boyd and longtime Tucson golf pro Rick Price of The Views Golf Club, will debut a radio program — "Go Golf Arizona" — on Saturday at 8 a.m. on ESPN 1490-AM. Boyd and Price will spend an hour each week talking about golf at all levels.
Taryne Mowatt will take rightful place in UA hall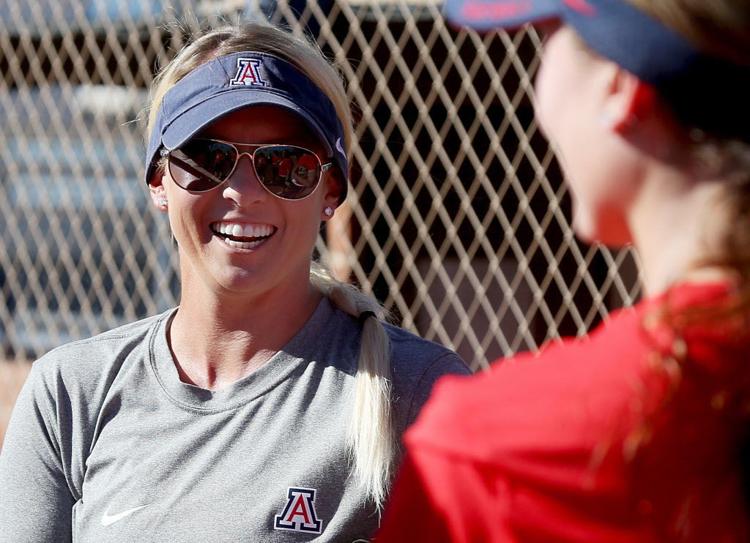 I incorrectly wrote last week that Arizona All-American outfielder Dave Stegman had not been inducted into the UA Sports Hall of Fame. He was inducted in the Class of 1981, with teammate Ron Hassey of the school's 1976 College World Series champions. Among the recently-elected, seven-person Class of 2019, which will be honored in September, is UA pitching coach Taryne Mowatt, who pitched Arizona to 2006 and 2007 NCAA championships. Mowatt, in her second season on Mike Candrea's staff, still holds the Pac-12 season record for victories, 42, which is amazing considering that about 10 of the greatest pitchers in NCAA history are from the Pac-12. Mowatt was the MVP of the 2007 Women's College World Series. Her effective work with Wildcat pitchers Taylor McQuillin and Alyssa Denham has propelled Arizona into sole possession of the Pac-12 lead entering this week's series against Stanford at Hillenbrand Stadium.
My two cents: Ego-less Bill Wright coached Cats with class and dignity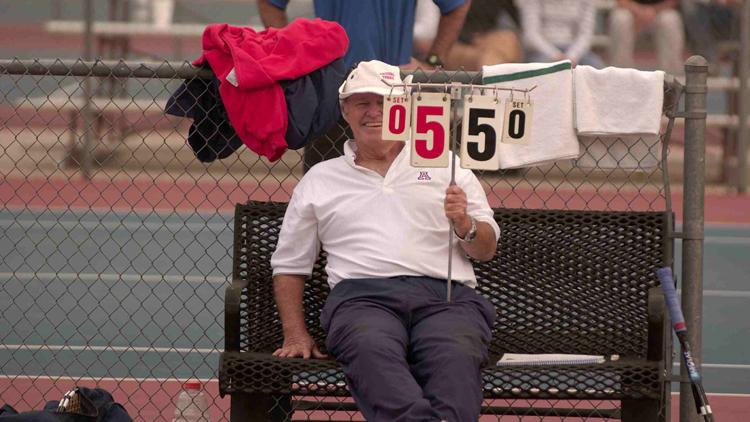 About 10 years ago, I spent a few summer days in Vail, Colorado, and while on a jog near the Eagle River noticed a sign at a recreation center that said "Bill Wright Tennis Center."
I stopped and walked to the tennis office and asked if it was the same Bill Wright who coached Arizona's men's tennis team from 1986-2005.
Absolutely. Wright spent 27 summers operating Vail's tennis programs for young and old. His ego was such that you'd never know he played in five U.S. Opens, or tell friends that the city of Vail had honored his long career.
A few minutes later, Wright walked by on the way to a tennis lesson. Small world. He stopped and talked and modestly told me he was about to be inducted into the Intercollegiate Tennis Hall of Fame.
Wright had one of the most difficult jobs in the UA athletic department, coaching the Wildcats against perennial NCAA powers Stanford, UCLA and USC, but he held his own and was about the nicest guy you could ever meet.
Sadly, he died last week, at 81. He leaves a powerful legacy of coaching with class and dignity.