The first balls Greg Kinnear and Alfonso Ribeiro hit on Saturday missed the fairway. Kinnear's shot went left and Ribeiro's, well, let's just say, it was out of the field of play.
They both got a mulligan. And it just added to the fun.
The jabs had already started between the actors — that's Ribeiro, of "The Fresh Prince of Bel Air" fame, and the television and movie star Kinnear — and their opponents in Saturday's Cologuard Classic Celebrity Challenge, boxing legend Oscar De La Hoya and former NFL and UA standout Chuck Cecil.
"Keep in mind we're ex-athletes," said De La Hoya.
Ribeiro replied, "We're still working actors."
The athletes prevailed on Saturday, edging the actors in a charity 2-on-2 showdown at Omni Tucson National. The Colorectal Cancer Alliance received a $50,000 donation in the name of the winning team. De La Hoya promised to donate $100,000 from his company, Golden Boy Productions, to the same cause.
The Star sat down with the foursome — and former UA golf coach Rick LaRose, who caddied for Cecil — during their lunch break Saturday:
Kinnear: "You missed it. I was incredible. Eagled on numbers one, four, seven…"
Ribeiro: "The things you did out there were shocking, amazing, awesome."
John Smoltz said if he got the hole-in-one on No. 16, the charity hole, he would jump in the drink. What would you do if you aced it?
Ribeiro: "I'm going to call him and tell him to jump in the drink."
De La Hoya: "I said I would match it."
De La Hoya: "No, I would donate. I can't swim."
Kinnear: "So here's the problem with jumping in the drink, I'd go to the bottom. And, then that means someone else has gotta jump in it."
Cecil: "Isn't it enough that I got a hole-in-one on 16 that I don't have to do anything? Isn't that my moment to savor? I'd like to suggest that I don't have to jump, do any more hoops or anything. I just got a hole-in-one. I'm doing nothing. Drinks on the house."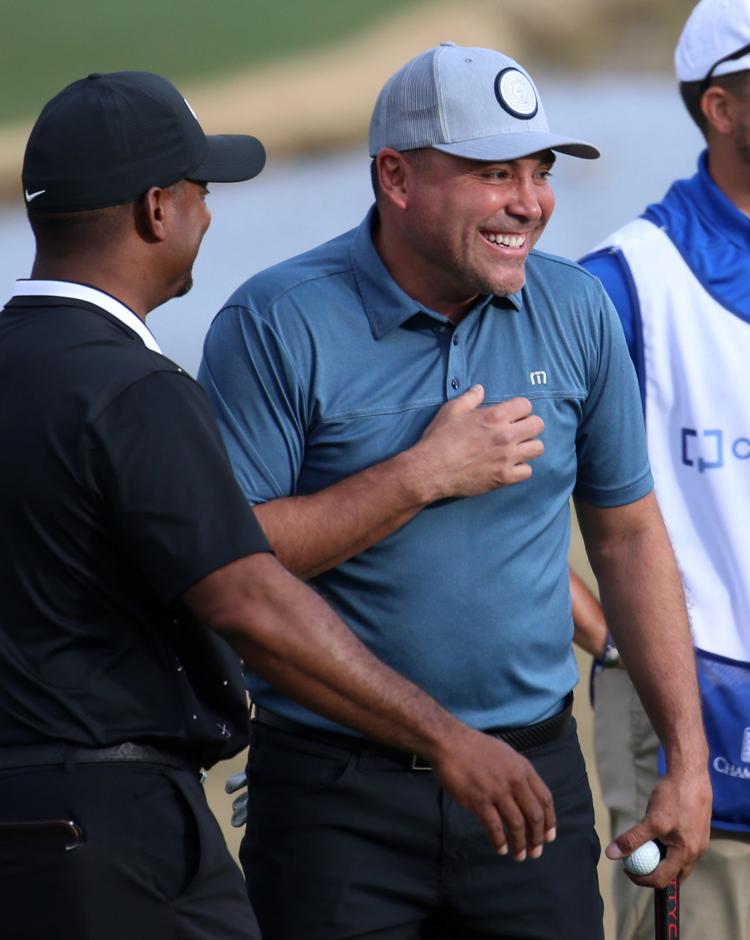 Chuck, rumor is that you were a caddy when you played for the Green Bay Packers …
Cecil: "Yes, I caddied over in South Africa for my best friend Willie Kane. He was on the UA golf team and played in the South African Tour. I started and played in Phoenix on a Sunday, the last game of the year, and on Wednesday I was in Johannesburg, South Africa, caddying — looping — for three months. This was after my rookie year and my second year. By the way, these were two of the best experiences in my life. Without a doubt."
Ribeiro: "I said this the other day, I would love to caddy one time on the PGA Tour. Just do a week, carry a friend's bag. I'd like to go through all of the preparation work that a caddy does to really be prepared for the pro."
La Rose: "I've caddied five Masters and it's really a lot more work than you think. The course is so hard…"
Ribeiro: "Well, especially at Augusta. That's different. I want to try a flat spot. Can I do something really close to altitude, but flat?"
Cecil: "It's funny, I wound up caddying for Tommy (Armour) in the LA Open at 'Riv,' and it was Tiger's first year…"
Ribeiro: "That's not an easy spot, because you walk down and then you walk back up."
Chuck, did you ever think 'maybe I'll just do this and not go back to football'?
Cecil: "No. You don't get to run into anything when you caddy. That's the only thing I was really good at."
Greg, how did you get invited to play here today?
Kinnear: "I got a call from (auto dealer) Jim Click: 'Hi everybody this is Jim Click, come on down here, my boompa says if you make it here by 4 o'clock, you can play some golf.' Great guy, actually. I remember I was waiting at a restaurant in college called Carlos Murphy's, which was a Mexican-Irish combination …"
Kinnear: "Yes, an interesting concept, Al."
De La Hoya: "Tequila and whiskey … combined."
Kinnear: "It was after I was fired from about six other establishments. Jim came in with his family and he was about as nice a guy as I remember and he left me a really big tip. And it wasn't because I was a good waiter. He was nice enough to call me up and say come on out, we have a spot. Plus, I think the team needed me."
Ribeiro: "Absolutely! I need you."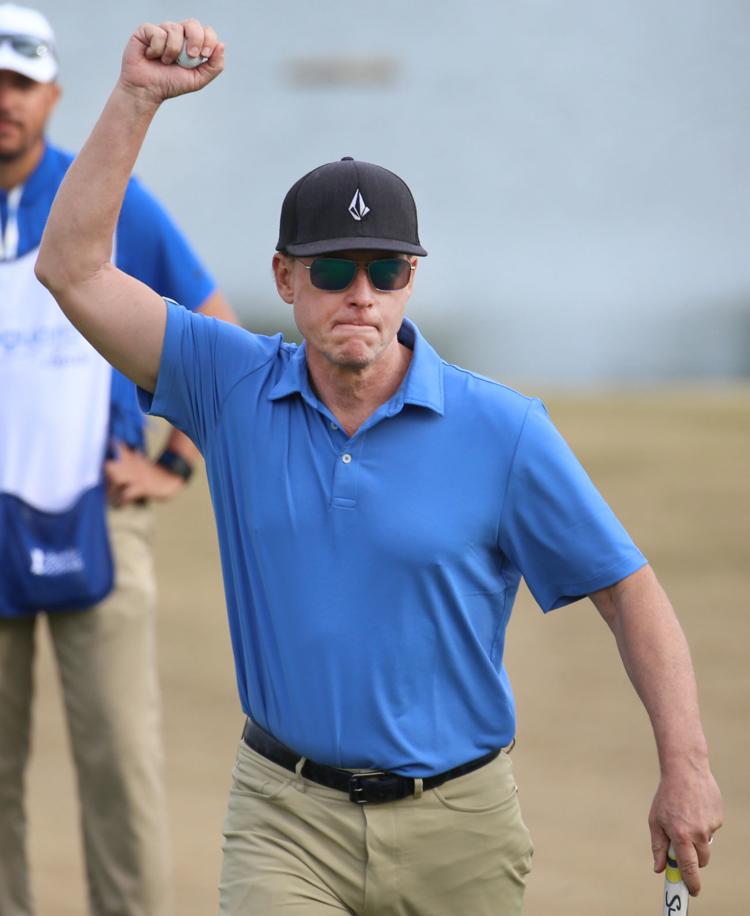 Alfonso, how many times have people asked you about your dance?
Ribeiro: "Basically every day I leave my house, I get asked to dance."
When you created 'The Carlton,' did you think that people would be asking you to do it for the rest of your life?
Ribeiro: "I absolutely had no clue that 30 years later we'd still be talking about that dance. I always say there is absolutely zero percent chance I will do it if you ask me to do it. But I feel the love because obviously that dance has impacted people in such a positive way that by asking me to do it, it's not rude. They are actually trying to share a little bit of the joy and love that the dance has given them. So I always appreciate it. But I ain't dancing."
Have you danced yet today?
Ribeiro: "An eagle might get it."
Kinnear: "Not yet. He's been talking about Number 16."
Have you done any other dances on the course? You were on "Dancing with the Stars" and have all of them down …
Ribeiro: "I always say that dancing is for the dance floor and golfing is for the golf course. It a very weird thing that people think I would just be dancing all the time. Like a very odd thought in my mind. Like somewhere in people's brains they think, 'Dude, I just know when I meet him he's just going to be dancing all day.' No. No."
Oscar, obviously golfing is much different than boxing …
Kinnear: "Not so much in my game."
Ribeiro: "It all depends on where he's at on the golf course. You see he is used to slipping and dipping. And if he stands in front of me he's going to slip and dip."
When you are boxing your hands are confined. when you are on the golf course, do you feel free?
De La Hoya: "In golf, if you are tense you are going to shank it, slice it. And to make your putt, you have to be loosey-goosey."
How do you think boxing helps you in golf?
De La Hoya: "I think strategy. Strategy goes a long way, right? You just can't grip it and rip it and hope for the best. You have to strategize. In boxing you have 12 rounds. In golf you have 18, almost similar. Every round you reset, every hole you reset. You forget about the first hole go on to the second. You have to have that mentality. Lot of similarities. That's why I love golf."
What's the best part of playing with these guys?
De La Hoya: "It's fun. With Alfonso, you never know what he's going to say."
Ribeiro: "We're out here to entertain. At the end of the day…"
De La Hoya: "I'm here to win."
Ribeiro: "I always say you entertain the most when you are winning. It's for a great cause, for cancer research. We all win because they win that money."