As much as Shane Burcar would like his Northern Arizona Lumberjacks to ignore his job status, they can't.
Burcar was named interim head coach in June, when Jack Murphy resigned to become Sean Miller's top assistant coach at Arizona. NAU athletic director Mike Marlow said then that the team would undergo a "thorough review of the program at the conclusion of the 2019-20 campaign," giving Burcar the full season to prove himself.
But Burcar hasn't spoken of it to his team.
"I don't want to put that kind of pressure on them," Burcar said. "They're not playing for me. They're not playing for me to get the job. They're playing for themselves and their school."
"It's definitely in the back of my head," junior forward Bernie Andre said. "As players, we talk about it — we're playing for us and were playing for him. We're brothers, and he is a part of our family, too. We're going to war for him."
The Lumberjacks are playing with a renewed sense of urgency, but that's not because the Sword of Damocles hangs over their head coach, a man who joined Murphy's staff in 2018 following 12 seasons as the head coach at Mesa High School.
Burcar has simultaneously preached playing with a heightened sense of immediacy, but has resisted tying it into his job status.
Instead, Burcar said, the message has been on playing — and attempting to win — each possession as if it was a game itself.
"I do want them to play like there's no tomorrow," Burcar said. "We need to play like every play matters."
That kind of intensity has been emphasized on a daily basis, Andre said.
"Practice has been going really well for us," he said. "It was hard at first adjusting. Every day if you think you're doing well, the level keeps on going up. Our coaches don't allow that feeling of enough. They talk about raising the bar. If we think we had a good day, it wasn't good enough."
Andre himself will take the lead in setting that standard. He led the Lumberjacks with 13.8 points per game and 8.5 rebounds per game last season, earning Big Sky newcomer honors. He'll be joined by fellow returning starters Ted McCree (10.7 ppg), Cameron Shelton (8 ppg, 4.1 rpg) and Brooks DeBisschop (7 ppg, 5.9 rpg) and the team's best shooter, Luke Avdalovic, who hit 49% of his 3-point attempts last year. NAU does lose its best facilitator in Carlos Hines and his 3.9 assists per game.
The Lumberjacks open the season with their stiffest test: They'll travel to Arizona on Nov. 6 before returning to Flagstaff to face Sagu American Indian College and Benedectine University at Mesa.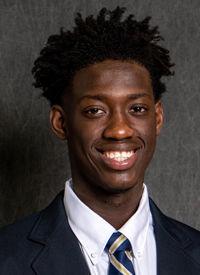 After improving from five to 10 wins last season — and from two conference wins to eight — the Jacks believe they're heading in the right direction.
If Burcar can prove it, he might just earn a full-time gig. He's shared that fact with his players, even if he won't dwell on it. The Michigan-born man plays it to them straight. With one year to prove it, what's the point in sugarcoating anything?
"That was one of the reasons I decided to stay," Andre said. "I knew what I was going to get from Burcar. He's a straight-forward guy. Regardless of interim or not, he was going to be honest with us anyway. We have something to prove to everyone, not just to NAU (administrators). We have something to prove to everyone."