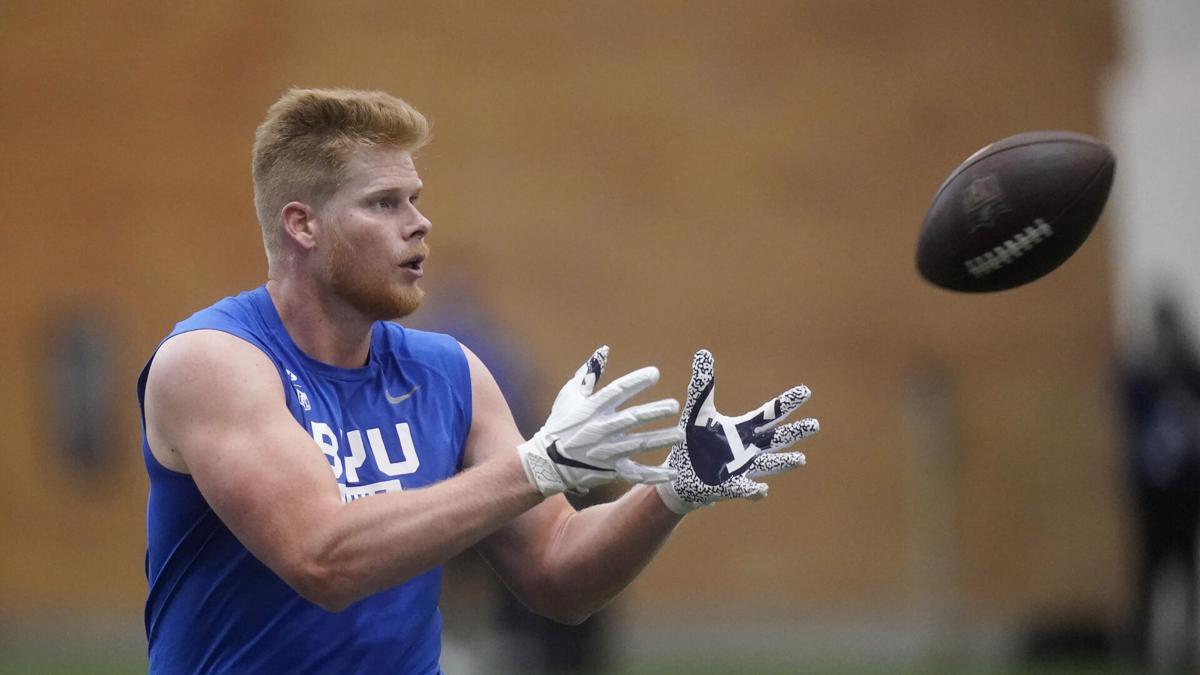 The last eight months have changed Matt Bushman's life.
On Sept. 4, Bushman — a Sabino High School graduate playing football at BYU — underwent surgery to repair a ruptured Achilles tendon suffered in practice.
On Sept. 9, Bushman and his wife Emily, welcomed a newborn daughter, Andie, to the world.
And on Saturday, he could hear his name called in the NFL Draft.
And as overwhelming as the NFL might be for the 6-foot-5-inch, 240-pound tight end, the stress pales in comparison to, say, recovering from a major injury and nurturing an infant daughter.
"That was just a whole 'nother world and craziness, learning how to be a dad," Bushman said. "But that was a good distraction from my injury, because I was able to focus and say, 'Hey, I need to be a dad and be a supportive husband and stay motivated for my rehab.'"
Whatever Bushman could do for his family, he did — even if it meant maneuvering around on a scooter.
"I couldn't even walk around and hold my daughter," he said. "It could only be when I'm on the couch or sitting down.
"I was doing all I could to be a supportive dad and husband, but the adjustment coming off an Achilles injury definitely wasn't a part of the timeline we envisioned before that. … I was trying not to complain about my injury, because my wife had been through a lot more."
The life-changing moments led Bushman to seek better financial opportunities, which means turning pro rather than coming back for one more college season. He had thought about doing it after a breakthrough 2019 season, when he posted 47 catches for a career-high 688 yards and four touchdowns and was named to the John Mackey Award watch list for the nation's top tight end. In the end, however, Bushman returned to "work on the knocks" he heard from coaches and scouts.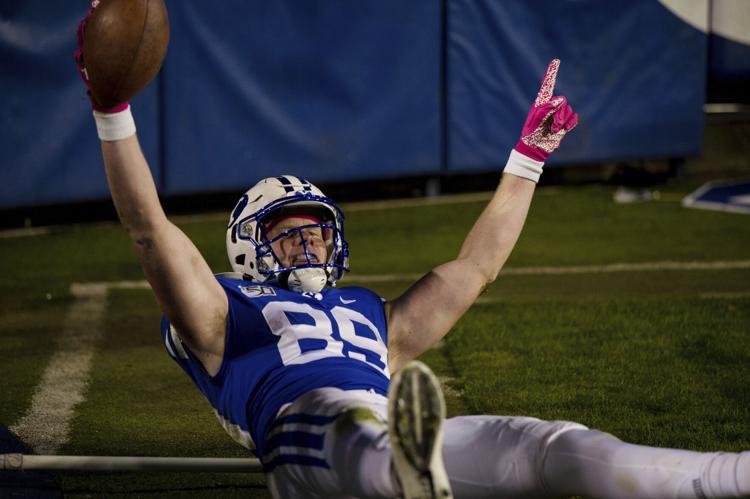 That was at a time when Bushman's household consisted of just two people.
"Once you have a kid, all of that totally changes. You're like, 'OK, I have to find a way to provide for my child.' It was really motivating for me to get healthy as fast as I could and be prepared, so I could give NFL scouts a good representation of myself at pro day," he said. "That pushed me to fight through the pain and mental barriers that you have after injuries. I was able to get to this point because of that little added motivation."
Bushman focused his energy into rehabbing and fathering while staying involved with the Cougars' season from afar, which wasn't an easy task considering the amount of attention BYU garnered throughout the year. Had Bushman been healthy, he would've been on the receiving end of quarterback Zach Wilson's 33 touchdown passes — and garnering attention as one of the No. 2 overall pick's top targets.
"It was tough, like, 'Jeez, I want to show out with them and show what our team is all about,'" Bushman said. "It was tough, but I was just controlling what I could control and wasn't sulking in the negative thoughts that came to my mind."
Bushman returned to Arizona after Thanksgiving to begin preparing for the draft at the famed EXOS training facility in Scottsdale. He worked on running routes comfortably and building up calf strength after not being able to walk for an extended period of time, and says he's "in the same shape that I was in during fall camp." Bushman caught passes from Wilson and performed NFL combine-style drills during BYU's Pro Day.
"After pro day, I was proud of my performance and I think I surprised some scouts with how quickly I recovered from my injury," he said. "Now it's just taking phone calls and reassuring teams that I'm healthy."
Bushman says he's been in contact with 20-25 teams, including the New Orleans Saints. Bushman grew up in Louisiana before his family relocated to Tucson because of Hurricane Katrina; he's been a Saints fan his whole life.
The Saints, along with the Raiders, Broncos and Cowboys, have also inquired about Bushman to his high school head coach, Jay Campos. Campos first saw Bushman as a 10-year-old "tall, skinny dude" at a Sabino football camp. Even then, Campos said, there was a difference between Bushman and the rest of the kids.
"He was just at a higher level than most kids at that age in terms of athleticism, ability to catch the ball, just playing football in general," Campos said.
The gap got bigger once Bushman entered high school and took part in Sabino's weight-lifting program.
"Matt continued to get better at a higher rate than anyone I've ever seen," Campos said.
By his senior season at Sabino, Bushman was the top pass-catching tight end in the country.
"He had the ability to play any position on the field, and be the best player at that position, with the exception of offensive lineman," said Campos. "But any other position on the field — offense or defense — he could've been a game-changer, because he had that kind of athleticism."
That athleticism carried over into other sports, and Bushman had offers to play baseball and football in college. Bushman took a two-year church mission to Santiago, Chile, after high school, and played both baseball and football as a BYU freshman before focusing on the gridiron.
"The more playing time I got (at football), I had coaches say, 'Hey, if you keep this up and improve season after season, you have a shot to eventually make it,'" he said. "After hearing that, it's always been a goal of mine and I've worked hard to make it into a reality."
Now, his dream could become a reality. Bushman could become the first Tucsonan drafted since running back Ka'Deem Carey in 2014, and the first Sabino product taken since Brooks Reed a decade ago.
"It's a dream to get your name called at that stage and see what team wants you. It's always been a dream of mine, but that's just where the work begins," Bushman said. "Once you get your name called, you can celebrate just a little bit, but you want to last in the league, so that's where my motivation is. … I just want to show that I deserve to be in the league and make a name for myself."
Contact sports content producer Justin Spears at 573-4312 or jspears@tucson.com. On Twitter @justinesports