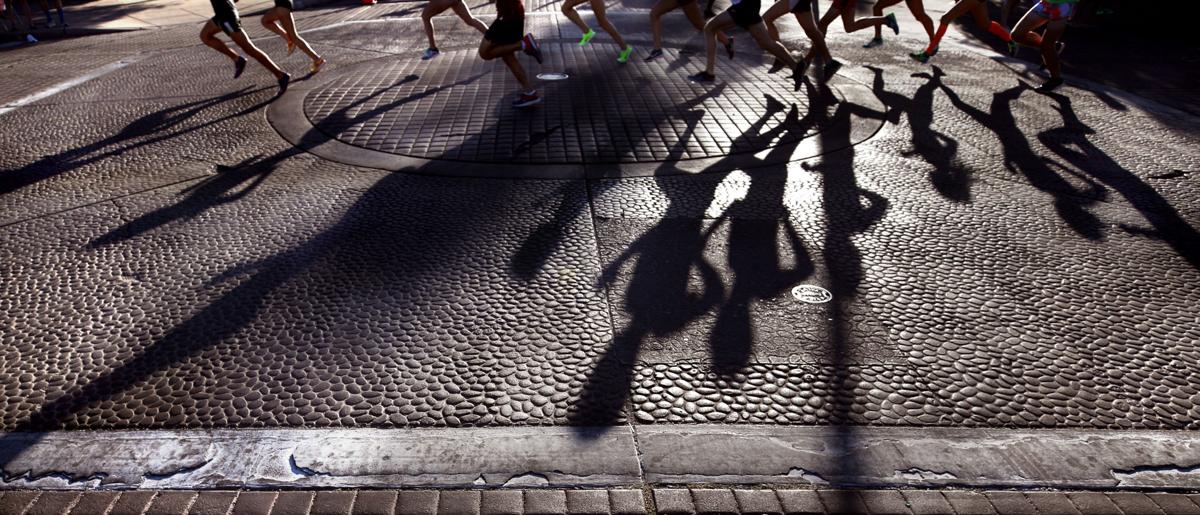 For years, the Meet Me Downtown 5K has been Tucson's preeminent night race, an opportunity to beat the heat — and, for many, an excuse to grab dinner and a beer after.
But these are strange times, and so times are changing — literally — for Sunday's 15th Annual TMC Meet Me Downtown 5K.
Tucson's most popular charity race will start just after sunrise on Sunday, with the start/finish line located on Sixth Avenue between Armory Park and the Children's Museum. Because of the ongoing pandemic, organizers are encouraging participants to wear face coverings before and after the race when a distance of 6 feet can't be maintained.
Runners and walkers are not required to wear masks while competing, but are urged to "be mindful of those around you." Spectators are urged to mask up.
The race, regardless of start time, marks a return to semi-normalcy in Tucson's thriving running community. Of course, there are COVID-19 contingencies: Those who are uncomfortable taking part in a live event can register, compete virtually, and input their times among the finishers. Those running in person are urged to bring their own waters, as there will be only one hydration station and spectators are not allowed to hand out drinks.
As of Friday night, 906 racers had pre-registered for Sunday morning's events.
"We're working hard to host a safe, in-person running party," race co-founder Tia Accetta said in a news release. "We've scaled back our activities to make sure we provide a safe environment. We won't have a beer garden, fire show, or jumping castles, but we'll still have music, food trucks, and a breakfast after-party outside at Hotel Congress.
Added her husband Randy, also a race co-founder: "We haven't put on a big race in almost two years now. We forgot how much work it is."
Sunday begins with a 1-mile Open Mile race that's scheduled to begin at 6:30 a.m. The Meet Me Downtown 5K starts at 7, with the FitKidz Mile, free for children under 12, slated for 8:15. Individual will receive cash prizes ranging from $50-$200; organizers will give $408.90 to any man who can beat Randy Accetta's personal best of 4 minutes 8.9 seconds in the mile or any woman who can beat a time of 4:48.9.
The 5K event figures to be especially competitive. John Raneri won the last Meet Me Downtown 5K, in 2019, with a time of 15 minutes; Leah Rosenfeld was the top female finisher at 17:11.
"There is something for everyone — you can walk, you can run, you can race," Tia Accetta said. "You can even come out and volunteer. We just want folks to get out and exercise."