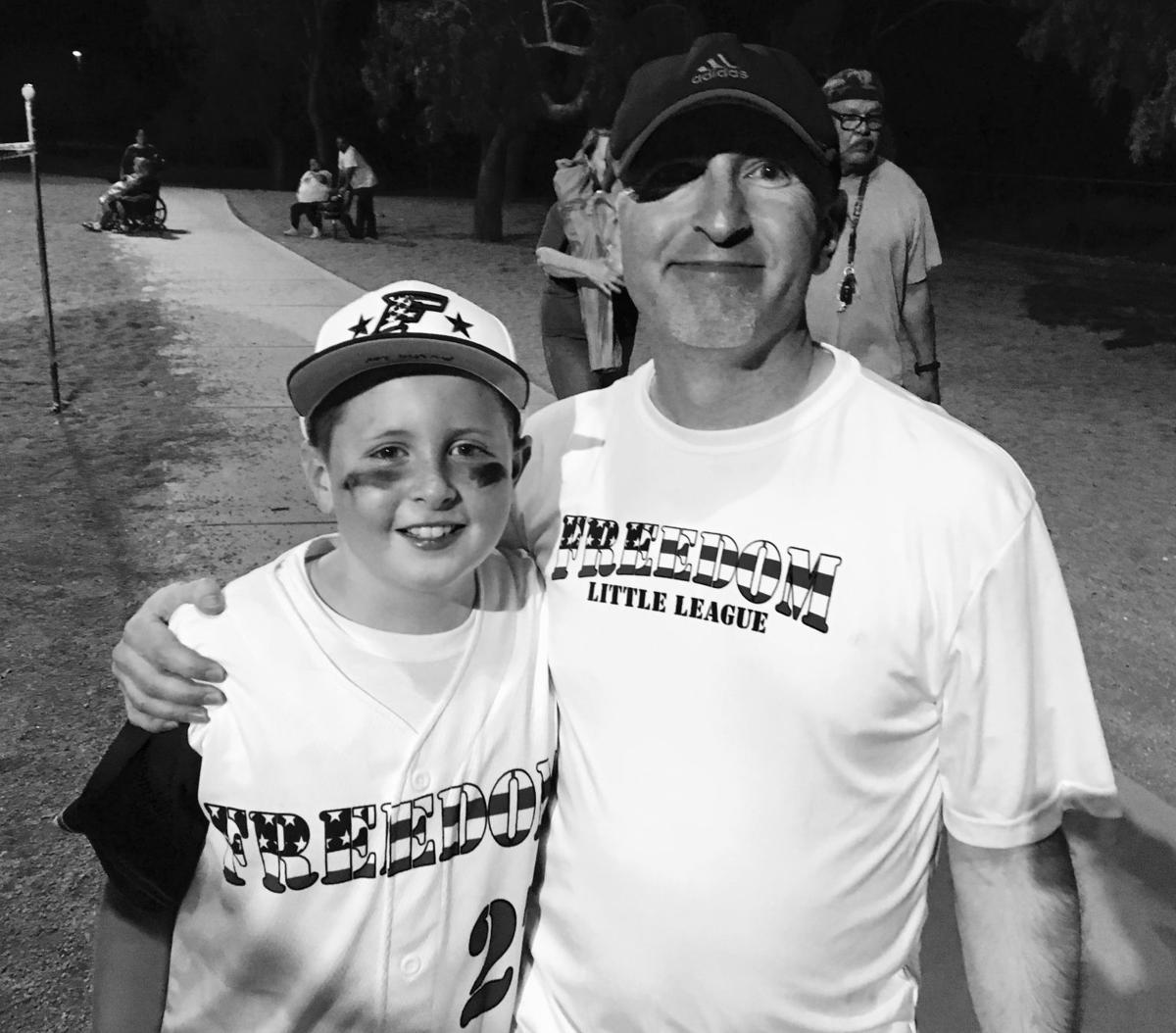 "This is the worst day of my life."
That line comes from the brilliant 2014 Richard Linklater movie "Boyhood," which was filmed over 12 years and follows the story of fictional character Mason Evans Jr. as he grows up in a divorced household in Texas. His mother, played by Patricia Arquette, sadly says that to Mason when she accepts the reality that he's going off to college. They had been through a lot, but the idea of her son leaving the nest left Arquette's character, Oliva, feeling hollow and uncertain.
"I just thought there would be more," she says later in the scene.
I fully expected to feel the way Olivia felt when Little League ended this year. My older son, Austin, is 11 going on 12. Little League has been our thing since he was 5.
For many, 12 years old is the end of the line. That's the age of most participants in the Little League World Series. Baseball is a really hard game, especially when the fastballs become faster and the breaking balls break more. My fledgling baseball career ended right about that age. Austin loves baseball, and he's decent at it, but it wasn't a sure thing that he'd keep playing after this spring/summer.
So even though I had been looking forward to this season — opening ceremonies had been scheduled for Saturday — I also was dreading its conclusion. If all went well, Austin again would make the Freedom Little League All-Star Team. Last year, his squad won District 12 to advance to the state tournament in Flagstaff. They played into mid-July. Although they lost both games, it was an incredibly fun and rewarding experience.
Fast-forward to 2020. Practices began in early March. Austin hurt his thumb during the first week. He was on the verge of returning when the unthinkable happened:
The outbreak of a deadly virus shut down sports across the nation and throughout the world and upended our day-to-day existence in ways most of us never imagined possible.
The coronavirus is inescapable now. It's the lead story in every newspaper, on every cable-news program, on every local 10 p.m. news broadcast. If it weren't for the NFL plowing ahead with free agency — a much-needed distraction during these trying, sports-less times — it'd be the lead story on ESPN, too. Terms such as social distancing and flattening the curve — which, before the outbreak, I would have guessed were the names of a podcast and an indie band, respectively — are now part of the lexicon.
Little League International, which comprises more than 6,000 leagues in more than 80 countries, had no choice but to follow federal guidelines. On March 12, the organization recommended that all Little Leagues suspend activities until April 6. Four days later, the restart date was pushed back to May 11. Even that might be wishful thinking.
Breaking the news to Austin wasn't the most pleasant experience. I believe in being candid with my kids. Some might describe my parenting style as blunt. But I had a dad who often wasn't forthright with me and my sister, and I vowed to be transparent if I were ever in that position.
I picked up Austin and my younger son, Merrick, 8, from school, and told them about the initial delay. Austin angrily and repeatedly slammed his right fist into the passenger door and burst into tears. Like I said, not pleasant.
Merrick didn't react as viscerally because he isn't as invested as Austin. But I felt terrible for Merrick, too. After years of watching his brother from the stands and being relegated to the sidelines while Austin got all the attention, Merrick decided to play this spring for the first time.
We bought him a batting helmet with a C-flap, just like his brother's, and a neon-yellow Easton bat. He was pumped.
His coach-pitch team had one practice before the league was placed on indefinite hiatus.
I helped run that practice. I hadn't made it out to one of Austin's yet, because March is usually one of my busiest months — the intersection of Arizona spring football, Wildcats baseball and Little League. Every year, I make a copy of a blank calendar for March, April and May and fill in all the squares. It's an old-fashioned way of keeping a schedule, but it had become a tradition — a rite of spring, if you will.
Now I might as well slide that March calendar into the shredder. Everything is canceled. We didn't even get to make our annual trip to see an Angels spring-training game in Tempe. It was supposed to be this past Wednesday. Austin and Merrick always line up along the wall just past the first-base dugout to try to get autographs. Mike Trout never happened, but Austin got Kole Calhoun once. What a thrill!
I fully understand that Little League baseball is relatively unimportant right now. We're facing a genuine crisis here. People are dying every day. If Little League doesn't happen this year, it isn't the end of the world — especially since we're trying to avert the literal end of the world, or at least the world as we've known it.
But Little League has played such a big role in my family's life for years, and we're just one of thousands upon thousands of families who have experienced the genuine joy and crushing heartache of youth baseball. We have formed friendships through Little League that hopefully will endure for the rest of our days. Little League is the antithesis of social distancing — it brings communities together. Little League teaches lessons, builds character and provides indelible memories.
I'm sure Austin never will forget going to the state tournament as an 11-year-old. He'll never forget this spring either, for entirely different reasons.
You only get to be 12 once. In this real-life version of boyhood, it'd be a shame if it's the kid who ends up saying, "I just thought there would be more."
Be the first to know
Get local news delivered to your inbox!