NCAA Tournament: Oregon, Washington march on but Arizona State taps out early
Three Pac-12 teams played in the first round of the NCAA Tournament on Friday.
Looking dangerous, No. 6 seed Buffalo breezes past ASU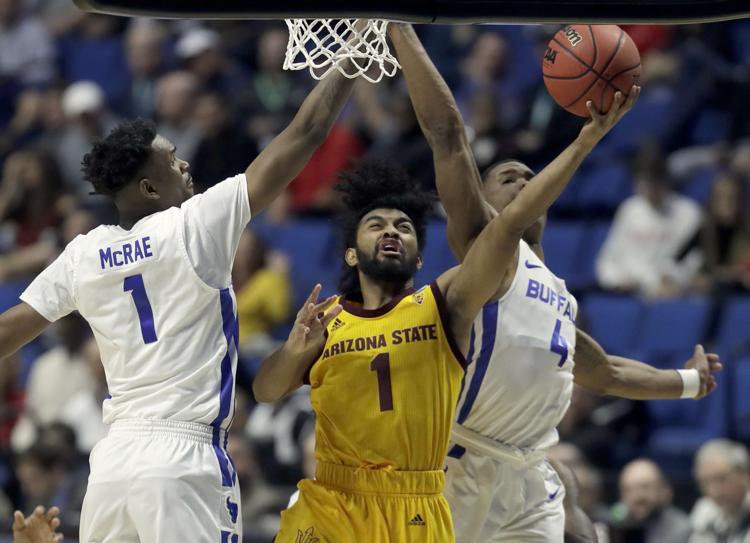 TULSA, Okla. — Looking like a No. 6 seed no one wants to play, high-scoring Buffalo breezed into the second round of the NCAA Tournament for the second straight year.
Jeremy Harris and Nick Perkins each had 21 points and 10 rebounds, and Buffalo shrugged off 11th-seeded Arizona State 91-74 on Friday in the West Region.
"I'm really proud of our guys," Bulls coach Nate Oats said. "They showed their experience. We kind of settled in there after about the first eight minutes on defense and forced some tough shots."
Oats has pushed the Buffalo program to new heights since he took over for Bobby Hurley, who now coaches the Sun Devils and was schooled by his former assistant. The Bulls (32-3), who earned the highest-ever seeding for a Mid-American Conference team, have won 13 straight and will face No. 3 seed Texas Tech on Sunday.
They may be a mid-major, but they're no Cinderella. 
For the second consecutive year, Buffalo ended a Pac-12 team's season in the NCAA Tournament: as a No. 13 seed against Arizona in 2018, and now against ASU. 
"I would say that there still is one more statement to be made, just prove we belong with anybody in the country," said CJ Massinburg, Buffalo's leading scorer, who had 18 points. "I think we can play with anybody in the country, and we're going to try to make this deeper run."
It was a bounce-back performance for Perkins, who had just five points in 22 minutes in the MAC Tournament final, an 87-73 win over Bowling Green.
"I was kind of rushing things, rushing my shot, just rushing my play," Perkins said of MAC title game. "I think tonight I was able to slow down a little bit mentally and just convert."
Zylan Cheatham had 22 points and eight rebounds before fouling out with 2:06 remaining for Arizona State (23-11), which defeated St. John's 74-65 on Wednesday in the First Four. Romello White and Luguentz Dort each scored 12. Dort, the Pac-12 freshman of the year, shot 4 of 12 overall and 1 of 7 from 3-point range.
"I'm super proud of my guys and the effort and the season that they have had," said Hurley, whose team finished second in the Pac-12 in the regular season. "They have taken another big step for Arizona State basketball, and in the process, they've poured their heart and soul into our culture, which is going to filter through future Arizona State basketball teams."
The Sun Devils led 14-10 early, but then Buffalo reeled off a 14-2 run over a three-minute span. The Bulls outscored Arizona State 10-5 over another three-minute stretch to push their advantage into double digits.
"They were quicker to the ball than we were in the first half and their pressure is disruptive," Hurley said. "Their guards get after you and pressure you, so they take you out of your offense."
Arizona State trailed 44-31 at halftime and pulled within 46-37 early in the second half before Buffalo's 7-0 run pushed its lead to 16 with 16:13 remaining. The Bulls' advantage never fell below 14 the rest of the way.
"We knew that they just finished a game the other day, but we wanted to keep the pace at our speed," said Buffalo guard Jayvon Graves, who scored 13 points. "We are confident. We did this last year. This year, we were expected to win this one, but the next game, we are the underdogs again."
Oregon extends March run with 72-54 win over Wisconsin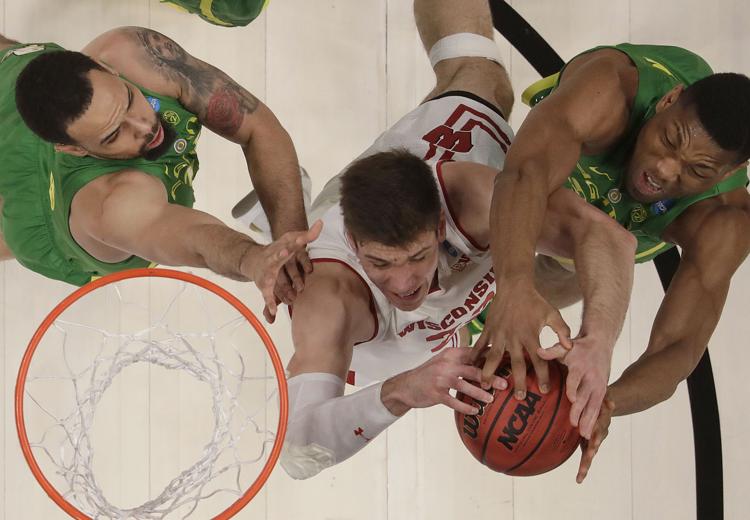 SAN JOSE, Calif. — Oregon was stumbling toward the end of a disappointing season until a strong turnaround led the Ducks to the Pac-12 title and an NCAA Tournament bid.
Oregon is not looking to slow down any time soon.
Payton Pritchard scored 19 points, Kenny Wooten protected the rim with four blocks and 12th-seeded Oregon extended its surprising March run by beating No. 5 seed Wisconsin 72-54 Friday in the first round of the NCAA Tournament.
"It showed everybody today, it wasn't a fluke," Pritchard said. "We're here to play. We're here to win it."
The Ducks (24-12) won four games in four days last week just to make the NCAAs then followed it with an impressive victory over a higher-seeded opponent. Oregon advanced to play No. 13 seed UC Irvine (31-5) on Sunday in the second round of the South Region.
Louis King added 17 points, Paul White scored all 14 points of his points in the second half and Wooten had nine points, six rebounds and the tone-setting blocks to give the Ducks their ninth straight win.
"To see them come like this and have so much fun, that's why we coach, just to see guys get together and have fun and play their tails off," coach Dana Altman said. "That's what they're doing right now."
Ethan Happ and Khalil Iverson each scored 14 points to lead the Badgers (23-11).
The game was tied early in the second half when the Ducks used their athleticism to take over. Wooten scored on back-to-back dunks and White followed with a 3-pointer as the shot clock expired to make it 42-35.
White then blocked a shot by Happ on one end and converted on an impressive alley-oop slap from Pritchard on the other to make it 46-37 with 12:31 to play.
The Badgers tried to cut into that deficit but King made a 3-pointer and two free throws to build the lead to 10 points with less than five minutes to play. Wooten then put the exclamation point on the victory with two blocks on one trip before Pritchard's layup made it 59-47 and the rout was on.
Wisconsin coach Greg Gard lamented a poor seven-minute stretch for the Badgers but was proud of his squad for making the tournament a year after the Badgers missed the field.
"It doesn't tarnish. It stings for a while, but it doesn't tarnish what this group accomplished to get to this point," Gard said.
Washington makes successful return, beats Utah State 78-61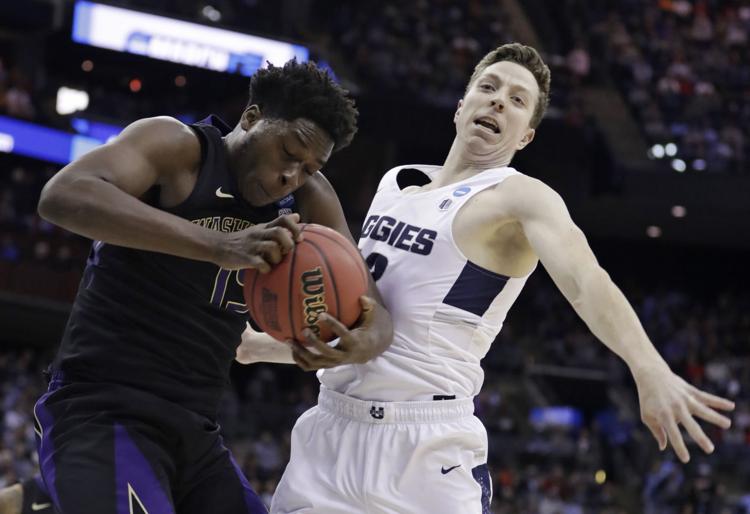 COLUMBUS, Ohio — Eight years had gone by since Washington made an NCAA Tournament bracket. The Huskies' award-winning players made their return successful.
Noah Dickerson had 20 points and 12 rebounds, and ninth-seeded Washington pulled away at the end to a 78-61 victory over Utah State on Friday.
The Huskies (27-8) finally got back to the tournament, and they got a win, too .
"It feels really good, actually," Dickerson said. "When I was a little kid, I used to watch this tournament all the time hoping one day I would have a chance to play in it."
The Pac-12's regular season champions swept the league's awards — top player, best defensive player and coach of the year — and got something from all of them against one of the hottest teams in March.
Eighth-seeded Utah State (28-7) had won 10 in a row and 17 of 18 while taking the Mountain West title. The Aggies got the highest seed in school history and were trying to end their own long NCAA Tournament drought. They haven't won since 2002, dropping eight in a row — including 2006 against the Huskies.
"It's been a good year for us, definitely, getting Utah State back to where Utah State basketball needs to be," said Sam Merrill, who had 10 points. "But obviously this is still very disappointing. We felt like this was a real opportunity to make that next step for this program."
Washington followed the lead of its top players.
Jaylen Nowell, the Pac-12 player of the year, had 19 points and five assists. Top defender Matisse Thybulle helped the Huskies surge ahead to stay late in the first half but was limited by foul trouble the rest of the way. He finished with 10 points, five steals and three blocks.
Pac-12 Coach of the Year Mike Hopkins got a $17.5 million extension through 2025 on the eve of the game, and then led the Huskies to their long-awaited win.
"It's a feeling you never want to give away," Hopkins said. "And so this elevates where we want to be."
Thybulle helped the Huskies build the game's first significant lead. He hit a 3-pointer and had a steal and dunk during a 13-3 run that ended the first half and put Washington ahead 40-28. Thybulle also had an emphatic block on Abel Porter's jumper from the perimeter.
The Huskies pushed the lead to 13 points early in the second half before Thybulle went to the bench with his third foul. Utah State cut it to 54-53 on Sam Merrill's 3-pointer, but Nahziah Carter hit back-to-back 3s that blunted the comeback. Washington was never seriously threatened down the stretch.