Fred Enke is a desert golf course too tough to die.
For years, there have been whispers and reports of its impending demise. As recently as 2018, Tucson's city council discussed permanently pulling the flagsticks at a course that was established in 1983.
Amid a pandemic, the course is flourishing. Fred Enke, located at 8251 E. Irvington Road, has seen the largest growth in rounds played out of any Tucson City Golf course. During the 2018-19 fiscal year, 35,397 rounds were played at the course.
That number jumped to 43,011 during the pandemic-ravaged 2019-20 year. The course hadn't logged 40,000-plus rounds in a single year since before 2014.
From July through November of last year, revenue jumped 28%. Fred Enke is currently 6,000 rounds ahead of its typical pace.
Projections show the course could generate $1.67 million in revenue this year, up from $1.12 million in 2018.
General manager Matt Pfeifle has seen the growth first-hand, and thinks he knows why.
"Where I've seen it is, it is more the novice golfers that probably pre-COVID weren't as willing to play," he said.
The course's improvements mean more golfers are coming back, too.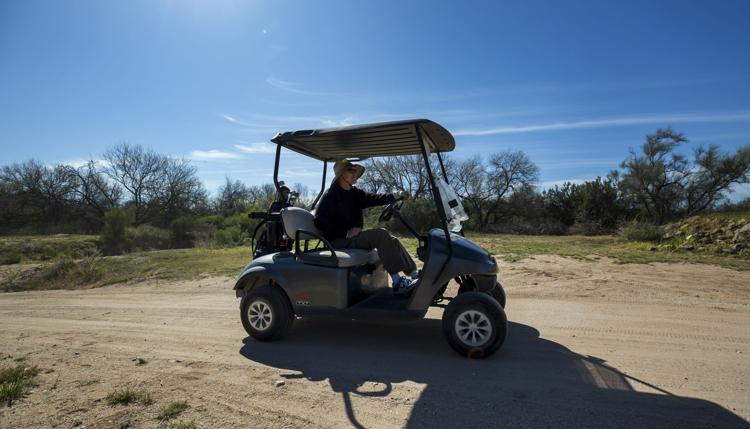 A $471,000 cart path renovation project for nine out of the 18 holes was completed in 2020, and a gradual clearing of desert foliage has improved visibility at the desert course. Course officials overseeded the fairways in 2019 and 2020, improving the quality of play and increasing the aesthetic appeal.
Longtime golfer Nathan Larkin lives close to the course and plays it often. He said the recent improvement make Fred Enke feel like a more prestigious course.
"I like the layout and it's a tough course to play," he said.
Fred Enke is an important asset for the community, a fact that Nikki Lee — the councilwoman for Ward 4 and Tucson's vice mayor — learned when canvassing for election in late 2018 and early 2019.
Community members told her they were worried about the course closing in a ward that already lacked greenspace.
"That was a common concern I heard when I was knocking on doors to get elected: People asked me what I thought about the golf course because there are a lot of people who really care about the golf course and care about having this option out here," Lee said. "People wanted to know that it was still going to be here."
Finding a stray tee shot is still almost an impossibility in the mostly untamed desert surroundings that many roadrunners and coyotes call home.
Robb Palmgren, the general manager of Tucson City Golf, said Randolph golf complex feels like Central Park. But at Fred Enke, he says, you know you are in the Sonoran desert.
"With Fred Enke, it's just a fun layout, its a little different because it has a dry wash that runs through it and its definitely got a little more of your traditional desert style vibe to the golf course," Pfeifle said.
"Fred Enke is kind of unique in that sense that it provides more of that desert golf feel that we like out here in Arizona."