Editor's note: This article is part of the Star's 2018-19 college basketball guide, which ran in Sunday's paper.
How do you follow up the best season in school history? You start over and try to do better.
Pima College's men's basketball team will try to do just that following a second-place finish in the NJCAA Division II tournament. Last year marked the Aztecs' second national tournament appearance in a row. Before last season, Pima's best finish had been a trip to the Elite Eight.
"I still got the taste, but I know we're going to be back this year," sophomore Abram Carrasco said. "With the team we've got this year, I think we're deeper. We've just got to click. Once we click, everything's going to be OK."
Coach Brian Peabody lost nine players from last year's roster — six to college scholarships, one to graduation and two more to transfers. Carrasco and fellow returner Robbie Wilson are expected to lead the (mostly) new roster.
Carrasco said the added leadership won't feel like added stress because he was used to it at Cholla High School, where he was named the Star's player of the year. Now, he just has to get better acquainted with his new team at Pima.
"I just have to adapt to everyone else," Carrasco said. "The team's already gained good chemistry — it's like a family. So, it's pretty smooth right now."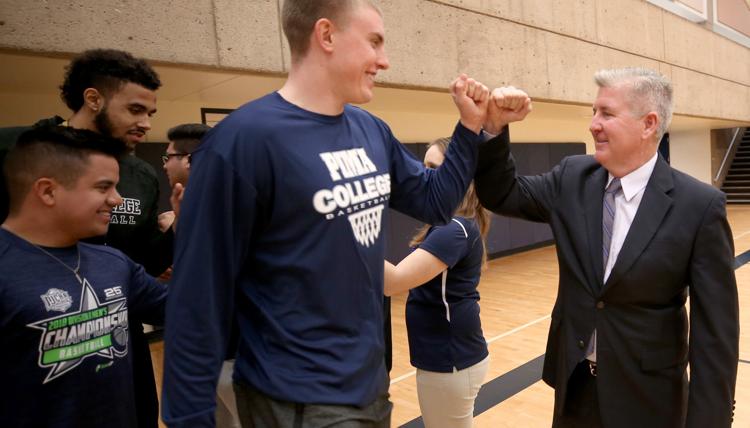 Thanks in part to their success last season, Peabody recruited well.
"When you get as much recognition and publicity as we did, we tried to use that to our advantage and got back and immediately started recruiting for this year," Peabody said.
Last year's squad started four third-year guys, including Keven Biggs, who went on to be named to the NJCAA All-America second team and is now at Fort Lewis College.
This year, Peabody's lineup will include two freshmen and a transfer – quite a difference from last year.
Freshmen outnumber the sophomores 10 to 9 on the roster, and three of the sophomores plan to redshirt this season. Only one freshman, Herbe Arana of Rio Rico, will redshirt.
Freshman Rashad Smith from Chandler Hamilton High School was hoping to use the preseason scrimmages to help the team jell.
"I think we're going to be good," Smith said. "We're playing together more and know how each other play. We'll be great."
The team's immediate goal is to win the ACCAC, something Pima has never been able to accomplish. Last year, they were bested by Phoenix College.
If the Aztecs win the conference, then they will be able to host two of the tournament games, which would serve as a huge advantage.
"It's going to be a tough act to follow," Peabody said.
"Everything, when you have that success, has to fall into place. You have to get lucky. A lot of things have to happen in your favor to get that far, but we've made national tournament two years in a row and we're trying to get back."