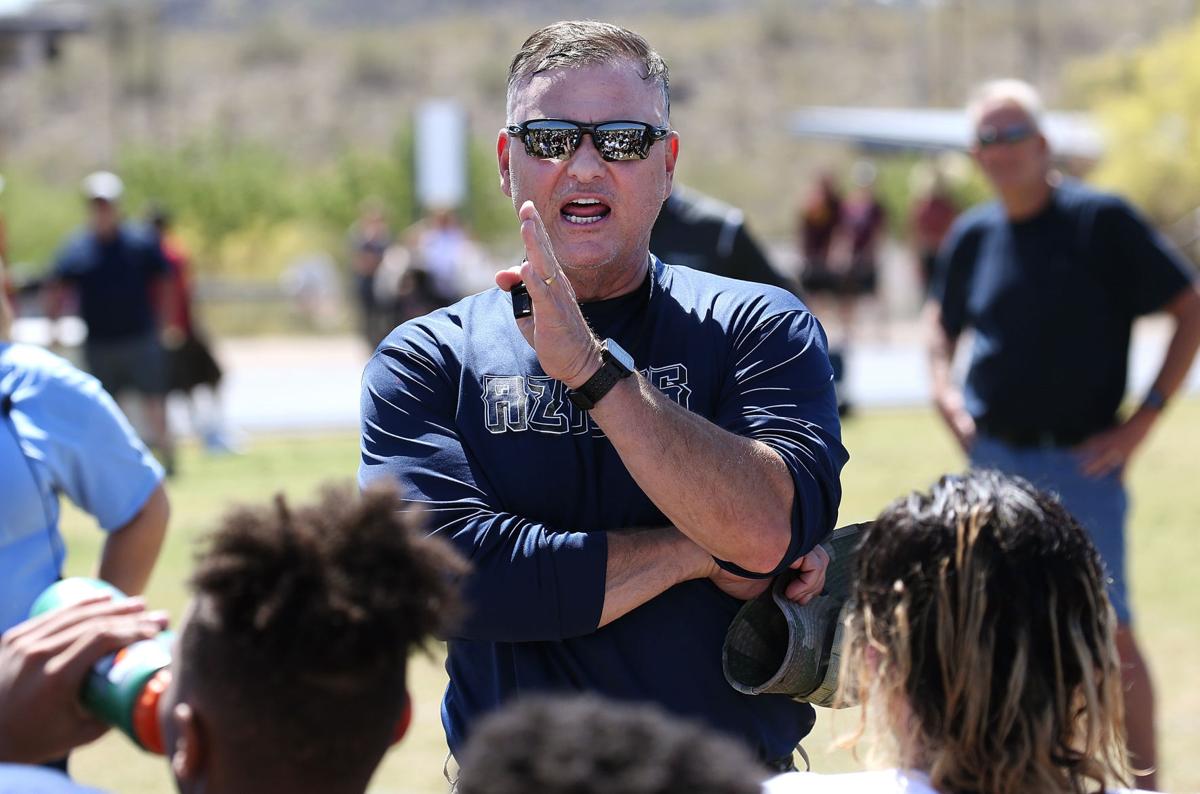 Pima College has already canceled one sports season. On Friday, it took measures to hopefully avoid ending two more.
In conjunction with the NJCAA's decision to postpone close-contact sports, the Aztecs announced that they will be pushing back the start of their men's basketball, women's basketball, men's soccer, women's soccer and women's volleyball seasons — all of which were scheduled to start in the fall and winter — until the spring of 2021. Men's and women's cross country is still under review and could be potentially held in the fall at some point.
Athletic director Jim Monaco called it "actually the smartest thing we've done in a long time." Men's and women's soccer and women's volleyball were all scheduled to start their seasons in August, with both basketball teams scheduled to start in November.
"It gives everybody an opportunity to play at some point, without saying yes or no now and forcing the end of the season," Monaco said.
In March, Pima canceled its baseball, softball, golf, tennis and track seasons following the outbreak of COVID-19. Monaco and chancellor Lee Lambert have been at the forefront of Pima's decision-making as the school explores avenues for the upcoming year. Monaco talks regularly with junior college athletic directors throughout the state and with Pima's coaches.
"Our coaches are just really happy to know that they still have a shot of having a season, even if it's in the spring," he said. "We've worked hard with our chancellor and governing board who have done a tremendous job working to provide our student-athletes with some type of season."
While the majority of Pima's sports programs are now pushed back until the new year, there's still hope the cross country teams can still compete soon. The non-contact nature of the sport and the socially distant nature of the races puts cross country on a different plane than contact sports.
Pima has yet to determine the parameters under which it would feel comfortable allowing the cross country seasons to start.
School administrators must tackle health concerns and travel. Last year's cross country roster included 10 athletes — five men and five women — as well as two coaches.
"Transportation is a very big issue," Monaco said. "We have to make sure our staff and our student-athletes can get to and from meets safely. We have a very large team."
As of now, there is no set date for Pima to decide the fate of the cross country seasons — though coaches told Monaco that they are on board with whatever the administration says is necessary.
The clock will soon be ticking on Pima, as well as other community colleges throughout the state, to establish a viable schedule for all the sports scheduled to be played in the spring.
"It's going to be tough and going to take a lot of maneuvering," Monaco said on properly aligning 2021 competitions. "We're going to have to do things differently but we're going to get it done."
Even with the delay, there's no guarantee that health and safety conditions will improve dramatically enough to play in a few months. But Pima now has time to prepare to address concerns as opposed to trying to start playing games as soon as August.
"Everybody is actually a little relieved," Monaco said about having more time to prepare.
"I have a lot of confidence in our chancellor and administration in making this work for our student-athletes because we want to do this for them."
Be the first to know
Get local news delivered to your inbox!