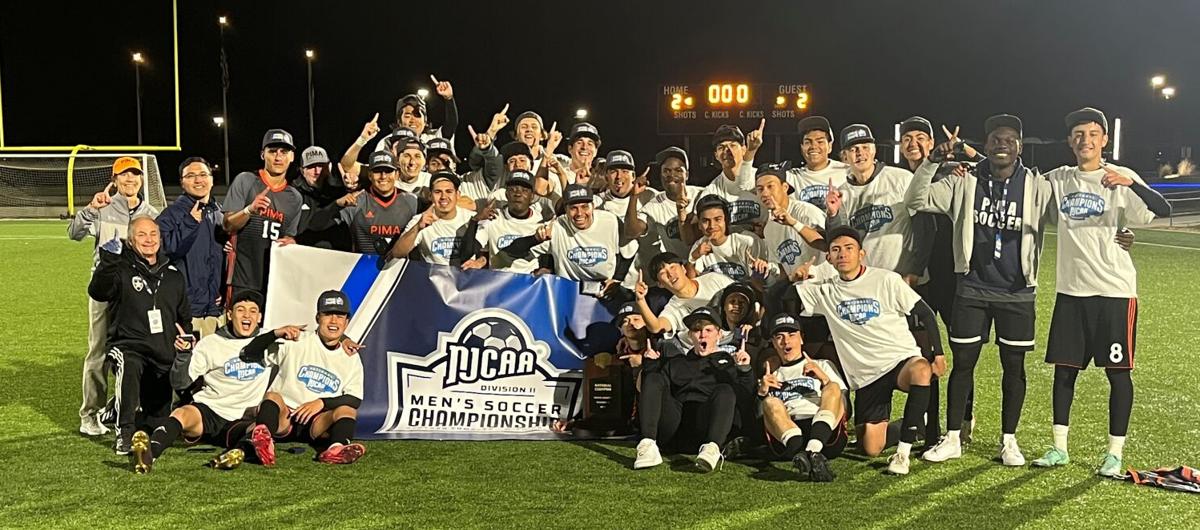 For the second time in four years, the Pima College men's soccer team is bringing a trophy back to Tucson.
Francisco Manzo converted Pima's fifth and final kick in a penalty shootout to secure the NJCAA Division II national title for the Aztecs on Saturday in Wichita, Kansas.
The Aztecs outscored CCBC Essex (Maryland) 5-3 in PKs after the teams had been knotted at 2-2 through regulation and two overtimes.
Manuel Quiroz, Sam Lossou, Jesus Virgen and Cristian Gutierrez scored in the first four rounds of penalties, giving Pima a 4-3 edge. No. 1-seeded CCBC Essex then failed to score in the fourth round against Pima goalie Juan Suarez, setting up Manzo's clincher.
No. 2-seeded Pima, which won its first title in 2018, finishes the year 19-1-1 under coach Dave Cosgrove.
Manzo was named the tournament's most valuable player. Suarez finished with 14 saves; he and sophomore Ulysses Torres were named to the all-tournament team.
"It's been amazing here, getting to play with some of my friends since I was a little kid," Manzo said. "We all played together. Getting to play these last three years with them means everything."
Manzo scored Pima's first goal in the third minute to put the Aztecs up 1-0. After Pima fell behind 2-1, Minho Cha evened the score with a goal just 21 seconds before halftime.
Cosgrove said his players "have worked really hard for this."
"There's an old adage that says coaches lose games and players win games, and certainly this week, this entire year and the last two years, we've had the right players to win a lot of games," he said.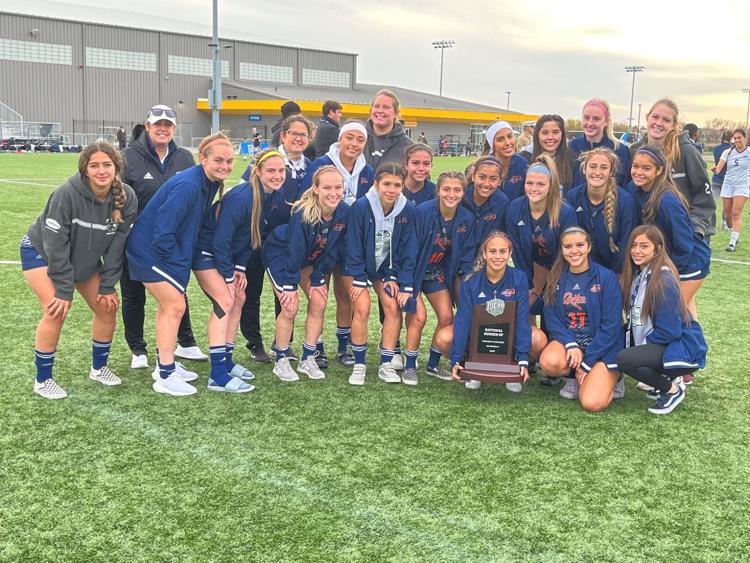 Aztecs women lose heartbreaker
The Pima women's soccer team pushed unbeaten Heartland (Illinois) CC to the end before falling in a penalty shootout in the NJCAA Division II national title game earlier Saturday.
Tied at 2-2 after regulation and two overtimes in Wichita, No. 1-seeded Heartland won 4-2 in PKs to complete a 20-0-1 season.
No. 4 Pima, competing in the first title game in program history, got goals from Sabino High School grad Kaitlyn Bassett and Cienega High School grad Delaney Buntin.
Buntin's goal in the 68th minute put Pima up 2-1, but Heartland tied it up just three minutes later.
The Aztecs finish the year 16-5-1 under coach Kendra Veliz.
"Today's game was very competitive," Veliz said in a press release. "I'm super proud of how the girls played. It was unfortunate to be up a goal and give that lead up because our defense has been really stellar this whole tournament.
"I'm really proud of how the girls competed, it was the No. 1 seed and my assistant coach said we scored more goals on them than any other team. Two goals was a huge accomplishment. Both ends I'm really proud with how the team played."