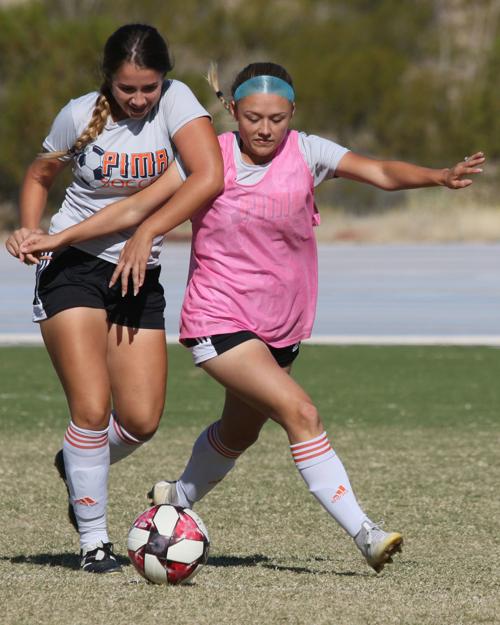 On Oct. 12, the Pima College women's soccer team suffered its first road loss of the season.
Haley Lawson played well in the 2-1 defeat to Chandler-Gilbert, earning the attention of Arizona Community College Athletic Conference officials.
Lawson was named the ACCAC player of the week — but she had other things on her mind by the time she got the news.
By then, she had a new name, too.
Lawson — now Haley Castaneda — married her high school sweetheart the day between the game and the ACCAC's announcement, celebrating with 250 friends and family members in a wedding that she pulled together in just 50 days.
"Everyone was like, 'What a week,' and I definitely wasn't expecting to get (player of the week) either," Castaneda said. "I feel like defenders don't really get it often, because it's whoever scored the most goals or whoever got assists. I was kind of surprised I got it."
Adrian Castaneda, a wheel mechanic in the Army, shipped off to Germany on Tuesday morning, and the newly minted Mrs. Castaneda plans to join him in a few months. That'll mean putting a halt to one of her first loves: competitive soccer.
Castaneda was born in Tennessee and moved to Tucson when she was 7 years old. She started playing soccer at 11, and says her favorite part about the sport is the friendships she's made.
"I love the camaraderie, like you just gain a bunch of best friends," Castaneda said. "I actually didn't know if I was going to play at community college because I was burnt out, but it was one of the best choices I've ever made. I've gained over 20 new best friends."
The Aztecs were well-represented at the wedding: Many of Castaneda's teammates were in attendance, along with her coach, Kendra Veliz.
Castaneda and her husband met in history class during their junior year at Cienega High School. They began dating a year later. The couple celebrated their two-year anniversary on Oct. 13, their wedding day. It was a celebration of both love and logistics.
"We got engaged March 12 and he left April 29 for the Army, so we were kind of hoping he'd get the time off — but we weren't sure," Castaneda said.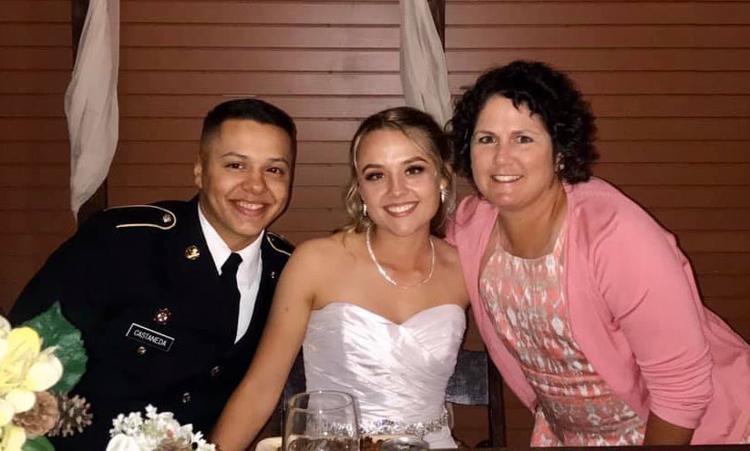 Roughly 50 days before the wedding date, the couple got word that Adrian would be returning to Tucson and quickly started making plans. With Adrian Castaneda in Advanced Individual Training at Fort Lee, Virginia, the couple FaceTimed back and forth to discuss details.
"He really didn't know what any of it looked like until the day of," Castaneda said, adding that she and her mom made all the decorations, while Adrian's family cooked the food. Castaneda's aunt, a minister in Virginia, officiated the wedding. "It was kind of just thrown together, but in the best way possible," Castaneda said.
Veliz said that Castaneda kept her focus on soccer and her studies.
"The only thing she missed was one day of study hours, but she didn't skip a beat," Veliz said, adding that the wedding made for a good team-bonding experience in the middle of the season.
Veliz calls the 5-foot-1-inch Castaneda a spitfire, saying that she's also fierce — which makes for a good defender.
Castaneda has been one of Pima's four starting defenders for the last two years. She plans to finish out the semester and the season before joining her husband, likely in January. Castaneda's niece is due to be born at the end of January, and while she's eager to meet the baby, she doesn't want to spend any more time away from her new husband than is absolutely necessary.
"We're going to be away from each other for like three months, so I really don't want to wait past January because I kind of want to just get there," Castaneda said.
Castaneda plans to finish her associate degree online through Pima College before pursuing a four-year degree in business, also online and likely through Arizona State.
She doesn't plan to leave soccer totally behind, saying she's going to seek out a co-ed or women's league in Germany. Castaneda says she's also looking forward to getting a part-time job and taking advantage of the couple's three years in Germany by traveling throughout Europe.
Pima (9-5-1, 6-2-1 ACCAC) will play its final regular-season game on Wednesday. NJCAA Region I quarterfinals start next week, with seeding still to be determined.
While the Aztecs' playoff picture is still up in the air, Veliz believes Castaneda's future is a little more clear-cut.
"She's goal-oriented, knows what she wants and will go after it," Veliz said.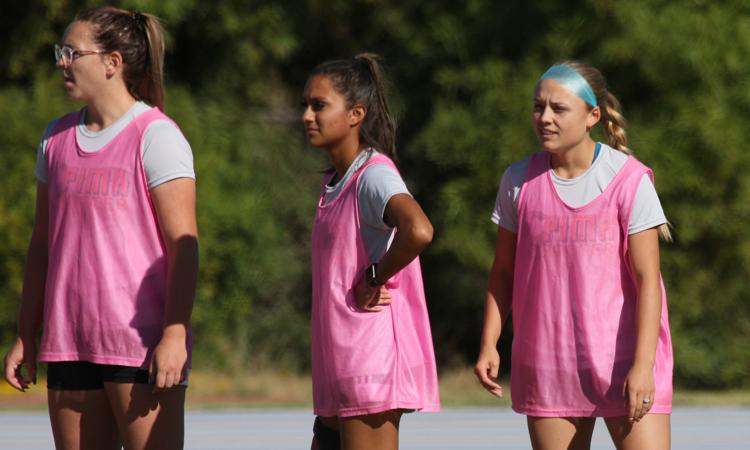 Contact reporter Caitlin Schmidt at cschmidt@tucson.com or 573-4191. Twitter: @caitlincschmidt.