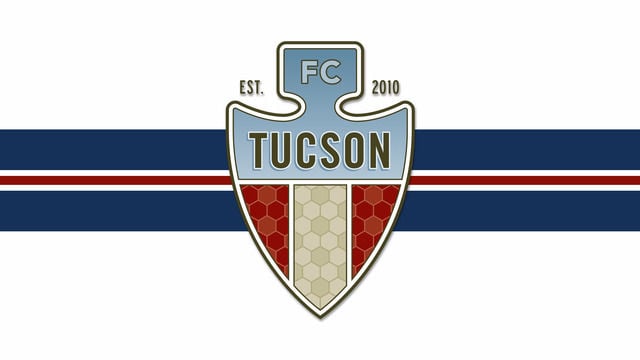 FC Tucson's 2020 soccer season schedule includes coast-to-coast travel to states experiencing varying degrees of the coronavirus pandemic, and a fan-less Kino North Stadium during a September that will be spent mostly at home.
There's also genuine excitement, cautious optimism and, most of all, a desire to return to play.
USL League One unveiled the 16-game schedule on Friday afternoon, setting the stage for a full season. The Men in Black will open the 2020 season next week at Fort Lauderdale CF and play a week later in Chattanooga, Tennessee, before returning to Tucson for an Aug. 8 home opener against Union Omaha.
The home opener will end a nearly five-month dry spell during which no professional sports have been played in the Old Pueblo. The coronavirus pandemic shut down the Tucson Roadrunners' season in mid-March and led to the cancellation of the Tucson Sugar Skulls' second year in the Indoor Football League.
And while the Aug. 8 match and the rest of 2020's home games will be played in an empty stadium, fans will have more than one way to catch the club in action. FC Tucson said Friday it plans to host "live-streamed, drive-in watch parties" for a "safe but social" way for fans to watch the games. All USL games can also be streamed on ESPN+.
"Today feels very much like we're picking up where we left off on March 12th," said FC Tucson president Amanda Powers. "For nearly four months we've weathered the peaks and valleys that have come with COVID and by no means think we're in the clear. We are motivated, informed, organized, and invested in doing the best thing we can possibly do at a time like this which is to bring the community together through sport. We want Tucsonans to feel a sense of hope and camaraderie through the world's game."
Tucson will play eight home matches — five of them coming in September, when they'll face the Richmond Kickers, North Texas FC, New England Revolution II, Forward Madison and Fort Lauderdale CF in a span of 21 days. The club plays at Madison and South Georgia before returning home for its final two matches of the season, against the Greenville Triumph and Orlando City B.
FC Tucson also announced the signing of three new players, including center back Samuel Biek, a rookie from Grand Rapids FC; Giovanni Godoy, a third-year forward from Orange County SC; and defender Jordan Hill, a second-year player from Orlando City B.
The team will follow all CDC, Pima County Health Department and USL medical protocols and guidelines to ensure the continued safety of players and staff, as well as weekly coronavirus testing.
"We are delighted to be back on the field, and very much looking forward to our first match," said FC Tucson coach John Galas. "My players have been nothing short of exceptional in navigating the last 4 months while dealing with this devastating pandemic."
Galas said that the addition of the new players has increased the team's quality and depth, calling Hill and Biek "tremendous professionals on and off the field."
FC Tucson's full schedule is below:
FC Tucson's 2020 schedule
(all times are Tucson time)
July 25: at Fort Lauderdale CF, 5 p.m.
Aug. 1: at Chattanooga Red Wolves, 2 p.m.
Aug. 8: UNION OMAHA, 7:30 p.m.
Aug. 15: at Richmond Kickers, 3:30 p.m.
Aug 18: at Orlando City B , time TBA
Aug. 29: at Union Omaha, 5 p.m.
Sept. 5: RICHMOND KICKERS, 7:30 p.m.
Sept. 12: NORTH TEXAS SC, 7:30 p.m.
Sept. 15: NEW ENGLAND REVOLUTION II , 7:30 p.m.
Sept. 19: at North Texas SC, time TBA
Sept. 23: FORWARD MADISON, time TBA
Sept. 26: FORT LAUDERDALE CF, 7:30 p.m.
Oct. 3: at Forward Madison, time TBA
Oct. 7: at South Georgia Tormenta FC, 5 p.m.
Oct. 10: GREENVILLE TRIUMPH SC, 7:30 p.m.
Oct. 17: ORLANDO CITY B, 7:30 p.m.
Be the first to know
Get local news delivered to your inbox!