When TJ Juskiewicz was hired in June 2020 as El Tour de Tucson's new executive director, he found an event in need of a facelift.
What he didn't know then was that he'd have nearly 17 months to pull off his new vision. But after COVID-19 forced the postponement and eventual cancellation of last year's event — and with uncertainty for months as to whether this year's event would even take place — the new El Tour leadership was able to go back to the drawing board.
"As a nonprofit, to have so much uncertainty with no revenue coming in, we didn't know what the future held," Juskiewicz said. "We were just like every event — we didn't know if or when the pandemic would ever be over. As an event director, we planned it three times.
"But we get a chance to restart, and to do that before November 2020 would've been impossible."
Juskiewicz's ultimate goal: Offer a different feel and an enhanced experience for this year's El Tour event. And beyond.
To execute that vision, Juskiewicz turned to Cirrus Visual Communication, a Tucson-based graphic design, commercial printing and promotional products company, and to president Brandon Blair. Juskiewicz and Blair — who has ridden in the event more than 10 times — knew they wanted a more vibrant El Tour.
The event has a new logo and entirely new branding. There is an improved finish line, awards stand and stations throughout the race.
"When we did press pause last year, we were able to say, where can we improve?" Juskiewicz said. "In our overall branding, we wanted it to scream Tucson and biking. The colors and brightness and vibrancy. We want, when people come to our event, for people to know they're in Tucson. They're not in San Francisco, they're not in New York City or Seattle. The mountains, the colors, this place — it all screams Tucson."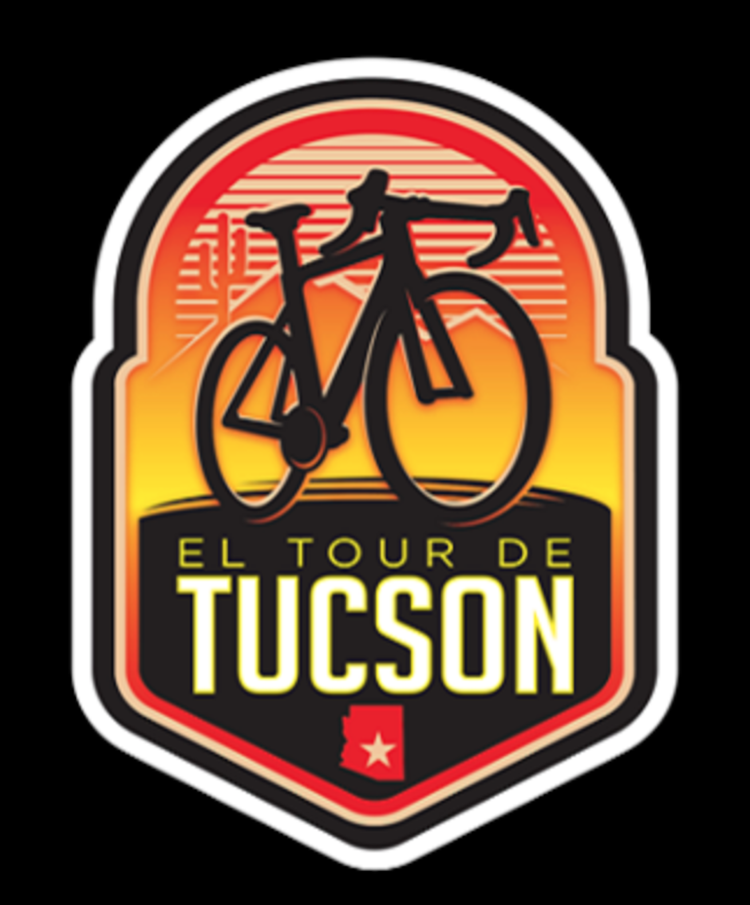 Added Blair: "This race, in some of the graphics, was still stuck in the 1970s. Whats great now is we have creative minds, trained to do amazing graphics, with great software tools to bring those visions to life. The technology side has grown to allow us to put these graphics on anything and around anything.
"Now we can immerse people in the brand."
What the El Tour team wanted to convey above all is Tucson's status as one of the best outdoor sports destinations in the country.
"We're a cycling mecca — road biking, mountain biking, the Loop being named USA Today's top bike trail in the entire country," said Juskiewicz, who has been in the events industry since his time at the University of Florida in the mid-1990s. "We have the passion, the infrastructure, the scenery and the weather. Having a little extra time, we were able to push all those great things. Come spend some time in Tucson. And oh by the way, it's snowing in Wisconsin right now. It's not so bad here."
Juskiewicz was inspired to help evolve El Tour by nearly three decades of experience in events, and specifically, cycling events. He looked back to one of the biggest sporting events in the country's history — and the first major event for which he played a role: The 1996 Olympic Games, held in Atlanta, Ga.
Juskiewicz realized then that for sporting events to become memorable, they need to be a lot more than the sports.
And in a city like Tucson, with great amenities to offer — from improved food and beverage options to a party-like atmosphere at Armory Park — he's hoping El Tour participants go beyond the bike.
"If you ask what's great about Tucson, you'll get 30 different answers," he said. "Some of them are particularly important to cyclists. If you're going to come for just a bike road and go home, this isn't for you. But if you also want to say, 'I had the most amazing ride, I rode by an airplane boneyard, I had the best prickly pear margarita of my life and some amazing tamales' — it's the overall package that we're selling."