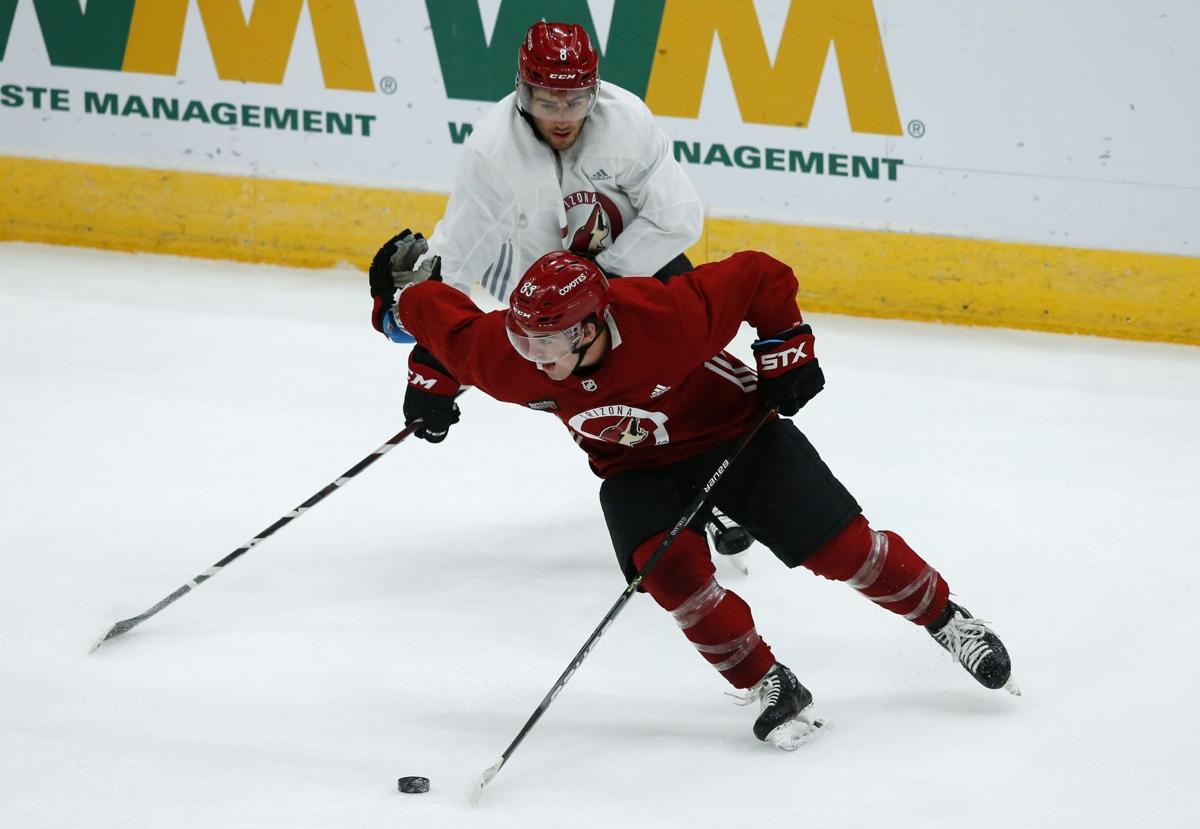 Over the last 18 months, Conor Garland has taken to the Tucson Arena ice for exactly two games.
He is, after all, a National Hockey League regular these days. So, following a brief reappearance at the end of last season, it's highly likely Garland's time suiting up for the American Hockey League's Tucson Roadrunners is in the past.
But the compact yet scrappy goalscorer's name certainly still carries weight in Southern Arizona.
The Roadrunners were set to hold "Conor Garland Bobblehead Night" on March 14 against the Texas Stars. The honor is reserved for only the most revered of Roadrunners alumni.
Alas, that game was ultimately the first on the Roadrunners' schedule to be postponed. Just two days earlier, the AHL shut down its season due to concerns brought on by the spread of coronavirus; the remainder of the AHL season would eventually be canceled outright.
The giveaway is a literal two-headed depiction of the 5-foot-10-ish, 165-pound, 24-year-old forward. On one side, he wears his Roadrunners No. 8 jersey; on the other, it's a white Coyotes No. 83 jersey. The Roadrunners gave some of the bobbleheads to fans who renewed their season tickets. Plans are forthcoming on how the rest will be doled out.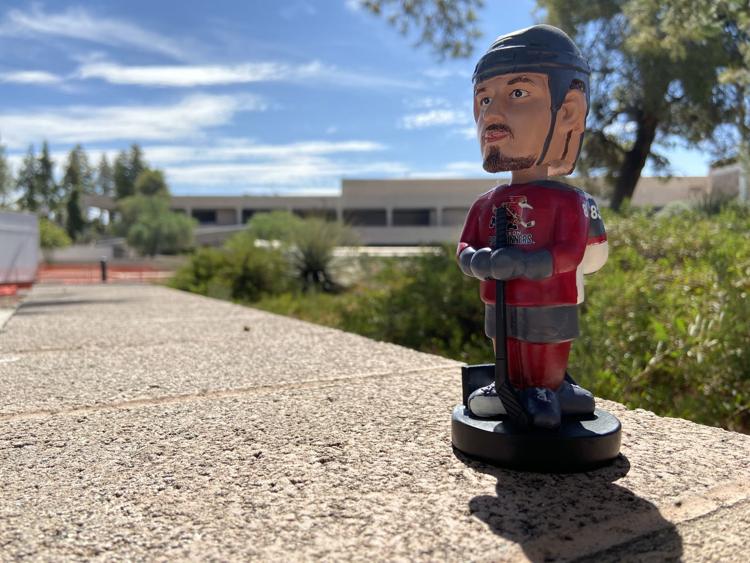 Garland aficionados in Southern Arizona will get a chance to see their guy on TV at least a few more times this season, if not more than that. The Coyotes take on the Nashville Predators in a best-of-five series beginning Aug. 2, part of the NHL's efforts to reboot its schedule and crown a Stanley Cup champion.
It isn't just that Garland that made an impact in Tucson; he shared with an assembled group of reporters over a Zoom session this week how his two-plus seasons with the Roadrunners still shape his career. It'll come in handy. Garland's 22 regular-season goals lead the Coyotes heading into their first postseason series in eight years.
"We were probably the best team in the American League," Garland said, referring to the last time he skated in a high-intensity playoff series — the 2017-18 Calder Cup playoffs, with division champion Roadrunners.
"From the AHL I just remember — I guess it doesn't apply (this season) because we won't have any fans — but coming into Tucson for that Game 3 (of the opening round, against San Jose). The series was tied. I just remember knowing that game was over before we ever stepped out onto the ice. We had a sold-out 'white-out.' We used the building to our advantage."
Tucson blew out the visiting Barracuda, 6-0.
"That doesn't apply (today), but it's a good memory of being in the playoffs for me," Garland added. "I just think understanding how big every play is. Guys are going to finish their checks more and more. … You can't try to look for an extra play as much as you do in October. Every play is amplified, every mistake is amplified, and every goal is as well. It is the most fun time of the year."
Garland is one of 17 current Coyotes who have played least one game in a Tucson uniform.
While threats like 2019-20 Roadrunners goal-scoring leaders Brayden Burke and Hudson Fasching are among those in Glendale after ultimately missing out on their chance at leading first-place Tucson to another playoff berth of its own, it was Garland — and current Coyotes' teammate Lawson Crouse — who shared a line the last time the Roadrunners won a playoff series.
"I think that was really when we both kind of hit our stride as players — in that playoff run," Garland said, adding that Crouse "was obviously a monster for us. I remember just realizing in that series he wasn't going to be in that league for long."
In a twist, Garland is ready for the season's restart only because of time itself. He suffered a lower-body setback, believed to be a knee injury, in a March 3 loss to the Calgary Flames. But Garland is ready four-plus months later.
"I was going to miss the remainder of the season, so I stayed in Arizona for six to eight weeks. Got my rehab, got close to 100%," said Garland, who after that went back to his hometown outside Boston.
"I came back out here about a month ago and I've just been getting ready like everybody else."
Arizona head coach Rick Tocchet said his team can't afford to come out of the gates flat for the 11th-seeded Coyotes to have a chance at advancing past No. 6 Nashville in the Western Conference's upcoming "qualifying round" in Edmonton, Alberta.
"I'd like to see us have … 21 guys in the lineup that are fast starters," Tocchet said in a Zoom session this week. "If we have 18 slow starters, we're in trouble."
Garland may only be one of those 18 or 21 skaters, but recent history would say he could be on Tocchet's good side. Garland's point-per-game pace and eight goals in 19 contests at the start of the 2018-19 campaign earned him his NHL call-up.
And this year, he's led the Coyotes in goals from the get-go, with six in Arizona's first 13 outings and 10 in its first 28.
"You know, I've had seasons where I haven't gotten off to great starts. So, I don't know, maybe it just might be the last two seasons," Garland deflected. "Coming into this year, I was still trying to fight to stay in the league, so there was a lot of pressure on me in those first couple games. Luckily I got off to a good start to kind of cement myself here."