The average yearly snowfall for Swift Current, Saskatchewan, is more than 40 inches, over about 57 days.
Yet while temperatures in Tucson dipped into the 20s near the end of last week as that uncharacteristic dusting of the cold white stuff trickled down over parts of Southern Arizona, it was a uniquely mellow January scene some 1,700 miles due north in the town nicknamed "Speedy Creek." In Swift Current, there were clear skies for days, with temps reaching a refreshing 45 degrees or so.
The Tucson landscape doesn't often remind Lane Pederson, Tyler Steenbergen or Matteo Gennaro — contributors all, if not central figures in the Tucson Roadrunners' run toward another American Hockey League playoff berth — of the central Canadian town with a handful more than 16,000 residents.
But it did a bit last week, and it does when the three are on the ice, at least.
That's because the three 21-year-olds somehow found their way to Arizona in the first place — arriving via the distinctive hockey pipeline now solidified between Swift Current and the desert Southwest.
"Having Steener here has been great," said Pederson, tied for the team lead with nine goals for the Roadrunners (19-9-3-1), who are back at Tucson Arena on Friday and Saturday for a pair of 7:05 p.m. puck drops against the surging Chicago Wolves (21-12-3-1). "When you have that comfortability from (junior hockey) with one of your best friends, and now you get to play pro hockey together, it just makes the experience that much better."
Pederson, Steenbergen and Gennaro each spent parts of the last few seasons with the Swift Current Broncos — the defending Western Hockey League champs, who, as part of Canada's major junior hockey circuit for the better part of five decades, have churned out dozens of eventual NHL players.
Pederson made his debut with the Broncos in 2015-16. The next season, with Pederson an alternate captain, Steenbergen joined the roster and led Swift Current in scoring with a gaudy 51 goals and 90 points over a 72-game regular season.
Pederson signed a deal with the NHL's Arizona Coyotes during the 2016-17 season, while he was with Swift Current, and was ultimately assigned to Tucson in 2017-18. Going undrafted twice stung, but was also motivation, he said.
Steenbergen, meanwhile, continued his tear in Swift Current. He became a fifth-round Coyotes draft pick prior to the 2017-18 season, and went for 47 goals and 102 points for the Broncos that year.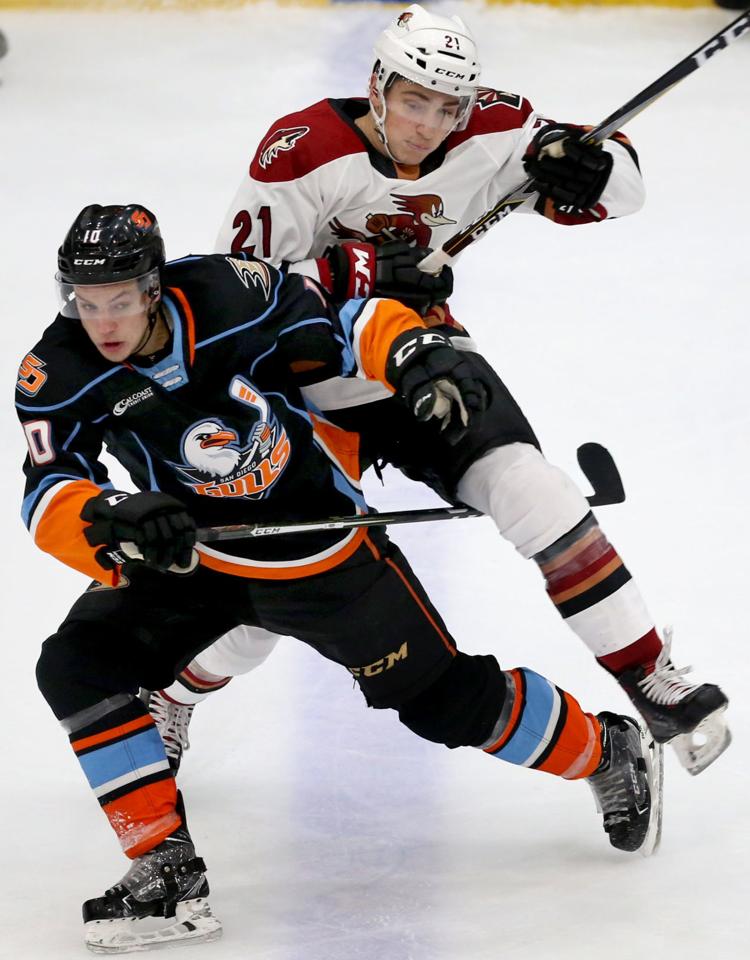 In the first half of the season, Swift Current would acquire Gennaro from the WHL's Calgary Hitmen in a mid-season trade that helped the Broncos hoist the Ed Chynoweth Cup — the league's top prize. Together on the top line after the trade, and both alternate captains themselves, Steenbergen and Gennaro finished the regular season with a combined 89 goals and 181 points, before combining for 21 goals and 45 points in 26 playoff games.
"Obviously hockey is a small world, and there's a lot of connections. I never got to play with Pedey in junior (hockey), but (Swift Current) makes it easy to connect to him, and it gives us that commonality," said Gennaro, who signed this offseason as a free agent with the Roadrunners, saying the presence of Steenbergen "definitely swayed the decision."
Gennaro added Steenbergen "was another benefit of coming to Tucson. I knew I'd have a few familiar faces here already. I had a few options, but I just had a good feeling coming here."
Steenbergen noted that while major junior hockey and the NHL or AHL obviously have their differences — speed, size and depth, to name a few — having Pederson in Arizona when he arrived made the transition seamless.
"(Pederson) was the only one I knew when I got here," Steenbergen said of his current Tucson roommate. "When I got drafted, he called me and was explaining to me what to expect at (Coyotes) development camp in Glendale. That was huge for me."
This season, while Pederson has become a dependable leader of Tucson's almost excessively-balanced scoring attack in his second year with the club, newcomers Steenbergen and Gennaro have adjusted to current roles that haven't required them to score at nearly the same clip as their junior days.
But the Swift Current connection — which actually began not with the three forwards, but rather with Mark Lamb, who left his post as coach and general manager of the Broncos to become the Roadrunners' first head coach three seasons ago — still breathes in Tucson.
Steenbergen and Gennaro are linemates for the Roadrunners on most nights, and contributors who head coach Jay Varady praises not only for the scoring prowess, but also for the way they "just come to work and do their job every day."
Gennaro is one of three Roadrunners to play in all 32 of the team's games, and has six goals and nine points. Steenbergen has five goals, They are among a group of 14 skaters to light the lamp for Tucson at least five times this season.
"It just goes to show how deep we are with our prospect pool. Anyone at any given time can score or create that big chance for us," Steenbergen said. "The biggest thing would be our depth up front, and yet we have a D-man (defenseman Kyle Capobianco) who is leading the team in scoring. It's different from teams I've been on, but you know it's awesome; we're doing great in the standings, so we just have to keep riding it and going with it."