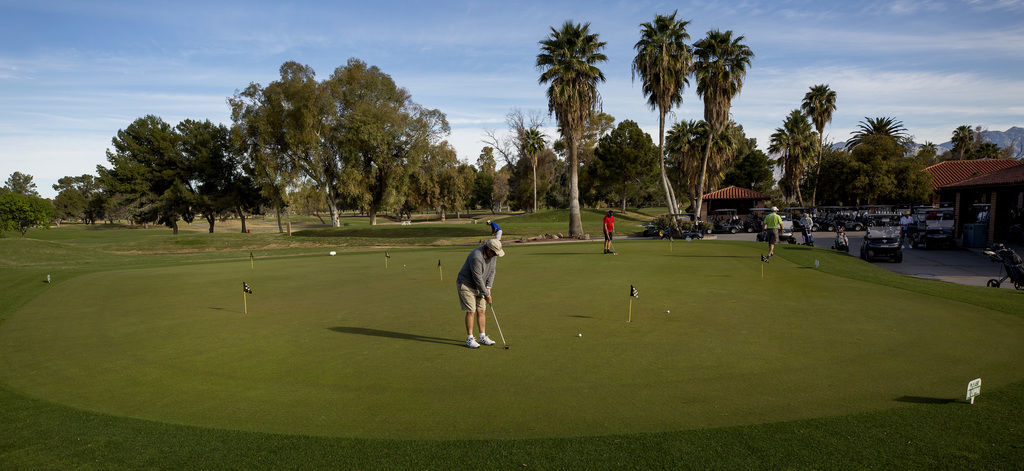 Golfers played more than 23,000 rounds on Tucson's five city-run courses during a month when golf was the only game in town, after state and local leaders closed gyms, outdoor fitness equipment and public pools to stop the spread of the coronavirus.
April's 23,404 rounds were a 15.8% increase from April 2019, when golfers played 20,199 rounds at Randolph North, Dell Urich, El Rio, Fred Enke and Silverbell golf courses, according to numbers provided to the Star. City courses brought in $809,397 last month, up 16.5% from the $694,418 they earned in April 2019.
The improvements came despite construction at El Rio, which has been limited to nine holes since April 6. City officials were quick to note that comparing months is tricky, since weather — including rain and frost — can impact both the rounds played and money earned. But this April's weather was fairly comparable to last April's, if a bit warmer. The final eight days of the month included temperatures of 90 degrees or hotter.
Tucson's city courses boomed in March, with 24,551 rounds totaling $886,347 in revenue.
By the start of April, Tucsonans had already had a few weeks to get used to the stay-at-home order. Golf remained an essential service, however, and that showed in the continued play at the five city-run courses and many others throughout Southern Arizona.
In March, Tucson City Golf officials instituted several coronavirus-related precautions, including requiring all golf shop and guest service employees to wear gloves and stock their workstations with hand sanitizer. Restaurant and maintenance employees began sanitizing their hands and equipment more frequently, and the doors to golf shops and restrooms were propped open to avoid contact with door handles and surfaces.
Several restrictions were also put into place, including the institution of a strict one-person-per-cart rule.
Tucson Parks and Recreation Deputy Director Greg Jackson said that now that the Gov. Doug Ducey has started to lift restrictions, so will Tucson City Golf.
"We will start to lift some restrictions, allowing two riders in a cart if they so desire, allowing people in the restaurant with plenty of distance between them," Jackson said in an email. "We will continue with no sand trap rakes and cups upside down so golfers don't need to touch the flag."
Workers will also continue to sanitize door handles, countertops, faucets and toilets on a regular basis.
It's unclear if city golf's upward trajectory has continued into May. With the stay-at-home order lifted and gyms, public pools, malls and theaters slowly opening to the public, golf has perhaps lost its captive audience. And history has shown a sharp decline in rounds played during the summer months.
Be the first to know
Get local news delivered to your inbox!