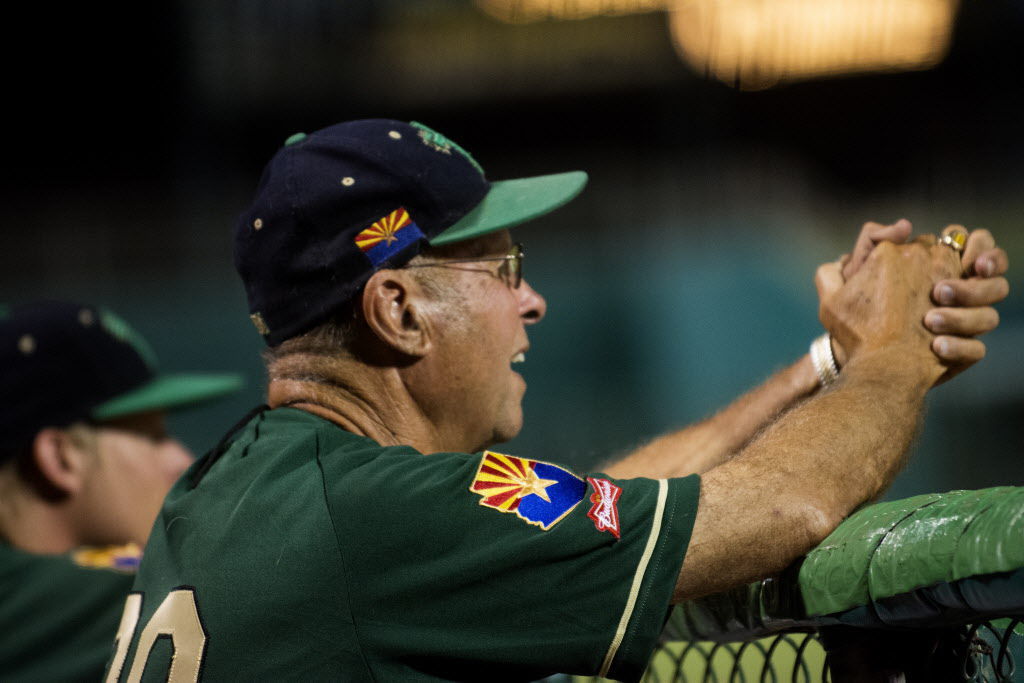 J.D. Droddy knows a thing or two about second and third acts, but even he could not have foreshadowed this.
You'll find great stories in every minor-league baseball dugout the country over, tales of wayward paths and missed opportunities, guys who have been kicked to the curb only to find joy in the game once more.
What you don't find is managers like Droddy, whose baseball odyssey began way back at the ripe old age of 67, five years ago, when all he was trying to do was help a fledgling league find some support.
He's been a pilot and a military officer and a lawyer and a teacher, and in his first retirement, he took up playwriting and ballet writing. Baseball, though, has taken him back to Tucson.
He's 72 years old, 30 years removed from a two-decade career in the Air Force that took him all over the world, now in the twilight of his life. These are the golden years, they say, and he's spending his summers, his final professional chapter, like he never could have guessed: leading the first-year Tucson Saguaros to the best record in Pecos League history.
Originally, Droddy just wanted to help out.
Retirement had treated him well — he was enjoying composing music and plays — but in 2011, Droddy read an ad in the newspaper that a minor-league team named the White Sands Pupfish was seeking host families in Alamogordo, New Mexico, where he and his wife, Judy, had lived for the previous nine years. They jumped at the chance, originally planning on hosting one player, but, Droddy said: "I watched them play a little bit, and I told the manager, 'I want that one, that one and that one,' " almost as if he were taking home puppy dogs. They loved it, though. Bonded with the players. They still chat.
He'd been a baseball fan ever since he could remember, growing up cheering on Teddy Ballgame and Stan the Man. He grew up in southeastern Texas — he remembers seeing the third game in the history of the Houston Astros (then Colt .45s) organization — but his town didn't have a baseball team past Little League, and there was no high school team, so his baseball fantasies ended prematurely. Later in life, he'd head to Tucson for two weeks in March for spring training games.
But this was no Joe Torre in the lurking.
The Pecos League expanded to Trinidad, Colorado, in 2012, and Pupfish assistant coach Justin Lowery was put in charge of the newly formed Triggers. He asked Droddy to be his bench coach, even though he had no previous baseball coaching experience. Lowery was removed from the job midseason, and Droddy was named interim manager.
In 2013, he led the Triggers to the playoffs, and back again in 2014.
Droddy had found his calling. Or, rather, his seventh or eighth calling.
Judy said his friends call him a renaissance man.
He is, you could say, a man of many hats.
During his stint in the Air Force, he served many roles at a base in Korea: deputy base commander, inspector general, chief of logistics.
"We wore baseball hats with our fatigues, and they had your job written on the side," he said. "I had four or five actual job titles, and different hats for each. The chief of maintenance had one made for me, and where the job title goes, it just said, 'Etcetera.' "
He wears just one hat now, with a big cactus on the front.
It's Tuesday afternoon, and the monsoon is wreaking havoc with the Saguaros. Droddy sits down for lunch lamenting the fact that his first two practices for the week were rained out, and that the team will have to open the divisional playoffs against the visiting Roswell Invaders on Thursday at Kino Stadium with relatively little preparation.
This one, he wants badly.
He came so close to a championship with the Triggers but fell short both years after much of his talent was picked up by higher leagues late in the season.
The Saguaros enter this series as the clear favorites after winning a Pecos League-record 51 games, their roster largely intact. Win two of three, and they advance to the championship series, where they could meet Droddy's former team, the Triggers.
Droddy retired from the squad after the 2014 season; he'd grown tired of life on the road for chunks at a time in the grueling schedule of the Pecos League, where they played 70 games in 72 days. Commissioner Andrew Dunn so trusted Droddy, though, that he asked him to become the adjudicator for the league last season, settling contract disputes, disciplinary issues and intraleague squabbles.
The league decided to add a team in Tucson this year while shutting down the team in Bisbee. Droddy couldn't pass up a chance to spend the summer in town. He knew Kino Stadium well, and Judy was game, so they packed up the RV and headed to Tucson, setting up shop in the Prince of Tucson RV Park.
"I've got a swimming pool here, a puppy I take out for walks," Judy said Wednesday. "This is a great vacation for me."
It's all business for Droddy this weekend, though — the business of baseball.
Even though for Droddy, so little of the business of baseball is actually baseball.
Most of minor-league baseball is a dictatorship, and the manager is lord, captain, general and president all wrapped into one.
Except in the democratic Saguaros dugout.
Droddy, as he says, bears no false illusions.
He quotes Clint Eastwood as Dirty Harry: "A man's got to know his limitations. I know my limitations. I know what I can and can't do. My strength is I find the best players in the country; I hire the best coaches in the country."
He leaves the pitching to Ben Baker, one of his own former players, who is nursing a torn labrum but hopes to return to play next season. Mitch Wolfe, a Phoenix native who played collegiately at Eastern New Mexico, handles the hitters.
"He relates really well, and I think the way he does that is he never talks to a guy about his swing — I talk to a guy about his swing," Wolfe said. "He'll talk about how to act on the road, about being a professional, and that's stuff that applies to all walks of life. He leaves us to talk about the mechanics."
Wolfe concedes that Droddy has "sneaky knowledge, more than you'd expect from a guy who hasn't been in the game." But you sit in a dugout a few years, and you pick up a few things.
One thing Droddy hasn't picked up is an ego, which sits well with his relaxed players.
"He's by far the most laid back coach I've ever had," speedster Burnell Dailey said. "As a professional, when a coach gets you, he knows you can play. He's a student of the game. But playing for someone like J.D., it causes less stress. Someone's not breathing down your neck. I've been on teams where the coaches flip out. That's not him. He approaches people respectfully."
Droddy has earned the players' respect not only by giving them respect back, but by displaying an acumen for the game. The fact that he's won at every stop helps, too.
"Coming into spring training, seeing the guys he hand-picked to be on the team, that was the major thing that gave us trust," catcher Jesse Baker said. "We had depth at every position, everyone as good as the next man. The first couple games, there was a close call, a bang-bang play, and he was right in the umpire's face."
Sounds pretty good, huh? Big-league material, maybe? If only this were a few decades ago, who knows?
"I'm sitting in a dugout that Ozzie Guillen and Kirk Gibson sat in," Droddy said. "But I have no illusions."
Only in the Pecos League, it seems.
"I tell guys when I recruit them, 'We're a low-pay, high-opportunity league,' " he said. "We're the gateway to pro ball."
"Yeah, well," Droddy said. "I'm just not interested in going any further than the gate."