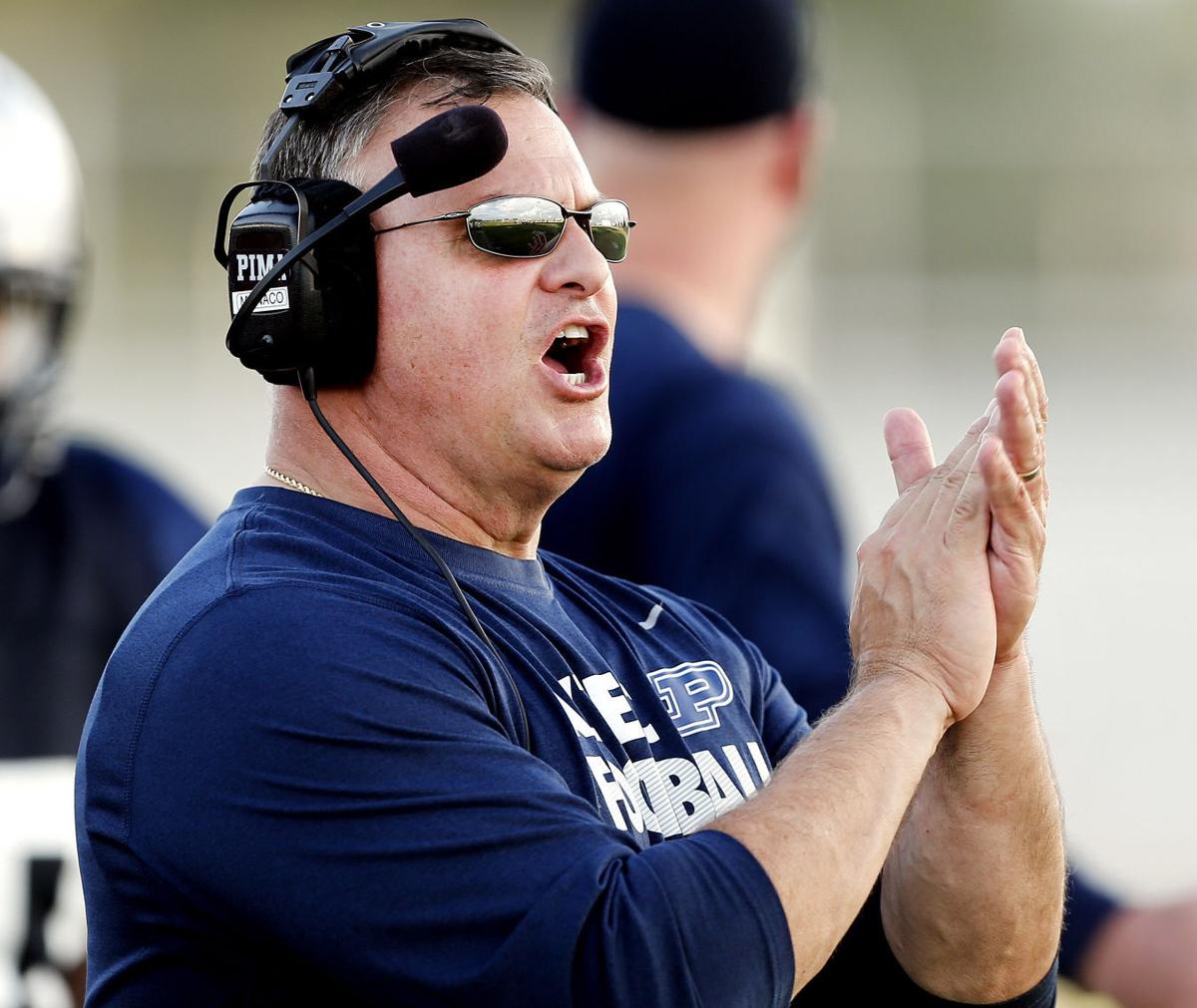 A junior college spring football game is a curious thing.
At a four-year school, positions can be locked in over two, three, even four years. For many players, spring ball is just a reaffirmation of their standing.
Pima Community College coach Jim Monaco saw plenty in last weekend's spring game. But he didn't see everything, and he won't until the Aztecs' new crop comes into town in the fall.
"That's a question I'm always drilling the coaches about, and that's the most pessimistic side of me: We talk about who is coming in, and we haven't seen them bust a grape yet at this level," Monaco said. "We probably have to project more than they do down the street at UA."
developed offensive line that should help ease Pima into an unsettled quarterback situation. With stalwart running back Deontay Townsend departed, the Aztecs are going to need to manufacture a ground game with returning Sirgeo Hoffman. Monaco was impressed with Pima's size up front.
"Our offensive line was very capable this spring — they did a better job than we thought they were going to do," he said. "Looking at what we have coming in, we feel very good there."
Monaco also added that the "linebacker and safety corps are extremely strong," but said, "everything else is wait-and-see."
That includes the passing game, as the quarterbacks and wide receiver positions need some seasoning. That's part of the reason Pima managed 79 offensive snaps in the spring game.
"We know we have to shore up our wide receiver position," Monaco said. "That was a big deal. We have to make sure our quarterbacks are in the classroom a lot. Having Antonio Hinojosa and Donovan Moore gone, we don't have a lot of experience at this level. It was kind of hard to swallow. A couple kids have stepped up, and we still have a young QB class."
Quarterbacks Caleb Murray-Thomas, Montana Liana, Emilio Araiza and Calvin Jenkins split snaps during the spring.
"We gave everyone an opportunity," Monaco said. "We needed to see who was able to step up, and who was going to step out."
Hong named player of the year
Golfer Desiree Hong capped off a terrific regular season with a win at the hometown Pima Invitational, securing ACCAC conference player of the year honors after her fourth title of the season.
The Aztecs secured a second-place finish for the fifth time this year, trailing just Mesa Community College. Freshman Samantha Hacker took home second-team All-ACCAC honors after finishing in fifth place (157), and sophomore Adriana Moreno was named second-team All-ACCAC after finishing with a two-day 166.
Baseball sends 5 to 4-year schools
Five Pima baseball players have signed scholarships to play for four-year universities, including one star who will ply his trade in the Pac-12.
Ryan Ramsower, a sophomore infielder batting .358 with 36 RBIs, signed with Washington State; infielder Ivan Estrella signed with Texas Rio Grande Valley University in Edinburg, Texas; infielder Marcus Catalano signed with Angelo State in San Angelo, Texas; and infielder Al Cruz and pitcher Daniel Tolano will play together at Tennessee Wesleyan College in Athens, Tennessee.