Before Pima College's home opener on Sept. 29, Marlon Hall set up his usual tailgate outside Kino North Stadium. Only seven people joined him.
By the second home game a week later, the pregame crowd swelled to 30. Hall hopes more people will come out Saturday, when the Aztecs (4-1, 3-0 ACCAC) host Air Force Prep at noon in a game that's been relocated to Cholla High School.
Hall admits he would tailgate alone if he had to. It's a tradition.
The father of Aztecs defensive back Derik Hall has been turning his children's sporting events into parties for more than 20 years. He does all the work and pays for all the expenses himself.
"I've never missed a game," said Marlon Hall, a San Manuel native. "And I always tailgated from the time (Derik) was in (Tucson Youth Football), to when he was in high school, until he was in college. We're still driving."
Hall started the tailgates when his oldest daughter Logan started playing flag football as a child, and continued the tradition when Logan moved on to play at Texas Tech following a stellar softball career at Sahuaro High School and Pima College. That meant repeated drives from Tucson to Lubbock, Texas.
It wasn't just for Logan, either: Marlon Hall tailgated before younger daughter Kaila's softball games and — of course — has been following Derik throughout his accomplished sports career.
Derik Hall shined at Sahuaro, where he was named the Star's Defensive Player of the Year in 2014. From there, he signed with Northern Arizona and spent a year with the Lumberjacks before transferring home to Pima.
Derik's dad was a constant presence.
"I went to Texas. I went to California. I went to Montana — he was there," Derik Hall said.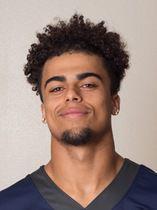 The parties will end, at least temporarily, following the 2018 season. Pima's football program has been cut for budgetary reasons, meaning the team has just two regular-season home games left: Saturday's game at Cholla and next week's game against Eastern Arizona at Kino Stadium. After that, the Aztecs will finish out their regular season with games at Snow College (Utah) and Arizona Western.
Derik Hall has been one of Pima's top players. The 6-foot-1-inch, 205-pound defensive back has 41 tackles, one interception and seven pass break-ups through five games. Hall wants to pursue a four-year football program following the season. His dad is sure to follow. And when Derik's done, Marlon Hall has grandchildren to support. His oldest is 7.
"My parents did it for me when I played football, so it's almost like a hand-me-down thing," Marlon said. "And we just keep it going."