The countdown clock to the Tucson Sugar Skulls' season-opener continues to tick away.
By the time they team takes the field March 3 in San Diego, the Sugar Skulls will have practiced for three-plus weeks. Coach Marcus Coleman will have cut down the roster significantly, leaving only the players he thinks can help Tucson's professional football team in its inaugural season.
Until then, Coleman and his staff continue to tinker. The Sugar Skulls released quarterback Domonique Harris and wide receiver Bryan Miller, both first-year players from Benedict College. Tucson also added three players from the rival Arizona Rattlers: defensive lineman Michael Kluge, quarterback Matt Behrendt and offensive tackle Ryan Schmidt.
Off the field, Coleman and the Sugar Skulls have reached out to the community and have gotten comfortable at their new headquarters.
Last week, Sugar Skulls players met fans who were interested about the team at a local bar. On Tuesday, the Sugar Skulls held a select-a-seat event at the Tucson Arena; there, season ticket holders were allowed to pick out their seats for the upcoming season. The team's choice of a nontraditional field color — light gray — went viral.
Coleman talked to the Star's Justin Spears on ESPN Tucson's "The Sports Exchange" earlier this week to talk Tucson, turf and more. Here's a lightly edited version of the interview: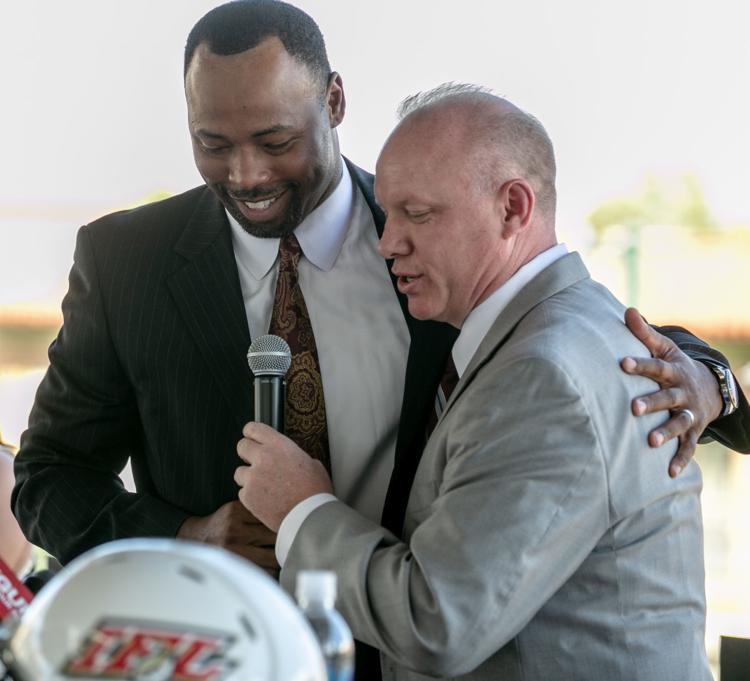 Since last week's scrimmage with the Arizona Rattlers, have you noticed anything different about your team's confidence?
A: "Yeah, I think I have. They're really starting to get the playbook and guys offensively are getting better at their assignments in terms of route-running and who to block on certain runs and things like that. Defensively, the coverage has gotten better in regards to technique and we've added one or two things here and there since the scrimmage and they've adjusted to it well. Being able to scrimmage a team like Arizona — particularly for the young guys on our team and seeing the team speed at the level that it should be — helped us out a lot. It's very good to see and it gives me confidence in the guys we currently have."
How close are you to having a finalized roster?
A: "Right now, we're still evaluating until 48 hours until we play next week. We'll probably still be bringing some guys in and release some guys."
Is releasing players a task you're learning to deal with?
A: "I've never had to do it as a defensive coordinator; that's the job of the head coach. For me, it's nothing personal. It's just business. We need to make sure that we have the right guys in here that's going to help us win. It's nothing with me not liking the player or holding a grudge against a player. Honestly, from my professional experience and playing in the NFL, it's not that hard for me to be able to do those things. I've been on teams where guys were coming and going every single day. You get used to seeing that and that's just the nature of the business."
The Sugar Skulls have been engaging with Tucsonans. How important is it to establish a healthy relationship with the city?
A: "It's very important. We are a part of the Tucson community. Although we come from different states and different cities, we all have a common goal here and that's do whatever we can to bring a championship to Tucson, and we want to be a part of the community and do outreaching whether it's helping adults or helping children. … For the six to eight months that we're gonna be here, we are citizens of Tucson. We want to make sure we do everything to get out. The best way of being a human being is to serve others so helping other people, talking to people so extremely important not just from the perspective of the team and the organization itself, but just as a human being. And people need to see at the end of the day, we're just human beings as well. Everybody has some kind of problem in some kind of way whether it's family or work so we just want them to see we're just as normal as they are."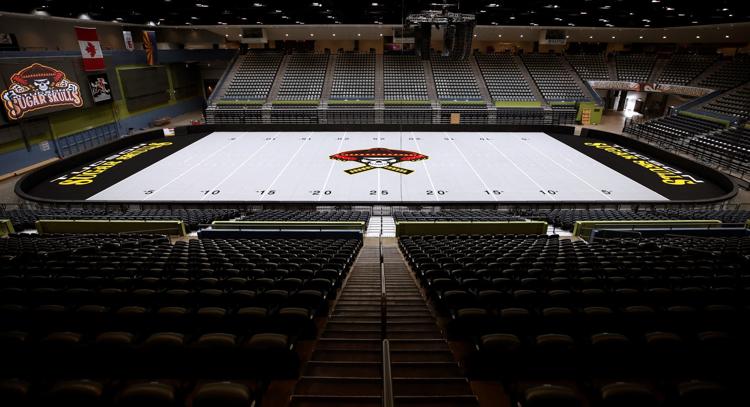 How has the reaction been from the city with the Sugar Skulls getting ready for year one?
A: "So far it's been positive. From the time we got here and when the time was announced, from the field release, it's been great. A lot of people came out to that and bought merchandise, and they're excited to come out to some games, get their faces painted and be a part of everything that we're doing. The city has accepted us well and we really appreciate that support. We always wanted to make sure we gave back to the city and we want that support as well, and to support these young men that are not only looking for an opportunity but to get promoted to a higher level whether it's the CFL or the NFL. … We couldn't be happier with the way everyone has tried to help us out and try to be a part of what we're doing."
Did you have an influence on designing the Sugar Skulls' gray turf at Tucson Arena?
A: "I love it. (Owner) Kevin (Guy) and I were just kinda sitting around and throwing things up against the wall in regards to the color scheme and he asked me what color of the turf did I like … I didn't want just a normal green turf. I thought it needed something with a little bit of color and some pop. In my gut, I knew he was going to go with the gray. I wasn't surprised to see it, but it looks amazing. It's a really nice field. For anyone that hasn't seen it up close and personal, they're going to be really happy with the way it looks. All the players love it. It just stands out."