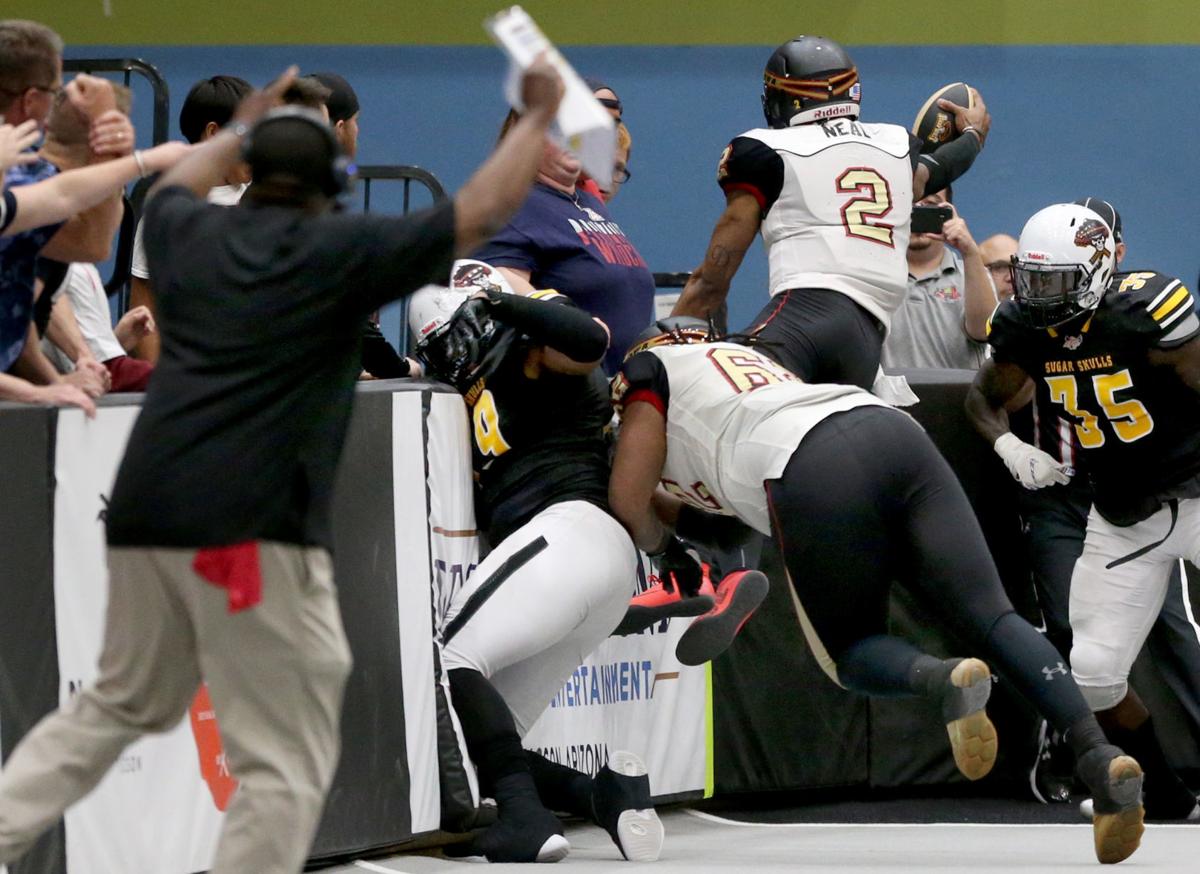 The Tucson Sugar Skulls dropped their fourth straight game of the season on Saturday, when they fell 61-58 to the reigning Indoor Football League champion Iowa Barnstormers.
Tucson (3-5) scored on every drive until its first offensive possession in the fourth quarter. With just over eight minutes left in the game, Sugar Skulls quarterback Jake Medlock connected with wide receiver Shaq Curenton for a touchdown to give Tucson a 44-34 lead.
The Barnstormers then scored four touchdowns on the way to a come-from-behind win.
"This one hurts a little bit because we were up big in the fourth quarter," Sugar Skulls linebacker Zach Allen said.
The Sugar Skulls will play the San Diego Strike Force this week. Here's everything you need to know:
Defensive struggles: Tucson is averaging 275.3 yards per game, the most in the IFL. It's the Sugar Skulls' defense that needs work: Tucson has allowed 644 yards in the last two games; 512 have come through the air. The Sugar Skulls are allowing 183.9 passing yards per game, last in the IFL.
Barnstormers quarterback Daquan Neal completed 19 of 26 passes for 265 yards and five touchdowns. His favorite target, wide receiver Jazeric Peterson, averaged 18.6 yards per catch.
"We're in the right defense, got the right coverage calls, we're just not making the right plays," Sugar Skulls coach Marcus Coleman said. "With penalties, we're still not quite there and we're still not mature enough to understand we can't make mistakes against good teams, whether it's Iowa (Barnstormers) or Arizona (Rattlers)."
With Tucsonan and starting cornerback Cam Gaddis out against Iowa for unspecified reasons, the starters in the secondary were Edward Burns, Dee Maggitt Jr., Dominique Harrison and Micah Eugene Jr. Leading up to the Iowa game, the Sugar Skulls released defensive backs Carlos Anderson and Texas Tech product Nigel Bethel.
Coleman and the coaching staff met earlier this week to discuss other possible personnel changes.
"It's up to us as a coaching staff to get the players ready, and for the players, they have to go out there and perform," he said. "That's not happening to the level we expect, so if we have to make changes to get it right, we will. If we feel like we can win with the bunch we have, then we'll do that as well."
Like Mike: Mike Jones has been one of the bright spots on Tucson's offense. The rookie leads the pass-happy IFL with 61.4 rushing yards per game. He rushed for a season-high 109 yards and three touchdowns last week. Jones is just one of three players in the IFL to rush over 100 yards in a game this season.
"That was a huge part of the game plan," Coleman said. "We knew we'd have some success doing that, and we were very successful running the ball."
Costly no-call: Iowa's final score came on arguably the most controversial play of the game. Tucson held a 58-54 lead before Neal ran in for a 5-yard score with seven seconds left on the game clock. Just before Neal crossed the goal line, Iowa offensive lineman DJ Loving had a hold on the outside portion of Sugar Skulls defensive end Robert Metz's shoulder pads and yanked on his jersey. Coleman threw out the red challenge flag, asking officials to review the play on video, but was told that wasn't allowed.
"Every other team in this league is challenging holding," Coleman said. "Obviously we didn't get the update that we can't do that anymore. I'll take it up with the head of officials and talk about it with him. I'm sure he'll let me know what's going on."
Sinking in the standings: After losing four straight, Tucson is in seventh place in the IFL standings. Six teams make the playoffs.