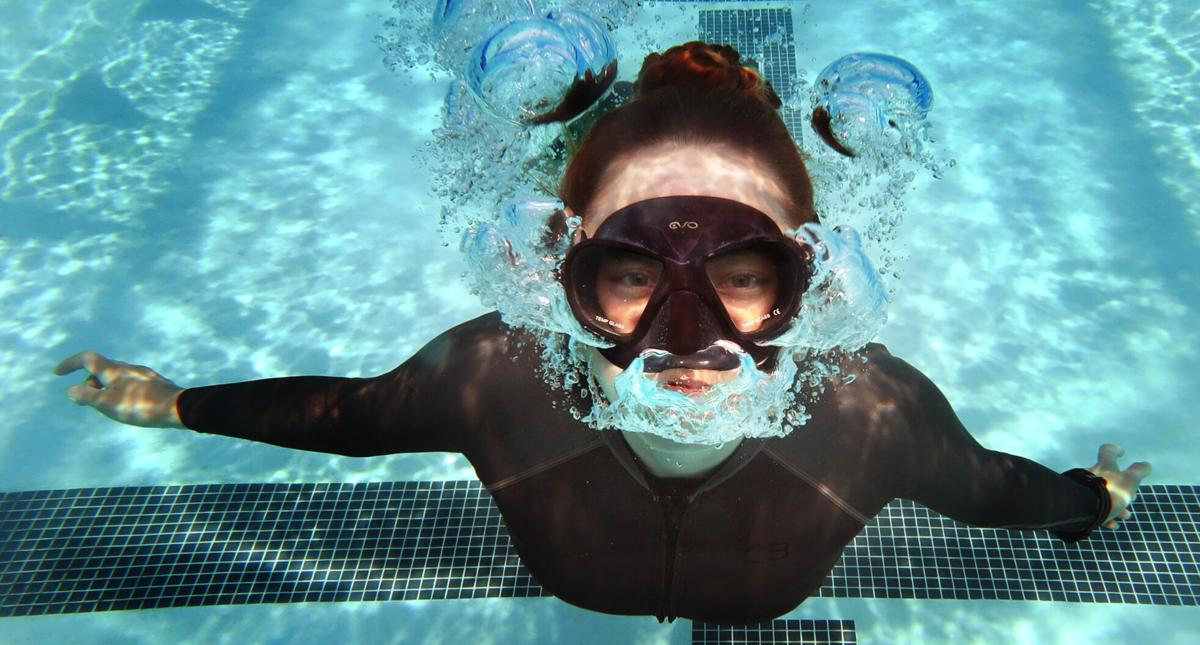 With humidity hanging in the hot afternoon air like a soggy blanket, visitors at the Oro Valley Aquatic Center were quick to strip down to their swimwear and hop into the pool.
Melissa Ponder bundled up.
The petite 30-year-old was methodical as she stepped out of her street clothes and slowly pulled her black and grey wetsuit over her swimsuit, until all but her hands and feet were covered. She slipped her feet into socks to prevent blistering by her slender swimming fins, then clipped a weight belt around her waist. Ponder then pulled a full-face mask over her eyes and nose and finally hit the water.
Ponder wasn't at the pool to swim — at least not in the traditional sense. She is training for her next freediving competition, still basking in the glow that comes from becoming the first U.S. citizen to set a World Underwater Federation record. In April, she dove 70 meters — roughly 230 feet — without using breathing devices.
"It's pretty exciting for me to be one one to do that. I'll always be the first one. People will break my record, but I'll still be the first one to do it," Ponder said, adding that she believes she's the only woman in Southern Arizona who competes in freediving.
Records are overseen by two international governing bodies: the World Underwater Federation (CMAS) and the International Association for the Development of Apnea, (AIDA.) Within those bodies, freedivers from the United States compete within the U.S. Freediving Federation and USA Freediving, respectfully. Each body has a different set of rules, and freediving itself is split into several disciplines, with the two main disciplines being pool and depth. Freedivers hold their breath rather than relying on oxygen tanks used in scuba diving.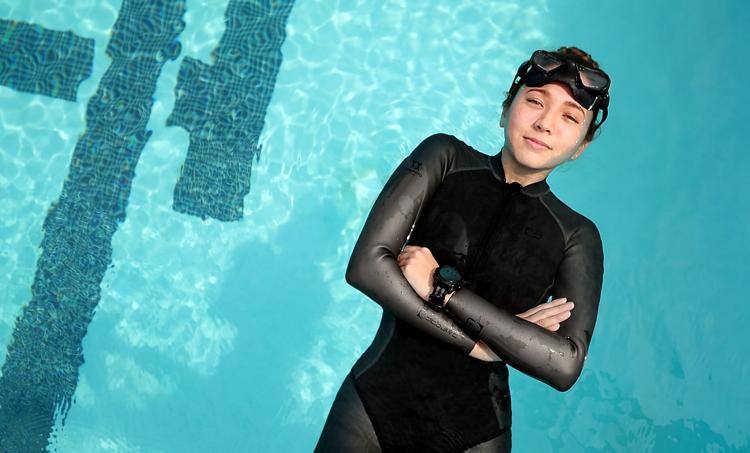 Ponder grew up in Monterey, California, and was always in the water. She moved to Tucson in 2014 after graduating from college, with the main appeal being the weather.
"I like the heat a lot more than the foggy coast," Ponder said. "And I liked Arizona a lot, but I did start to miss the water, so I decided I needed to get into some kind of water activity."
Ponder snorkeled and participated in scuba diving as a kid, but wanted to try something new. She recalled an Australian kids' TV show about mermaids called "H2O: Just Add Water," in which one of the characters was a freediver.
"I decided freediving sounded like a cool thing to do," Ponder said.
She started looking into local dive shops in 2018, and found only one in Tucson that offered freediving courses: 72 Aquatics, 3110 E. Fort Lowell Road.
Ponder asked about the date of the next class only to be told that they'd rarely been asked to teach it before. Ponder told them she was interested, and 72 Aquatics set up a course.
Ponder was quickly hooked.
"I started traveling to dive in different places, started training really hard and I started competing," Ponder said. "This is the sport I've been needing to do my whole life."
Ponder worked her way up to to become a Scuba Schools International freediving instructor, and entered the competition circuit in 2019.
Her freediving career has been short, but fruitful. In addition to the April variable weight world record that Ponder set in a freshwater sinkhole in Leona Vicario, Mexico, she also holds U.S. Freediving Federation national freshwater depth records in two categories (constant weight without fins, 38 meters; and variable weight, 60 meters) and a national record for pool freediving (dynamic with a monofin, 114 meters.)
The disciplines are very different: In variable weight dives, divers are pulled down a line by weights and then release them at the bottom and "fin" their way back to the top. In constant weight, divers bring up the same amount of weight they take down, wearing weight belts to help compensate for their wetsuit's buoyancy. The "dynamic" discipline, meanwhile, is all about movement.
While Ponder competes in every discipline, variable weight freedives are no longer done in competition, as they're considered dangerous. When a person wants to break a record in the variable weight discipline, he or she must organize their own record attempt, as Ponder did this spring.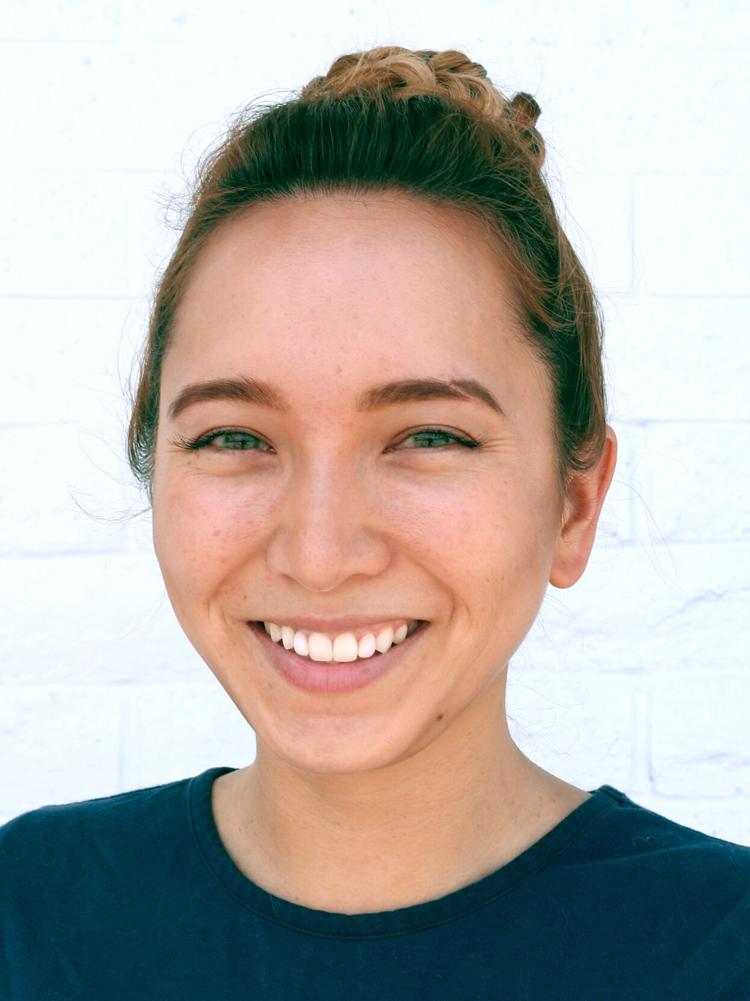 Last year, Ponder was the highest ranked diver in the United States through the International Association for the Development of Apnea, according to USA Freediving. Freediving has become being Ponder's full-time job, thanks to three sponsorships. She schedules her training around competition or record attempts. She traveled to Mexico at the end of January, months ahead of her April record attempt, so that she'd have as much time as possible on site.
After taking first place in competition, Ponder and another freediver set out on their four-day record attempt run.
On the first two days, Ponder broke national records. She broke Turkey's previous world record of 68 meters on her third day. And on the fourth?"I attempted to break another world record, but I blacked out," Ponder said.
Her oxygen levels fell so low that Ponder's body shut down to protect her from inhaling water.A few weeks later, Ponder was back on the competition circuit in Florida, where she set her national record for pool freediving. She plans to travel to Mexico in September and Hawaii in October.
Ponder does most of her training in Tucson, saying it's the perfect place to learn the sport given the high volume of pools. Finding a training buddy is harder, as there are so few freedivers in the city.
Ponder trains two or three times a week in the pool, practices "dry" breath training at home and hits the gym regularly to work on cardio. Ponder films her pool sessions, then watches her technique afterwards.
Ponder is coached by British record-holding diver Harry Chamas, who lives in Dahab, Egypt ' one of the top freedive training locations in the world — and coaches Ponder remotely. Chamas and Ponder hold video chats to discuss her training regimen. She sends him videos of her technique for his evaluation.
Ponder said she loves the physiology behind freediving, but that isn't what keeps her coming back.
"I like that it takes me to all these exciting places that I would never gotten to see if I hadn't started freediving," Ponder said. "I get to see these places most people never will see. I get to go deep underwater into caves and look at all these fascinating places that are pretty much unexplored by most of the populations. And also the experience with different aquatic mammals has been amazing."
Ponder calls the opportunities to swim with dolphins, whales, sharks and manatees a blessing.
She's hopeful that freediving will become an Olympic sport, saying it's a possibility for 2028.
Until then, she's got her eyes on the competition circuit — and beating her own record.
"I think I already can," Ponder said. "If I have an opportunity to, I will."
Contact reporter Caitlin Schmidt at 573-4191 or cschmidt@tucson.com. On Twitter: @caitlincschmidt