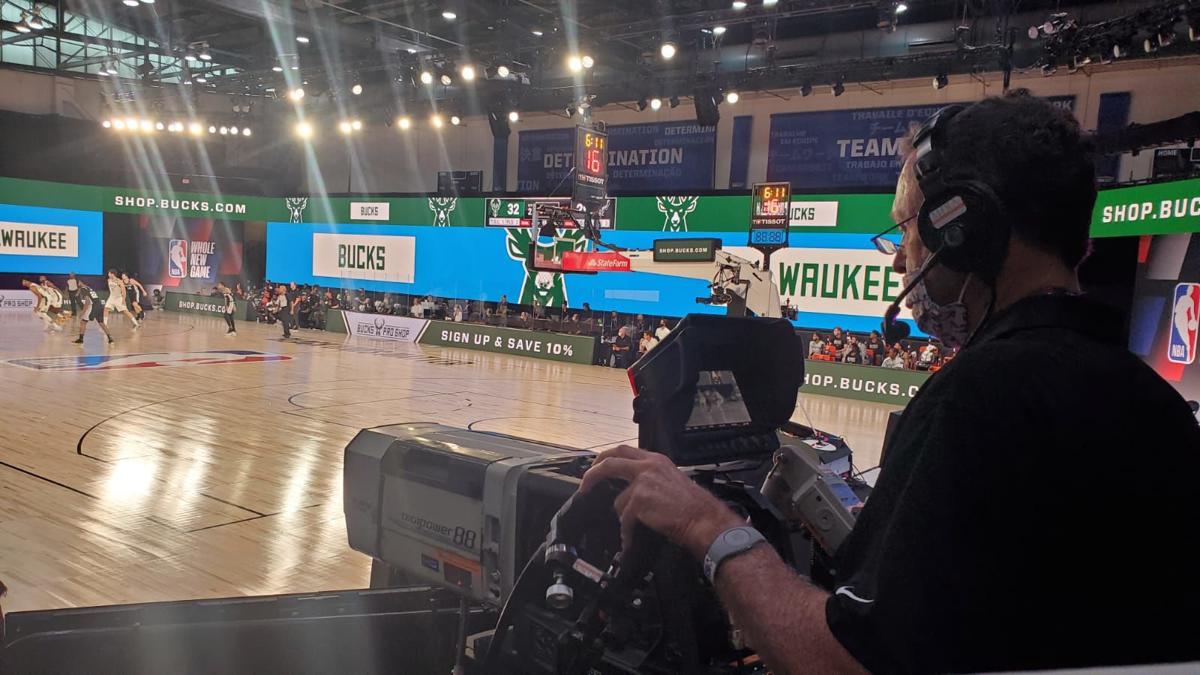 After seven days of quarantine inside a Disney World hotel room, daily coronavirus tests, mandatory monitor-wearing — and a brief fishing encounter with all-star Paul George — Tucson cameraman Darrin Pierce has reached a conclusion about the restarted NBA season.
That is, whoever wins the championship might not be the team you expect.
"I was out on one of the walkways that goes into the middle of the lagoon with my fishing pole and (George) walks over with his fishing pole," Pierce said. "Everyone stays apart, and I didn't ask him any basketball questions, but I did ask him how he was dealing with being in a bubble. He said 'It's a mental change.'
"So that's what I think. I don't think the best team is gonna win this. I think it'll be the team that's the best mentally prepared because the players' lifestyle has been altered incredibly under these circumstances."
So have the lifestyles of crewmen such as Pierce, the Tucson-based cameraman who is working for Turner during the NBA restart.
Often seen at McKale Center working a hand-held camera under the south basket near the UA bench, Pierce, 60, is now operating a "slash" camera near the corner of the floor for Turner-produced NBA games in Orlando. That means he's been put inside the same "green" bubble as NBA players and coaches, and thus is subject to the most restrictions — and the least amount of recreational opportunities.
It's pretty much the opposite of his normal existence, in which he's either roaming the country doing freelance sports camera work for ESPN, Fox and Turner or chatting up folks at the Oro Valley brewpub he operates, Growler USA.
"COVID has taken a toll on everybody, but in this particular bubble — which he's proud and honored to be a part of — the toughest thing for him is not being able to go out and talk to people," says Pierce's wife, Deidre. "He's just such a social guy."
So even for somebody who filmed air-to-air missile launchings from the backseat of a F-18 fighter jet during a 31-year Raytheon career and recorded exhausting football scenes in triple-digit heat at Sun Devil Stadium for the 1996 movie "Jerry Maguire," life in the NBA bubble been something else completely.
"I would say this is by far the most unique, because it's never been done on this scale," Pierce says.
In a phone interview with the Star this week, Pierce detailed life inside the "green" bubble, where his Turner work could last until Sept. 29 before ESPN and ABC carry the NBA Finals.
In off hours, he is free to roam Disney's Coronado Springs Resort but only after spending one quarantine night at the Waldorf Astoria upon arrival and initial testing, and then spending another seven locked inside his Coronado Springs room.
"For the first three days, they drop the food off at your door. I had an envelope that I had to have mailed, and when the guy came to pick it up, you could have sworn I was handing him nuclear waste. He was in a full (hazmat) suit and he grabbed it with one of those 6-foot-long prong things. I had to make sure I put the envelope in a plastic bag and all kinds of crazy stuff. But those are the rules that they put forth."
Also during "the first two days, someone comes up and gives you a COVID test in the doorway, then you close the door and go back in there and wait for the next day. After the second or third day, they said, 'OK, now you can get your COVID test over in one of these two casitas,' which luckily for me was just around the corner from my room. Well, that day one of our guys decided he was going to break the rules a little bit and not go directly back to his room. Then he had a discussion with one of the NBA security people and he was asked to leave the next day. That's how we learned that we don't question anything. We're gonna do what has been assigned to us. … We feel pretty damn fortunate to be able to do whatever they allow us to do."
During quarantine, "I was able to do some of the (Growler USA) business. Every morning I'd order beer or do timecards or something related to the business. So that kept me busy. And then I would start watching things on Netflix, because you could stream your tablet to the TV screen in the room, which was a big plus. But then I also realized that this is a very unique situation, so I started chronicling every day. I'm writing five pages a day on my experiences here, not so much on what I've done every day, but things that other guys have told me that have happened to some of them."
Pierce said he had to wear a green bracelet during his short walk to and from the daily testing area, signifying he was still in quarantine, until the seven days were up. Then he traded it for a credential embedded with a proximity sensor and other required equipment.
"We have the same restrictions as the players (inside the green zone). We get tested for COVID every day. We have to do an NBA health app every morning when we wake up, which checks our oxygen levels and our temperatures, and we also wear contact-tracing proximity sensors. It's inside of our credentials, which we have to wear everywhere we go. It'll beep if you get too close to somebody, and then it reports out on who you beeped against. So if one of us were to come down with something it knows, 'OK, well, Darrin was close to Steve and was close to Bob' and all this information is fed into a wristband that we wear.
"Every so often there's checkpoints where we go. We have to stick our wristband on this sensor, and if it turns green then we're good to go. But if it's a different color, we get pulled aside. It's a reading that lets NBA officials know you are up to date on your COVID testing, that you haven't had any positive tests and that all your readings on the NBA heath app are within the boundaries of being satisfactory."
Pierce says all that makes him feel like he's never been in a safer environment than he is inside the green zone, although it is still limiting – even more so for camera operators. While players are allowed to bowl and golf, and even referees are also allowed to golf or hit the driving range, TV staffers in the green zone are limited to fishing, pickleball, weightlifting, limited bike rides and a ¾-mile running track.
"We did a little makeshift Wiffle ball baseball game (recently), all of us guys in the green zone. But the players can do more than the referees, who can do more than the rest of us. We are only allowed to stay within the confines of this resort, or get on the bus and go to the Wide World of Sports Complex where the three arenas are. And in those arenas there are pathways where only the green people can walk in, so it keeps us separated from the yellow people, which keeps them separated from the red people."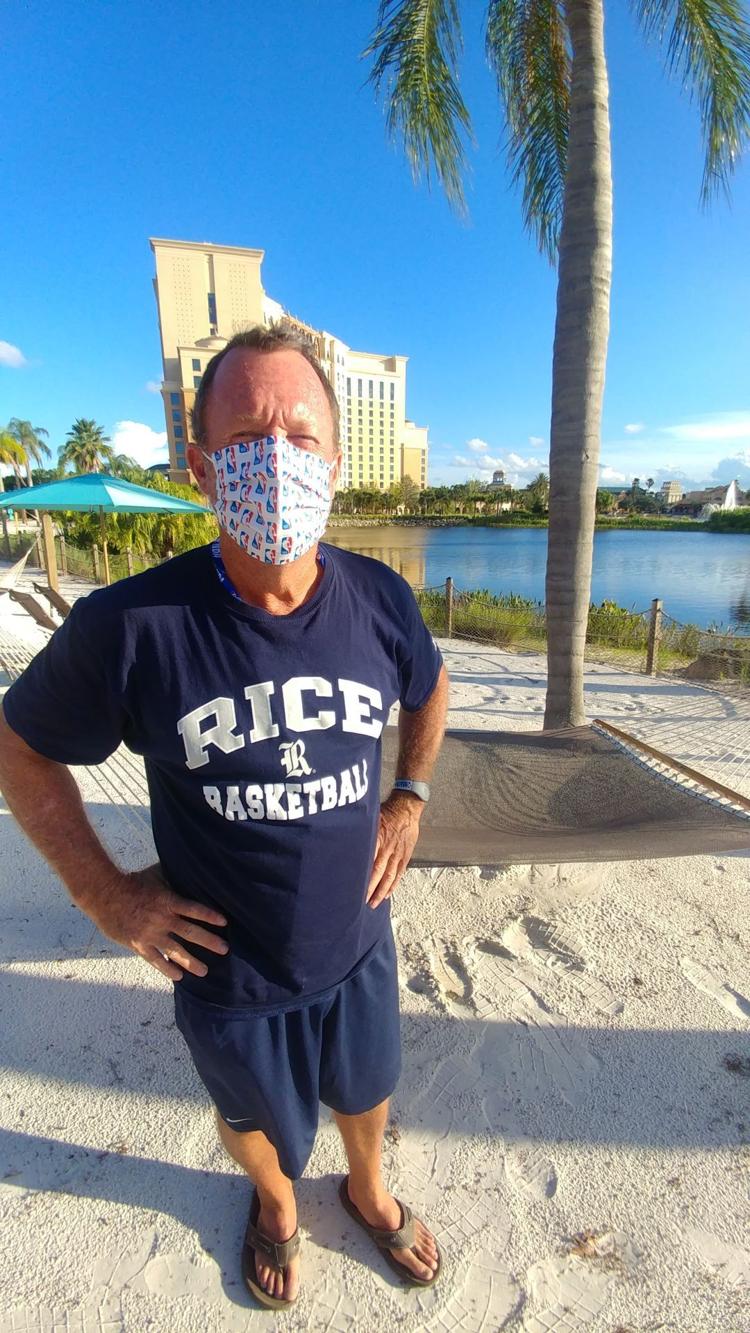 Yes, there are green people, yellow people and red people. Pierce explained.
"The yellow ones are allowed in the arena but they don't need to be on the floor, like your cameramen who are up higher and the announcers. And red is not allowed in the complex at all. They've got to stay out where the television trucks and stuff are."
About 10 cameras are used for national broadcasts in Orlando, including robotic cameras underneath and on top of each basket. There are other robotic "beauty" cameras for wide shots of the arena or shots of corridors where players walk in. The fact that Pierce was selected to operate a slash camera near the floor is not only a prestigious post, but also gives him freedom to follow action or emotion that might be happening off the ball — particularly in the unusual setup of the fan-less Disney arenas.
"The crowd shots are something we don't have to worry about anymore, so we do focus more when there is going to be a great reaction. And players are not sitting on a bench. They're up off of the floor, separated. So before the game starts, we sit there and analyze, 'OK, I know LeBron (James) is gonna be sitting there when he's not playing. I know this guy, that guy, I know where Zion Williamson is gonna be sitting.' So sometimes as a slash camera operator, you can take chances. You don't have to follow the ball all the time. If I have a feeling that something's gonna happen, I can just go sit (the camera) on LeBron on the bench and look for his reaction. And if it doesn't happen, then I just go back to my regular coverage, because we have enough cameras that are following the ball."
But the uniquely lighted Disney arenas are also forcing cameramen to make some challenging adjustments.
"Our slash cameras are usually a little further back, a little higher up, so the angles are a little different. It takes a while to get used to that. Same with the game camera (a wide shot following the action on the court) and the tight camera (which typically isolates a ballhandler or key figure). They're a lot closer than they normally would be. And the fact that they have LED boards all the way around the court, there's a lot of reflection … a lot of these lights are lower than they normally would be.
"I played basketball in Europe after I got out of college, so I went out there on the court and I was just screwing around shooting 3-pointers from the baseline. And the lights were so low, it was almost like you really had to adjust. … These lights are kind of in your field of view while you're shooting a baseline jumper."
Though he can't focus too much on the ambient noise inside the arena — with directors in one ear of his headset and game announcers in another — Pierce said he can pick up some unique sounds in environments that are customized to accommodate the designated home team.
"If a team was normally the home team, then everything on that court and in any of the signage in that arena will all be about that team. The court markings, which will be done virtually, will also be for that team. Even though the players won't see it, the viewers will. They'll also have sound effects and music and that kind of stuff for the home team."
While green-zoned crew are generally asked to keep apart from players off the court, Pierce has run into them on several occasions, while fishing and elsewhere around the resort.
"The Lakers seem to have an event at this restaurant in the middle of the lagoon three times a week, and you see them coming off all together, everyone flocked around LeBron and Anthony Davis. I was sitting in a Jacuzzi and (Toronto's) Serge Ibaka came by and he was listening to music on his phone. I had a Bluetooth speaker. So we put the music on my speaker. He's from the Congo, so there's this kind of different music I never heard before. He told me about that kind of stuff. I see (Lakers assistant coach and former UA star) Miles Simon running around all the time. He's always on the phone or on a bicycle.
"But again, they really want us to stay away from the players. Even though we have access, the NBA is spending millions of dollars to put this on and they don't want anybody to become infected whether it's us or anybody else. So we do our best to distance ourselves."
As a result, Pierce says he has no worries about his safety within the bubble — and wonders more about what life will be like when he leaves. Already he's compared notes with his nephew, Dodgers pitcher Joe Kelly, and says he's skeptical of how baseball will do outside of a bubble.
"I have no concerns at all. The NBA is learning as they're going. I think initially when we first opened up, I thought, 'My gosh, they thought of everything.' But they make changes as they go along, realizing certain things should be done this way. They changed our bus pickup to the arenas, away from where the players' buses were just because they didn't want us that close to the players. I think they've done a fantastic job."
Be the first to know
Get local news delivered to your inbox!