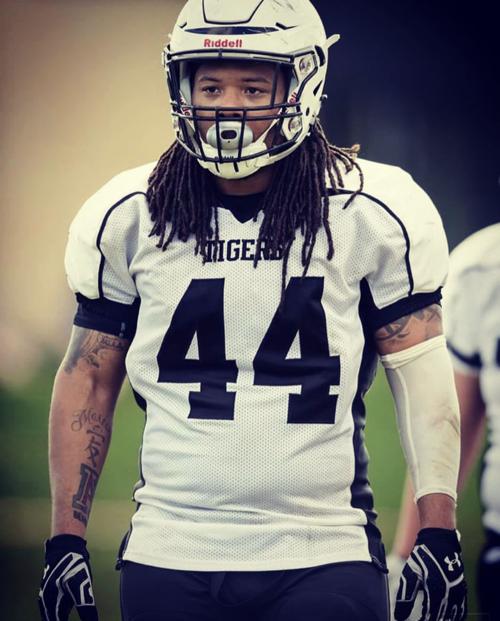 The Tucson Sugar Skulls will take the field in Sunday's franchise opener with four homegrown players: cornerback Cam Gaddis, offensive linemen Antonio Rosales and Alex Rios, and defensive end Robert Metz.
A fifth player, defensive lineman Kori Hurd, will be representing the Old Pueblo on Sunday for the San Diego Strike Force. The 6-foot-2-inch, 245-pound Sahuaro High School product will make his Indoor Football League debut.
Hurd participated in the Sugar Skulls' tryout in November after returning home from a stint with the american football Aarhus Tigers in Denmark. Hurd also played for the Duke City Gladiators of the Champions Indoor Football league.
The Star spoke to Hurd via telephone to discuss playing in San Diego and what Sunday will mean to him:
Did the Sugar Skulls offer you a roster spot following the tryout? How did this opportunity with San Diego happen for you considering you're from Tucson?
A: "I was just trying to do as many tryouts as possible so I could have a higher chance to make a team, but while I was waiting for the Sugar Skulls to contact me, I went ahead and went to the San Diego tryout and right after that tryout, San Diego was the first one to offer so I went ahead and went with them."
What made you decide to play in the IFL?
A: "I played in the CIF before so I'm already familiar with it, and then I went to Denmark and received great experience, but I wanted to be back home in the states and be closer to my family and be with my (5-year-old) daughter. It was just a better option for me."
Does having a daughter bring any motivation to you as a football player?
A: "Yeah, most definitely. It's not just my family I'm playing for. I'm playing for the people that know me back home, parents, brothers and sisters and anyone who's had a positive influence on me. If you work hard and stay consistent and work hard, everything will fall into place. There's no such thing as a (pipe) dream."
Being from Tucson, how excited are you to face the Sugar Skulls this weekend?
A: "I'm excited, man. I know a few cats on that team like Cam Gaddis, and I can't wait to play against a team from a city that is pretty much my second home. Growing up, every football player always wanted to play at the professional level, and playing against people that's been around since the high school days like Cam, it's just a beautiful thing."
Do you and Cam have a bet on the results of Sunday's game?
A: "No. I just posted something on Instagram saying I'll see him this weekend and he just said 'Let's get it.' We're gonna have a good game and have fun with each other and take some pictures for the 'Tuc Town.'"
With San Diego losing the Chargers to Los Angeles, can you get a sense that people in the city are excited to have a professional team, even if it's at a different level?
A: "Every time we go out, we always wear our San Diego Strike Force gear. Whenever we go out to eat or go to the gas station, people always ask us about the team."
What's your favorite part about living in San Diego?
A: "How diverse it is and the weather. The weather is beautiful."
What do you remember the most about Tucson?
A: "It's family-oriented. Tucson is a small city and a college city. The relationships that I've built and all of the people that I've been involved with, it was honestly a true blessing. Whenever I think of Tucson, I always think of family."
What's your favorite memory from when you lived here?
A: "When we started off the season 4-0 at Sahuaro. We had a lot of good things going on at that time."
What are your thoughts on Tucson having its first-ever professional football team?
A: "It's great for the city. It gives a chance for people who grew up in Tucson and around the area to rep a team that's from their city. It'll keep fans busy during that time and it's something positive for Tucson."