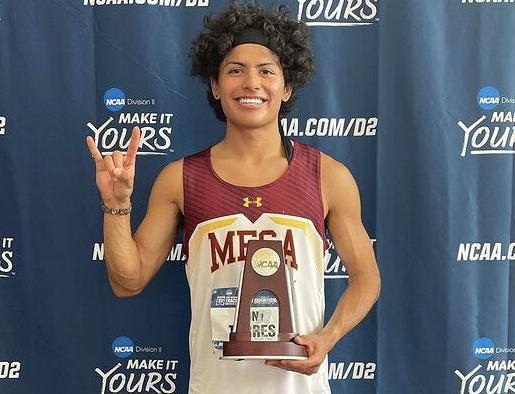 When Tucson native Tony Torres crossed the line in the NCAA Division II Track & Field Championships in March, it was both a culmination of years of hard work finally paying off and an indicator of what he hopes his future can be.
Torres' national runner-up finish in the 1600-meter championship event at a blazing 4:00.86 was both a personal best for the junior distance runner and a school record for his college, Colorado Mesa.
The former Ironwood Ridge High School cross country and track runner, overlooked by both the Arizona and ASU distance programs, is cruising to a historic season in Division II. His 4:00.86 time in the indoor mile would have ranked ninth in the Division I championship race and would be among the best marks at both the Wildcats and Sun Devils programs.
In November, Torres took home the crown in the Division II cross country championship, finishing 15 seconds ahead of the second-place finisher. He used that momentum for the spring track and field season with a then-personal best 4:07.52 mile time in the preliminary race to qualify for the NCAA Championships.
In the championship event on March 12, he took off seven seconds of that time and was .4 seconds — less than a full stride length — from winning the race.
"When it came time, I just had to trust my speed," Torres said. "It doesn't seem real to me because this is just my second year here."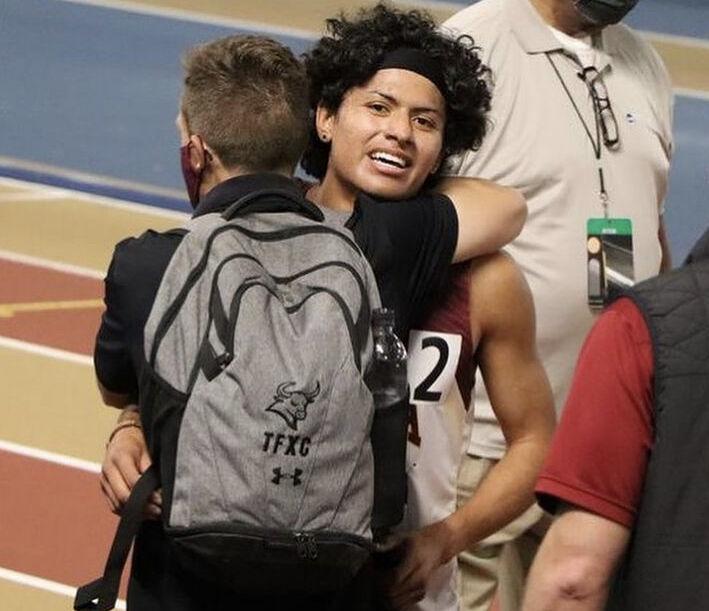 Trusting his speed and showing it in a race is a mental obstacle that Torres has been combating for quite some time, dating all the way back to his days in Tucson. Heading into his senior year of high school at Ironwood Ridge in 2018, Torres was at a crossroads.
The Nighthawk cross country and long distance track runner looked at his racing results from the past three seasons and noticed a plateau. They weren't improving and at times, they had gotten worse. Barring a turnaround, Torres' chances at running in the NCAA seemed bleak.
"I didn't think I was going to leave Arizona. I was just going to end up at a community college," he said.
No other member of his immediate family had graduated from a university; Torres hoped he could be the first.
Before the cross country season started, he got a phone call from his former coach Gary Forrest. The longtime Ironwood Ridge coach, who won seven combined state championships in cross country and track over the span of 15 years, had stepped away from the program after Torres' freshman year in 2015.
Even during his freshman year, Forrest saw immense potential in the 15-year-old.
"You could just see that the talent was there," Forrest said. "He ended up being the second or third best freshman we've ever had."
After his departure, Forrest kept an eye on Torres' progress, or lack thereof, and felt the need to reach out when he saw the once-promising runner hit a roadblock. Forrest offered to train Torres outside of his high school team's workouts — a proposition that garnered a lot of negative feedback from the Ironwood Ridge coaching staff.
But Torres jumped at the chance to work with his former mentor and someone he looked up to. The two began formulating specific workouts and as Torres' confidence grew, his race times steadily improved.
"From the start, he's always believed in me," Torres said. "He's been there for me and was a big support system for me and my whole family."
The training worked as Torres went to the AIA State Championship cross country race his senior year. Despite the success, he still had not drawn serious interest from Division I or II programs.
The pair continued to work in the spring during track season and the growth in Torres' performances was even more noticeable.
"His work ethic is second to none of any one that I've been around," Forrest said. "He was committed to getting better."
In the 2018 track and field state championships his senior year, he placed top eight in three different events (the 800, 1,600 and 3,200 meters). His 4:16.37 mile time earned him second place and caught the attention of Colorado Mesa.
"I talked to ASU a little bit after that race but they said they couldn't give me a scholarship," Torres said. "I reached out to the coach (at Colorado Mesa) and he was able to give me a scholarship."
The scholarship has kept Torres' dream alive of running at a university and being the first college graduate in his family. Torres is studying mechanical engineering technology at CMU and is on track to graduate in a couple years.
He recently added to his sensational track season with a 3:46.28 in the 1,500 meters at the Maverick Open. That time leads the nation and is an automatic qualifier for the NCAA Division II Outdoor Track & Field Championships at the end of May.
Torres said he's focused on winning the outdoor championship this spring but believes each race opens up more opportunities for his future and running professionally.
"I do see myself running after college because I feel like that would be the life," he said.
Alec has been with the Star since October 2019. He writes stories and produces digital content primarily about the Arizona Wildcats. Alec graduated from the University of Arizona in May 2020.