Twenty years ago at his hometown rodeo — the Red Bluff Roundup in Red Bluff, California, about two hours north of Sacramento — Chuck Lopeman crossed the line.
The three pickup men could not get a bull out of the arena, and then the bull stopped dead in its tracks and wouldn't move. Ornery 2,000-pound animals tend to be that way.
"It's going on three minutes, so I play Jimmy Buffett's 'Why Don't We Just Get Drunk and Screw?' and the announcer looked at me and dropped the microphone down," the La Fiesta De Los Vaqueros music director said with a laugh on Thursday, soon after yet another day at the office. "I haven't played it since."
Lopeman's office is the press box at rodeos all over the country, from Tucson to Reno to the hallowed Cheyenne Frontier Days.
And to think, it all started in 1995, and only because he wanted a free rodeo pass. He volunteered, and that turned into a semi-permanent gig. A year later, he did a half-dozen rodeos, and in 1997, he bought his own sound equipment with a loan from his father, who had recently retired and wanted to see the country. His dad drove from rodeo to rodeo with the sound gear, and Lopeman flew in, quickly building a name for himself, with a dozen rodeos and another 10-or-so bull-riding events. In 1999, he got a call from Gary Williams at the Tucson Rodeo.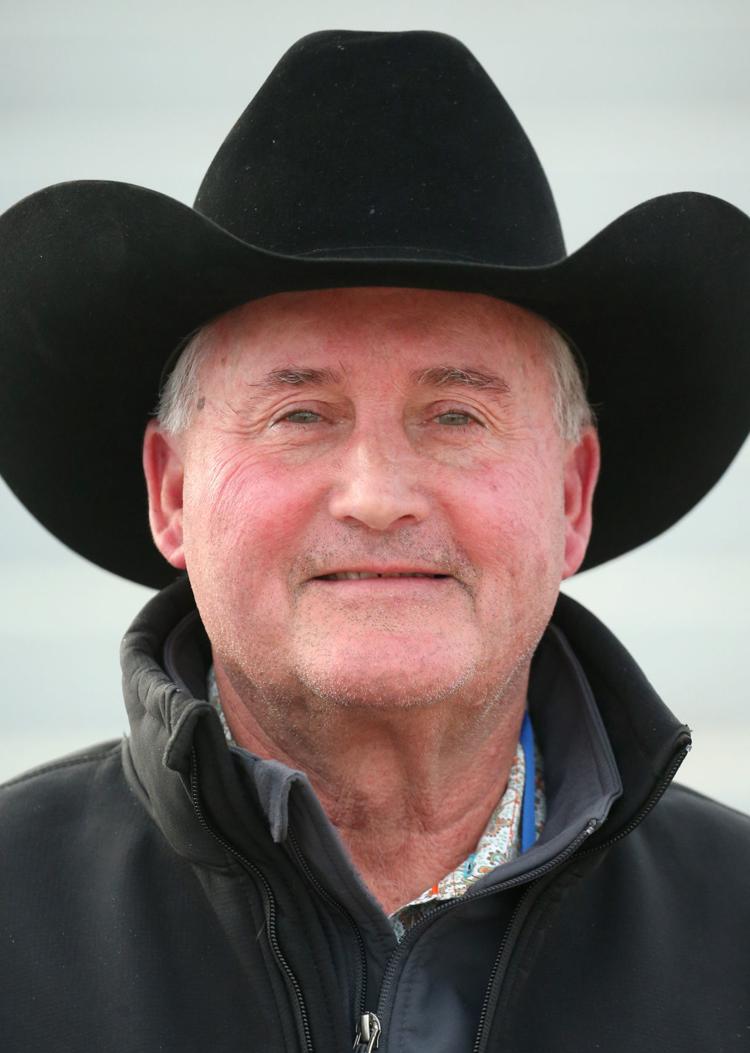 "I called him up and I said we'd like to talk to you about doing our sound, and he said let me fly down there and look at the arena. If I can't do it right because of the arena, I don't want to commit,'" Williams said. "He flew down on a Saturday, and we walked arena for three hours. Talked about every corner of it. We went and had Mexican food, I put him on a plane and he flew home, and he said yes."
A year later, a call from Reno. The next year, the Pendleton Round-Up in Pendleton, Oregon, and a year after that, Cheyenne called.
Now Lopeman makes a living traveling the country as one of rodeo's best sound men — and a solid living, at that, he said, comparable to a "doctor or a dentist, but with more expenses," he said — and has passed along his good sense to his son, Austin, who has joined the rodeo sound game himself.
"I'd never hire anybody else," Williams said. "And when he's ready to retire, I'll hire his son, because I know he's been trained right."
For Lopeman, the gig is more art than science.
He is unseen and unheard from — at least on the microphone — but he is one of the most important members of the rodeo entertainment crew. There's the announcer, Will Rasmussen this and last year, and the barrelman, bullfighters and even the athletes themselves.
But "Chuck is the ringmaster," Williams said.
Lopeman downplays his role — "Alls I am is a highlight," he says — but a rodeo without good music is like a baseball game without good peanuts. What are you supposed to do between pitches? And between rides?
"I want to have a beat going on while (the announcer) is setting up a ride," Lopeman said. "Once that chute gate opens, I change. Now, saddle bronc riding is slower than bareback. When a bareback bucks I have a faster beat. Bull riding? You just play rock and roll."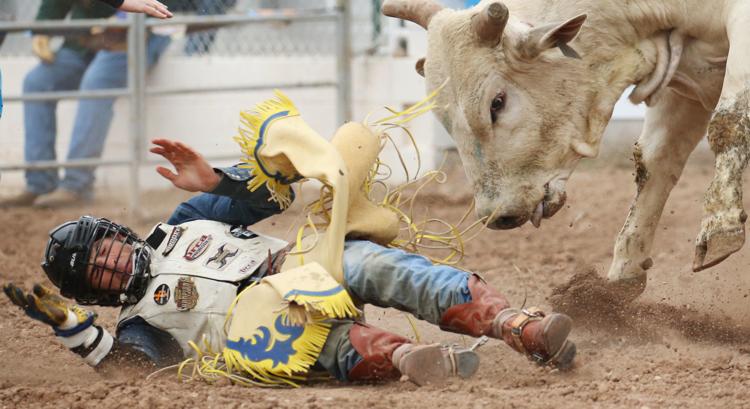 "I play all kinds of music," he said. "Hip-hop, rap, old-time music. When I'm watching the crowd, I want the kids to get into it, and I want to watch grandma and grandpa get into it watching them. That's what I feel my job is — to entertain the people from the young to the old."
It might be George Thorogood's "Bad to the Bone," or AC/DC's "Thunderstruck." Sometimes it's "Mambo No. 5," if he's feeling frisky, or The Tractors' "Baby Likes to Rock It," which would probably go well with the mutton-bustin'.
Eminem's "Lose Yourself" is an old reliable, as is ZZ Top's "La Grange."
And depending on the weather?
"So I'm watching this Honda commercial, this is probably 1998, and they were playing 'Raindrops keep falling on my head,' and it was just catchy, and everyone knew it," he said. "It just happened to start raining at my next rodeo, and I came in with that song, and the crowd started laughing."
That, more than anything, is what fuels Lopeman.
"He just knows what to do to set the mood," Williams said. "The crowd today was really into it, and so much of it was because of the mood Chuck set for them."
That's what keeps Williams bringing him back year after year.
"We can't recreate what he does," he said. "We're loyal to people, very loyal, because we've got the best in the business. You can say what you want about Houston and San Antonio — but I'd put our people up against them any day of the week."
Notable
R.C. Landingham, who's ranked 10th in the world, won Thursday's bareback riding competition with a score of 83.
Cody Cassidy, from Canada, won the steer wrestling event with a time of 7.0 seconds.
The duo of Rhett Anderson and Kasper Roy won Thursday's team roping event with a time of 7.8 seconds. On Tuesday, during slack events, Jake Orman and Walt Woodward broke the Tucson Rodeo arena record in team roping with a time of 4.6. The previous record, set in 2008, was 4.9.
Australian Jake Finlay was Thursday's winner in the saddle bronc competition with an 83-score ride. This was Finlay's second time at the Tucson Rodeo. "It's the first time I've ever done any good out here, so it's good to get one back on the place," Finlay said.
Tristan Mahoney, from Florence, won the third performance of the tie-down roping event with a time of 14.4 seconds.
Lisa Anderson's time of 17.31 seconds in the women's barrel racing event was good enough to win for the day and take the overall lead.
Daylon Swearingen, a 19-year-old from Georgia, made his Tucson debut during the bareback riding event, where he finished with a 79-score ride. However, it was his performance at the end of the day that made an impression. Swearingen was the first cowboy to perform in bull riding, and rode Rocky Road to an 87 score. "It felt good to come out here and do good," Swearingen said.